Energy & Chemicals Company
The Energy & Chemicals Company consists of two divisions. One is the Energy Division, which handles trading of crude oil, petroleum products, LPG, LNG, natural gas, power, and other energy-related products and promotes exploration ,development and production of oil & gas projects. The other is the Chemicals Division, which promotes projects and handles trading of general petrochemical products, sulfur, fertilizers, pharmaceuticals, synthetic resin, household goods, fine chemicals, electronic materials, and other chemical-related products. We will build up the efficient and sustained business base by accumulating prime assets and optimizing our existing business. At the same time, we will aim to evolve into reinvent businesses by making use of new technologies, AI, and other resources.
Sustainability Action Plans
Materiality
SDGs Targets
Issues to address
Business area
Commitment
Specific approach
Performance indicators
Address climate change

Taking countermeasures against climate change
Oil & Gas LNG (Liquefied Natural Gas) Projects
Development and production of natural resources with consideration in the reduction of greenhouse gases.
Partnering with experienced operators with high technical strength in the development and production of natural resources.
Pursuing opportunities to take part in LNG projects (i.e. LNG or natural gas emits less greenhouse gases than the other fossil fuels).
Contribute to healthier and more enriched lifestyles

Promoting good health among people
Pharmaceutical products
Contributing to the improvement of people's health and working environment through accelerating the development of pharmaceuticals and other products in fields with significant needs including cancer-related fields.
Actively promoting to support the development and marketing of new pharmaceutical and other products.
Aiming to obtain approvals in Asia and North America for new pharmaceutical and other products of which we are engaged in supporting the development, and to launch them into the market.
Respect human rights

Establishment of an energy resources development system that goes well with local society and environment
Exploration & Production of Oil & Gas
Contributing in the development of local society by advancing exploration & production projects that accommodate social and environmental concern.
Implementation of projects in compliance with the laws and regulations of the respective government and internationally-recognized administrative body.

Be compliant with HSE (Health, Safety and Environment) standards in the respective government and the ones set by internationally-recognized administrative body.
Reduction of HSE issues that involve serious damage to human beings and/or environment.
ESG related activities
Compound semiconductor initiatives aimed at saving energy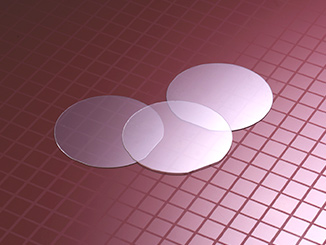 ITOCHU PLASTICS INC. (CIPS) is committed to actively developing energy-saving technologies and applications for resource-saving technologies, to help create a more technologically sustainable society.
CIPS is particularly focused on gallium nitride compound semiconductors, which are effective for improving the energy efficiency of devices such as next-generation LEDs capable of producing natural light color, high-efficiency LEDs, semiconductor lasers, high-speed, high-capacity devices that will be needed for 5G communications in the future, and high-voltage, high-output semiconductor devices for use in electric vehicles (EV). CIPS is working with universities and public research institutions to develop the cutting-edge technologies needed for commercialization of the gallium nitride compound semiconductors.
From the research and development stages through to sales and marketing, CIPS will continue to contribute to society by improving the environment and paving the way for economic growth.
An oil project in the Caspian Sea, which ensures a stable resource supply and contributes to local communities for harmonious cooperation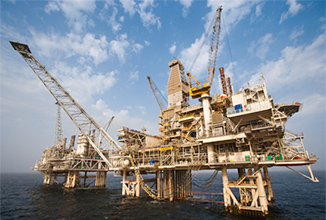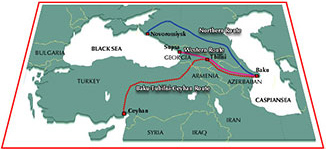 As a member of an international consortium operated by BP, ITOCHU Corporation participates in the ACG field, a crude oil development and production project in the Caspian Sea in Azerbaijan, and the BTC oil feed pipeline project.
Crude oil produced by the ACG project is supplied primarily to the European market via the BTC Pipeline, thus contributing to the stable supply of energy in the world. These projects operate in strict compliance with environmental and labor-related laws and industry standards, as well as initiatives to reduce carbon emissions from operations. The projects create local employment and promote various activities in areas such as education and agriculture in order to enhance harmonious coexistence with local communities. ITOCHU Corporation, on its own initiative, is fully committed to such activities, including donating computers to local schools via its subsidiary.
Acquisition of ISO 22301 certification aimed at making the tank terminal safe, secure, and resilient to disaster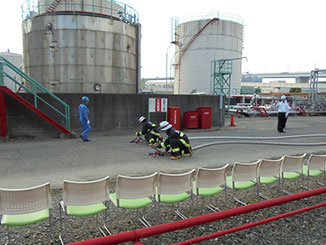 Chemical Logitec Co., Ltd. manages and operates Nagoya Chemport, which is engaged in work centered around the storage, receipt, and supply of liquid chemicals at the No. 9 lot in the Port of Nagoya. It is an important link in our supply chain in the Nagoya and surrounding areas.
Learning from the Great East Japan Earthquake that struck on March 11, 2011, the company has since been preparing its facilities for the anticipated Nankai Trough Earthquake. It worked for two years on initiatives in the areas of employee education and training, facility improvement and systemic arrangements, aiming to make the chemical port safe, secure, and resilient to disaster. As a result, the company obtained ISO 22301-2012 certification for the first time on May 1, 2014, and successfully renewed certification on June 15, 2017.
ISO 22301 is a standard for management systems for maximizing an organization's ability to continue to provide services in the event of a disaster or accident that causes a discontinuation or inhibition of business, by resuming the business quickly and minimizing the impact on customers and other stakeholders. This was a milestone event, because Chemical Logitec Co., Ltd. became the first company in Japan's chemical tank industry and the ITOCHU Group to be given such certification.
The company continuously reviews internal and external issues, striving to make improvements accordingly. In FY2016, it conducted a safety drill in the presence of cargo owners by assuming an accident took place when only a few people are ready to respond to it, such as at night and on a holiday. Night-time training, which was organized in FY2017, was held again in FY2018. It thus checked for problems in their response to the accident. The company continues striving to ensure safety in the event of a disaster, placing maximum priority on human life, and provide education and training to its organizations repeatedly to retain the trust of customers.
Reducing the environmental footprint with the introduction of side shrink packaging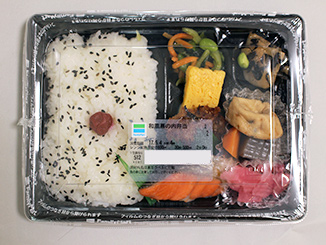 As an initiative to reduce its environmental footprint, ITOCHU PLASTICS INC. ("CIPS" hereafter) has supported the introduction of "side shrink film" at all stores operated by FamilyMart Co., Ltd., its domestic area franchise company locations, and Circle K Sunkus stores (collectively, "FamilyMart"). Side shrink film is a style of packaging in which the plastic film around a package for a boxed lunch, sushi or noodle product only covers the area where the container and lid meet.
FamilyMart has introduced" side shrink packaging" to nationwide stores in February 2015. The switch to side shrink packaging from full shrink packaging, where an entire container is covered with cling film, has made packages easier to open, improved the visibility of contents and offered advanced blocking properties. The new packaging also plays a major role in reducing the burden on the environment by decreasing waste, cutting the amount of plastic materials used in packaging and lowering CO2 emissions
The results in FY2018 (Comparison with previous full shrink packaging)
Cutting the amount of plastic materials: Approx. 550 tons, Lowering CO2 emissions: Approx. 1,975 tons
CIPS has corporate philosophy "Providing lifestyle comfort and convenience with chemical and plastic materials. A corporate culture of integrity propelling us forward, together. ITOCHU Plastics." Through support for the introduction of shrink film and other endeavors, CIPS promotes corporate activities that balance a better global environment with economic growth and strives to preserve the environment, helping to realize a sustainable society.
Initiative for providing services for optimal control of energy storage systems using AI technology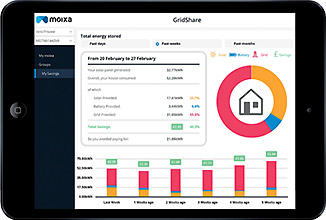 ITOCHU Corporation has signed a capital and business tie-up with Moixa Energy Holdings Ltd., a UK company that operates a platform business, which applies AI technologies to energy storage systems. Through this capital and business tie-up, ITOCHU has acquired exclusive marketing rights in Japan for the Gridshare Client platform technology software. Used for energy storage systems, the Gridshare Client performs optimal control of energy for customers in various layers, including general consumers, power producers, and power transmission and distribution utilities. This software will enable the operation of diverse, next-generation businesses, including the Virtual Power Plant (VPP) business and charge management for electric vehicles. By offering Gridshare Client, ITOCHU will contribute to the efficient operation of renewable energy, stabilization of the power supply, and building of a distributed energy society.