Food Company
– Sustainability Management –
Medium to Long-Term Growth Strategies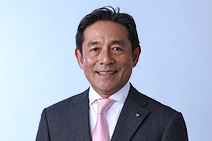 In Japan, the environment in which the Food Company operates is characterized by personal consumption that remains lackluster given factors such as sluggish growth in household income. Furthermore while the international situation is being destabilized, exchange and stock markets are difficult to forecast, sapping consumer sentiment. These and other elements are rendering the environment even more difficult. On the other hand, business opportunities are increasing overseas, as growing populations and rising levels of income in Asian and other emerging countries drive demand higher. Against this backdrop, and in line with the companywide policy of "reinforcing our financial position," the Food Company will work to further improve the quality and efficiency of its assets through asset replacement. We will also continue building a value chain that is high-value-added in Japan, China, and other parts of Asia, as well as throughout the world, concentrating specifically on the Dole business and joint business development with CITIC and CP Group.
Simultaneously, we will endeavor to ensure a stable supply of food resources, thereby addressing food issues that affect all of humankind. Also recognizing that ensuring food safety and security is our topmost objective, the Food Company will undertake a wide range of measures to ensure safety in the foodstuffs business. For example, we will identify overseas suppliers for on-site inspections and determine inspection frequency according to their control systems, product characteristics, sanitation risks during processing, and other individual circumstances. Going forward, the Food Company will continue working with investees and partners to further enhance its management system.
Earning Opportunities for Growth
Challenges to Address

Further increase in consumer awareness toward food safety and security
Reinforcement of the structure to supply sustainable raw materials

Ensuring a stable supply of foodstuffs
Responding to the risk of climate change
Responding to supply chain management (human rights, labor practices, and the environment)
Sustainability Action Plans
Key points of our FY2018 action plans
We will continue advancing initiatives that meet a variety of societal needs, such as ensuring the stable supply of food resources, protecting the environment, strengthening convenience store functions as social and lifestyle infrastructure, developing healthier foods and improving inspection systems to ensure food safety.
Major Sustainable Initiatives
Towards sustainable farm operation that responds to climate change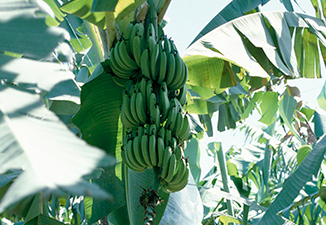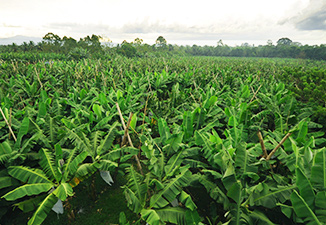 In April 2013, ITOCHU acquired the Asia Fresh Food business and the Worldwide Packaged Food business of Dole Food Company, Inc., a U.S. company.
After the acquisition, typhoons, drought, diseases and insect damage, among other disasters, hit the Philippines, the leading production site of Dole's major products. As a result, the production volume of bananas was 440,000 tons in FY2017, down 40% from the level prior to the acquisition. To recover and increase the production volume of bananas, we took steps to improve productivity, including the introduction of irrigation equipment, consolidation and expansion of farms, and measures to combat disease and insect damage. We also improved the productivity of pineapples through equipment investment in farms and reviews of cultivation methods. We are diversifying the regions where we produce our products in order to mitigate the risk of bad weather and other problems. Meanwhile, we made management improvements, refined our business and product focus and disposed of underperforming businesses.
In FY2017, earnings improved due to favorable prices and the effects of various cost-cutting measures. Moving forward, we will be ready to increase production in the Philippines to 800,000 tons of bananas and 1,000,000 tons of pineapples by FY2021, aiming to be the largest integrator of agricultural products in Asia.
In addition, based on its belief that people, environment, and society are the most important resources for the survival and development of a company, Dole spent more than 2.5 million dollars in 2016 on social contribution activities in the Philippines, Sri Lanka, Japan, South Korea, China, Thailand, North America and elsewhere. These activities included the donation of textbooks, desks, chairs, computers, and other equipment to dozens of schools in various places, the maintenance of school buildings, the granting of scholarships, and the provision of educational opportunities for children with disabilities. The company also provided daily necessities and healthcare support to areas affected by natural disasters, and implemented initiatives for maintaining and promoting good health such as blood donations, hygiene education, and food aid.
Production of safe, secure, delicious pork meat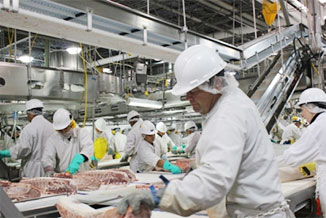 ITOCHU Corporation holds a 49.9% share in HyLife Group Holdings Ltd. (hereafter, "HyLife"), which conducts the pork meat production business in Manitoba, Canada. HyLife undertakes integrated production covering live production, food mill, and pork processing. This enables the company to manage and coordinate the supply chain on its own. Taking advantage of this integrated production system, HyLife ensures the stable supply of safe, secure, high-quality products with established traceability. In addition, the integrated production system has enabled the individual needs of customers to be provided to hog farms, and HyLife has established a specialty program for providing customized products to the Japanese market. This program is highly evaluated in the market, and as a result, HyLife has become No.1 in Canada in the export of refrigerated pork meat to Japan. In the specialty program for Japan, under the supervision of its in-house nutritionists and veterinarians, HyLife produces hybrid hogs bred from three different breeds it has selected and gives them feed produced mainly from wheat and barley from Manitoba, which is a renowned production area of high-quality wheat and barley. The company undertakes comprehensive daily management and supervision of the processes by involving expatriates from ITOCHU Corporation.
Ensuring food safety through regular auditing of overseas suppliers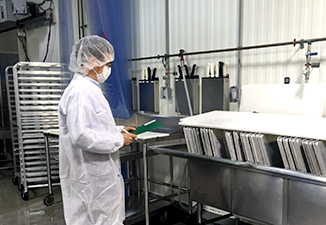 Against a backdrop of increasingly diverse dietary lifestyles, the globalization of food distribution and increased awareness of health, consumers are taking an even greater interest in the safety and security of food. Meanwhile, incidents and problems have been occurring that threaten the safety and security of food, such as the BSE problem, violations of residue standards with pesticides and other substances and the distribution of foods using additives untested for safety. In FY2003, ITOCHU Corporation set up the Food Safety and Compliance Management Office and has since taken broad measures to ensure safety in the trading of food. Since FY2012, as part of these measures, ITOCHU has been regularly visiting and auditing food processing plants of overseas suppliers for imported food.
ITOCHU determines the subjects and frequency of audits in correspondence with various factors, including the management setup in the host country, product characteristics and sanitation risks in processing steps. Our employees, local staff and/or Group company employees make on-site visits to carry out audits based on our own Plant Audit Check Sheet and make proposals for improvements as necessary. In FY2017, we conducted on-site audits for 153 suppliers. In addition to these measures, in January 2015 we set up the China Food Safety Management Team in Beijing to bolster safety management on foods imported from China. We have dispatched dedicated Japanese staffs who are highly experienced in factory audits (ISO 22000 Lead Auditors accredited by IRCA*) in our efforts to create a management structure comparable to the one we have in operation in Japan. In addition to having several Chinese staff dedicated to conducting regular audits, we have increased the opportunities for mutual checks through follow-up audits and similar, thereby making continuous improvements. In FY2017, we conducted regular audits and follow-up audits of 53 companies, having increased the cumulative total to 100 companies.
International Register of Certificated Auditors
Educational training programs related to food safety and compliance
We provide educational training programs related to food safety and compliance in the form of e-learning as part of our efforts to raise employees' awareness of food safety and legal compliance and improve their knowledge about these issues.
Main contents

Food safety
Compliance
Internal regulations / manuals
CSR

Participants

All of Food Company employees (including contract workers, temporary staff, seconded employees, accepted seconded employees.)
All of Food Management Support Corporation employees (Food Management Support Corporation is a Food Company's wholly owned subsidiary and performs back-office support for the Company.)

Number of participants
711(FY2016), 689(FY2017)
Participation rate
99.6%(FY2016), 99.3%(FY2017)
We make it mandatory for employees that fail to obtain a passing score to take a remedial class and other measures to ensure that they obtain the required knowledge.
In fiscal 2018, the training is planned to be provided, which will occur continually thereafter.