General Products & Realty Company
The General Products & Realty Company consists of two divisions: the Forest Products & General Merchandise Division and the Realty & Logistics Division. The Forest Products & General Merchandise Division deals with pulp, natural rubber, tires, timber, housing materials and other products associated with daily life, while the Realty & Logistics Division is involved with the development of properties such as housing and distribution facilities and the distribution business including third-party logistics (3PL) and international transportation. Each division utilizes its collective strength and global network to provide society with new value and contribute to the realization of fulfilling housing experiences.
Sustainability Action Plans
Materiality
SDGs Targets
Issues to address
Business area
Commitment
Specific approach
Performance indicators
Ensure stable procurement and supply

Using sustainable forest resources

Wood products & materials
Pulp
Woodchips

We deal in sustainable forest resources to reduce the impact on the environment and prevent the increase of greenhouse gases.

Continue to request suppliers who have yet to obtain certifications to obtain them.
Conduct sustainability surveys of suppliers and visit them.

FY2026: Aim to achieve a rate of 100% for materials under high-level management or certified ones that we handle.
Address climate change

Taking countermeasures against climate change
Cement alternatives such as slag
We will expand the use of a sustainable by-product (slag) as an alternative material to cement, which is essential for civil engineering, construction, and similar works.
Establish continuous, stable business flow between ironworks as the supplier of slag and other byproducts and demanders.
Consider investment, participation, etc. in the slag business and focus efforts on creating demand, especially in developing countries, with the aim of establishing continuous, stable business flow.
Respect human rights

Providing an environment that enables the focus to be placed on stable production activities
Construction
We will operate industrial estates in a high-quality manner that will permit tenant companies to focus on stable production activities.

Establish a safe, secure, environmentally-friendly infrastructure, including facilities such as those for power supply, industrial water/wastewater treatment, security and fire prevention systems, or improve the existing infrastructure to make it like the above.
Create employment by inviting companies, and in addition, promote locally-based contribution activities.

Undertake further improvements of infrastructure facilities and the service system in industrial estates and continue diverse local contribution activities.
Contribute to healthier and more enriched lifestyles

Establishing a logistics network that is adapted to changes in consumer behaviors
Distribution
We will provide logistics services adapted to changes in distribution that have resulted from the expansion of the e-commerce market in emerging countries.
Establish and promote the operation of high-value added logistics services for business operators who sell goods using e-commerce.
Aim to increase the trade volume of products in the e-commerce logistics markets in emerging countries.
ESG related activities
Stable supply of sustainable forest resources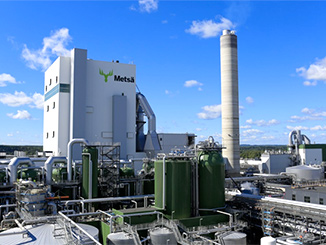 ITOCHU Corporation holds a stake in Metsä Fibre Oy (hereafter, "Metsä Fibre") in Finland, which is one of the world's largest softwood pulp producers. Metsä Fibre boasts annual pulp production of around 3.1 million tons (including production at Äänekoski Mill, a new mill that began operating after the construction work for increasing production was completed in August 2017). It commissions sales of the softwood pulp it produces, which is intended mainly for the Asian market, to ITOCHU Corporation as an exclusive agent.
Finland is capable of the long-term stable supply of raw wood because the amount of raw wood growth exceeds its consumption. In addition, Metsä Fibre generates power from its pulp production process for its own consumption and supplies surplus power to the surrounding area, thereby contributing to reducing fossil fuel consumption in the local area. By promoting initiatives with such an excellent partner, we will promote the sustainable use of forest resources and continue to strengthen our business.
Becoming the World's No. 1 Trader in Blast Furnace Slag, a Cement Alternative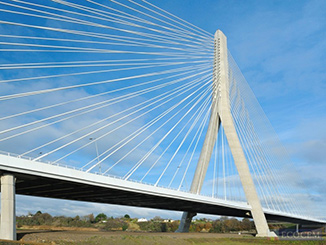 Blast furnace slag, a byproduct of the steelmaking process, can be mixed into and used as a cement alternative. The use of slag helps to conserve limestone, a natural resource used in cement, and provides the environmental benefit of lowering CO2 emissions by around 40%* compared with concrete made entirely from cement.
Blast furnace slag is also highly resistant to seawater and, being resistant to long-term corrosion, is widely used in large civil engineering structures at ports.
Beginning some 20 years ago, ITOCHU now sells blast furnace slag produced in Japan and overseas in around 10 countries, making it the world's leading trader in slag, by handling volume. Going forward, we will build a sustainable and stable flow of operations in the slag business and are considering further investment and participation.
Calculated at a 55 : 45 ratio for cement : blast furnace slag
Karawang International Industrial City: Growing Together with the Local Community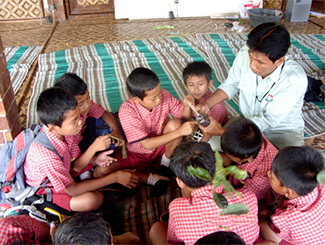 ITOCHU Corporation operates the Karawang International Industrial City (KIIC), located in the east of Jakarta, the capital of Indonesia, jointly with a local partner. More than 150 tenant companies operate on a site of approx. 1,400 hectares.
Substation facilities of the state-owned electricity company have been set up in KIIC, which has enabled the securing of electricity and ensured its stable supply. The industrial city also boasts stable infrastructure facilities built internally, including its own industrial water plant, waste water plant, retention basin for emergency backup, and road pavement for preventing traffic accidents in the city. KIIC also has safety and security systems established, including 24-hour security by 150 security officers, a police station, security precautions jointly taken by the government of Karawang Regency and the police department of Karawang, and fire engines and an ambulance. In addition, KIIC has built smart street lights*, making it the first industrial park in Indonesia with lights of this kind, in an effort to reduce its environmental impact.
Further, KIIC companies have also continued to pursue various sustainability activities over the long term in healthcare, agriculture, the environment, education, and other areas.
The unique activities of KIIC include support for the establishment of the baby health centers for community at six nearby villages and the provision of medical equipment for birth attendants.
Joint activities with tenant companies include donating saplings and tree planting to local municipalities, which are carried out on World Environment Day each year. In addition, KIIC has established an agricultural park on its premises to promote education, training, and other activities related to agriculture, environmental protection, and others. In this park, specialists provide local farmers advice on farming and more than 10,000 saplings for forestation are grown each year.
As the secretariat for sustainability activities of tenant companies, KIIC proactively supports activities including the monthly supply of baby food to local babies and toddlers, provision of scholarships to junior high and high school students, support for flood damage, and pest control, such as the extermination of mosquitos to prevent dengue fever and other infections.
Through these initiatives, KIIC aims to be an industrial park that grows together with the local community.
Smart street lights: An IoT solution that controls power consumption and CO2 emissions by adding a dimmer control function to power-saving, high-efficiency LED, thereby improving the efficiency of the operation, maintenance, and management of street lights (making street lights smart). Approx. 1,200 smart streets lights were built in KIIC.