General Products & Realty Company
– Sustainability Management –
Medium to Long-Term Growth Strategies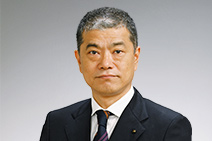 This company, which is active in the consumer-related sectors of ITOCHU's operations, comprises the Forest Products & General Merchandise Division, which handles products closely linked to people's lives—paper and pulp, natural rubber and tires, wood resources and housing materials, etc.—and the Construction, Realty & Logistics Division. This division is involved in housing, logistics facilities, and other development projects, as well as the logistics business, including 3PL and international transport. We work to provide new value to society through the comprehensive strengths and global networks these divisions possess, thereby contributing to more bountiful lifestyles. We will expand our portfolio through aggressive asset replacement, proactively develop our business to meet expected rises in consumption in China and other Asian markets, and promote collaboration with the CITIC and CP Group.
Meanwhile, we view societal and environmental issues as business opportunities. For instance, we consider ensuring stable forestry resources in the paper and pulp field and building businesses that achieve harmony with local communities to be priority issues. Accordingly, we strive toward sustainable forest management. In the condominium business, we take a customer/consumer viewpoint in providing environmentally conscious housing (energy-saving technologies, design, equipment, etc.) and offering universal design that suits housing to use by multiple generations. In addition to quality control of products, we cultivate an energy-saving awareness among condominium inhabitants and take a proactive stance toward developing communities that foster connections between communities and residents.
Earning Opportunities for Growth
Challenges to Address

Demand for environmentally conscious products and construction materials
Need for certified forestry products

Sustainable use of resources
Harmony with local communities
Sustainability Action Plans
Key points of our FY2018 action plans
Our development of environment-friendly business may be exemplified by transactions for lumber from certified forests linked to sustainable resource use, energy management solution business utilizing IT, and development of environment-friendly condominiums. In the fields of construction and finance, we will contribute to the revitalization of local communities in Japan and other countries.
Major Sustainable Initiatives
Stable supply of sustainable forest resources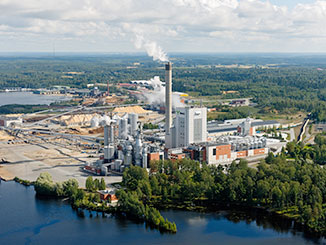 ITOCHU Corporation holds a stake in Metsä Fibre Oy (hereafter, "Metsä Fibre") in Finland, which is one of the world's largest softwood pulp producers. Metsä Fibre boasts annual pulp production of around 2.3 million tons. It commissions sales of the softwood pulp it produces, which is intended mainly for the Asian market, to ITOCHU Corporation as an exclusive agent. Metsä Fibre has decided to increase its production significantly, by around 800,000 tons, and its annual pulp production is expected to reach about 3.1 million tons by 2018.
Finland is capable of the long-term stable supply of raw wood because the amount of raw wood growth exceeds its consumption. In addition, Metsä Fibre generates power from its pulp production process for its own consumption and supplies surplus power to the surrounding area, thereby contributing to reducing fossil fuel consumption in the local area. By promoting initiatives with such an excellent partner, we will promote the sustainable use of forest resources and continue to strengthen our business.
The World's No.1 Trader of Blast-Furnace Slag, a Cement Alternative
Blast furnace slag, a by-product from iron and steel manufacturing, is commonly perceived as an eco-friendly product being used as a cement alternative and thus helps save natural resources such as cement raw materials and limestone. It also enables concrete manufacturers, who need cement as their prime raw material, to reduce energy consumption and CO2 emissions by approximately 40%* compared to producing concrete only from cement.
More than 20 years ago, ITOCHU started to handle blast-furnace slag, which was then generated in Japan and some other countries and could not been fully consumed locally. Since then, we have developed and expanded our customer base and now we supply the product to more than ten countries in Asia, Latin America and other parts of the world. Today, we are the No.1 blast-furnace slag trader by volume in the world. In addition to serving our customers with financial and logistics functions as a trader, we are also contributing to the effective use of resources on a global scale, which we are proud of.
Estimated by assuming a ratio of cement to blast-furnace slag of 55 to 45.
Karawang International Industrial City: Growing Together with the Local Community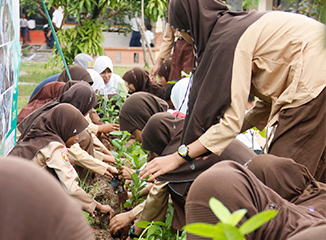 ITOCHU Corporation operates the Karawang International Industrial City (KIIC), located in the east of Jakarta, the capital of Indonesia, jointly with a local partner. More than 150 tenant companies operate on a site of approx. 1,400 hectares. Aiming for co-existence and shared prosperity with the local community and residents, KIIC companies have continued to pursue various CSR activities over the long term in healthcare, agriculture, the environment, education, and other areas.
The unique activities of KIIC include support for the establishment of the baby health centers for community at six nearby villages and the provision of medical equipment for birth attendants.
In addition, KIIC built smart street lights*, making KIIC the first industrial park in Indonesia with lights of this kind, in an effort to reduce its environmental impact.
Joint activities with tenant companies include donating saplings and tree planting to local municipalities, which are carried out on World Environment Day each year. In addition, KIIC has established an agricultural park on its premises to promote education, training, and other activities related to agriculture, environmental protection, and others. In this park, specialists provide local farmers advice on farming and more than 10,000 saplings for forestation are grown each year.
As the secretariat for CSR activities of tenant companies, KIICproactively supports activities including the monthly supply of baby food to local babies and toddlers, provision of scholarships to junior high and high school students, support for flood damage, and pest control.
Through these CSR activities, KIIC aims to be an industrial park that grows together with the local community.
Smart street lights: An IoT solution that controls power consumption and CO2 emissions by adding a dimmer control function to power-saving, high-efficiency LED, thereby improving the efficiency of the operation, maintenance, and management of street lights (making street lights smart). Approx. 1,200 smart streets lights were built in KIIC.