Initiatives in Preventative Medicine Using IT


1. Health issues facing Japan in an age of ultra-low birth rates and ultra-advanced aging
Japan boasts one of the world's longest lifespans thanks to an elevated standard of living and advanced medical care. At the same time, the country is facing low birth rates and has entered an age of ultra-advanced population aging that is unprecedented on a global scale.
Ultra-advanced population aging is driving fears of a decline in the labor force, lower social vitality, and a subsequent decline in income levels. Furthermore, the cost of social insurance, including medical expenditures and pension, which combined exceed 40 trillion yen, are placing a massive burden on the national budget. These factors give rise to concerns of the burden that will be placed on the working population.
Changes in Japanese Population Pyramid
In 2025, when all members of the baby boomer generation will be age 75, Japan's population of people age 75 and older will reach 18%.
In 2060, the population will decline to 86.74 million people but approximately 40% will be age 65 and older.
Accounting to the Population Census conducted by the Ministry of Internal Affairs and Communications, the rate of elderly persons age 65 and older is projected to increase annually, with 1.8 members of the labor force being required to support a single elderly person by 2025, which the baby boomer generation reaches the advanced age of 75 and older. The country is facing a state requiring the immediate optimization of medical care and nursing care.
As Japan experiences rapid population aging, achieving a society with vitality requires that many more elderly persons live in good health for as long as possible that, regardless of age, they apply their wisdom and experience towards proactively involvement in society. In this way, the prevention of lifestyle diseases such as hypertension and diabetes will become a vital issue.
Individual health management is vital to the prevention of lifestyle diseases but it would be extremely difficult for individuals to continuously collect the same data on a daily basis. For this reasons, there is a need for the creation of a framework for using IT, including the automated collection of data, to make health management easier.
The creation of a framework that enables individuals to easily work towards lifestyle disease prevention will not only enable individuals in society to live more enriched lives, it also will contribute to reducing social insurance costs and the burden of nursing care being borne by the working population.
In the field of corporate management, the 2015 launch of the "Data Health Plan" (MHLW) and selection of Corporate Health Achievement Award winners (METI, TSE) triggered a new trend in health management*.
In Japan, which is simultaneously facing labor force decline and increased medical expenditures, for both corporations and individuals per capita health insurance costs are increasing annually. Corporations working proactively to resolve this issue will not be able to avoid cost increases resulting from poor health. The costs borne by corporations in relation to poor health will include not only identifiable costs such as those attributable to medical care expenditures and leaves of absence, but also declines in productivity due to employees who report to work with an illness or condition. This decline in productivity, which can be the most difficult to assign a numerical value, is actually believed to be the greatest cost to companies. Through the daily promotion of health improvement among employees, companies can not only help maintain employee health but also improve labor productivity and enhance corporate competitiveness. As such, health management, which involves the simultaneous management of employee health and productivity, is becoming a management benchmark by which investors are evaluating investment value.
About health management: To apply a business management perspective towards conducting strategic health management of employees, etc. Investing in employee health as part of corporate principles works to invigorate an organization, including resulting to greater employee vitality and increased productivity. These investments are expected to lead to improve performance and increase stock price.
2. Itochu Group preventative care × IT business
Since July 2006, Itochu has been expanding its healthcare-related businesses in the domains of disease prevention and health improvement through our subsidiary Wellness Communications Corporation (WCC). Recently, we have been applying our cumulative knowhow to offer services that provide full support to companies practicing health management.
Health Management Support Service
Help for corporate health management work [Health Support System]
The work conducted by HR and corporate affairs departments covers a broad spectrum that includes hiring, training, assignments, evaluations, wage calculations, tax preparation, labor negotiations, and more. The health management work needed today requires handling the data of each individual employee, and requires significant detail-oriented labor, including the timely and appropriate coordination of health examinations or comprehensive checkups based on individual needs. The workload required for health management can become a significant burden.
WCC applies its many years of experience towards providing the Health Support System (HSS), an enterprise-level cloud-based health management solution.
The digital management of data previously managed using papers enables easy analysis of the health status of employees. In addition to employees requiring reexamination, the system can also identify at-risk employees, providing a tool that can be used to prevent disease. With various work structures, age ranges, and industry laws and regulations, each company faces its own diverse range of issues related to health. The Itochu Group contributes to enhancing corporate health management by providing custom total solutions featuring consulting on the establishment of corporate policy related to health management and proposals for systems that will enable workstyle reform.
Increasing worker health awareness and creating a healthy workplace [Re:Body]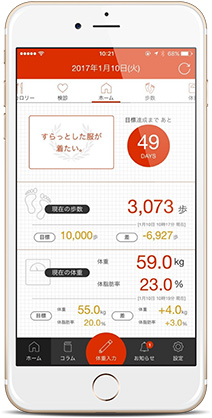 Itochu collaborated with NTT DOCOMO and WCC to provide enterprise-level services related to creating a healthy workplace using the corporate health management and improvement support mobile app Re:Body.
Re:Body is a health awareness improvement system that helps individual workers check and manage data related to their body and health to promote healthy lifestyle habits.
Typically, medical support in the form of indicating that treatment is necessary is provided when abnormal results are returned after a medical exam or comprehensive checkup. However, as it stands, workers simply receive feedback indicating they are at risk of a lifestyle disease but no disease prevention measures are implemented. Improvement is completely up to whether or not the individual takes proactive action to address the condition.
For individual employees working towards disease prevention, we need a system that allows employees to take action passively, turn this action into a daily habit, and address health issues based on individual data.
Re:Body was developed with the objective of propelling employee healthy lifestyles to the next level by utilizing a company that manages individual health data from health examinations.
In addition to functions that allow the user to browse and compare results from annual health examinations, Re:Body can link to a wearable device or body composition scale to enable the browsing and centralized management of data required for health management, including steps, weights, body composition, and calorie intake. By adding a function for communicating with registered dietitians and other experts, we can go beyond the management and browsing of health data to enable functions that allow users to receive health improvement advice.
Prior to nationwide release in FY2018, in January 2017 Itochu first conducted a two-month Style Up Program for 100 young employees with BMI results above a certain line. The program featured used the Re:Body app and health guidance services providing one-on-one advice from experts.
Style UP Program ; Results and participant feedback
Health Consciousness Changed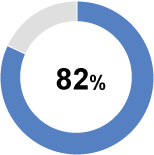 Factors Where Style-Up Was Effective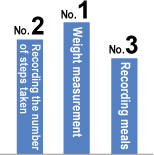 Walking Event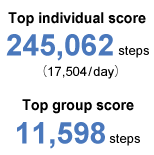 Can Continue the Style-Up Lifestyle from Now On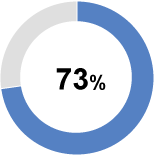 | | Average before | Average after | Average rate of reduction | Maximum rate of reduction |
| --- | --- | --- | --- | --- |
| Weight | 82.6kg | 79.8kg | 3.3% | 12.7% |
| Body fat ratio | 24.7% | 23.7% | 4.0% | 17.0% |
| Waist measurement | 94.1cm | 89.7cm | 4.7% | 19.6% |

Comments from Style Up Program participants
I like having visual references for my weight and other information. Dieting with friends and confirming our respective progress together helped me maintain my motivation.
The visualization of data made it easy to maintain my motivation. The dietary advice was extremely helpful and motivated me to be careful.
I think a positive point of this program was the emphasis on increasing awareness of improving dietary choices, exercising, and focusing on a more long-term commitment to creating a healthy body. I actually feel like my lifestyle rhythm has improved.
Participating didn't require a lot of my time so I was able to maintain balance with work and participate without feeling any stress.
Our vision for IT + healthcare
Itochu aims to contribute to maintaining Japan's high service quality while constraining expanding medical care costs by proactively applying the IT we have provided to industries in the healthcare domain.
For example, through the utilization of IT, we can digitize data related to people's health status and activity history to enable more scientific analyses. Analyzing and comparing past medical data can lead to future disease prevention as well as evidence-based diagnosis and treatment.
IT + healthcare has seen dramatic changes in both environment and technology over the past 10 years. We are seeing the emergence of various technologies, including infrastructure development driven by the dissemination of internet and wireless communications, the development of highly functional wearable devices driven by advancements in semiconductor technology, advanced big data analysis technology using AI, and robot technology, Japan's particular area of expertise. Further propelled by government initiatives to promote the advancement of remote medical care, these technologies are gaining momentum and are likely to present new business opportunities.
Developing the Itochu IT + Healthcare business globally
Through collaboration with CITIC, we are expanding the health and medical care service infrastructure and management knowhow developed in Japan into Asia and other overseas markets. Population aging and increased lifestyle diseases is becoming a serious problem in other parts of Asia as other countries are beginning to face the problems related to rising medical care costs and national budget constraints. We will aggressively expand our IT + Healthcare service into markets throughout Asia and around the world.
Itochu believes that one of our greatest missions is to support people's health. We will provide comprehensive service infrastructure and healthcare IT to support the universally common desire of living a healthy, enriched life and to contribute to promoting medical advancements and improved health in Japan and around the world.
Toward the provision of healthcare services that realize health management
Yasuhide Matsuda
President
Wellness Communications Corporation
Since our founding, we have embraced the management principle of "Communications for Everyday Health". As part of our pursuit to be professionals charged with handling health data, we strive to create healthcare services that people want to engage in and continue by offering convenient and unique experiences based on such attributes as gender, age, and region.
With advancing population aging, rising medical expenditures are placing great strain on the national budget. Amid such an environment, society is in need of products and services that help prevent disease and the need for nursing care. However, there are various unseen hurdles to starting and continuing a healthy lifestyle. We are working to innovate our core business and strengthen our operating platform in order to take a leading role in fostering this developing market. In doing so, we will provide the services that will eliminate these hurdles and be able to respond to sustainable corporate ways and lifestyle of people.
Comments from Re:Body app service developer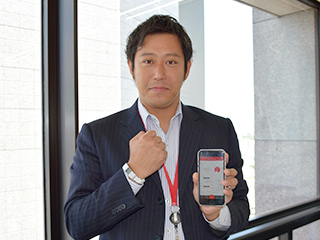 Yuki Matsushita
Project Leader
Information Technology Business Department
Desiring to promote health awareness reform among employees through health care IT, I developed a tool that would serve as an opportunity to reevaluate personal lifestyle habits and increase health awareness. To foster continued health awareness, participants were asked to take daily records of their body weight, exercise, and meals. Personalized messages from a health coach helped transform health management from something that other people did into something that was a part of the individual's daily routine, which helped maintain motivation. I too used this service and gained a renewed sense of awareness regarding the importance of daily exercise and food management. I hope to use this type of IT service to provide health solutions and support improved health.