Water and Environmental Public Infrastructure Projects


Continuous Initiatives for Sustainable Resource Utilization
Demand for water continues to rise in response to the growing global population and the rise of emerging countries. Yet accessible freshwater resources constitute only about 0.01% of Earth's total water resources. Adopting sustainable resource utilization as a key CSR issue, ITOCHU Corporation has for many years focused on public infrastructure, from development and construction, to asset management and operation alongside our customers (national/local government and enterprises). Here we will introduce the water and environment related projects which ITOCHU Corporation has particularly focused on.
Risks and Opportunities in the Water Business
Due to factors such as the rapid growth in the global population, economic development and the advance of industrialization primarily in emerging countries, and global warming, worldwide water demand has increased dramatically. According to the United Nationals Development Program (UNDP), an estimated one billion people will face water shortages by 2050. While the global water market was worth approximately 60 trillion yen in 2005, with such rising water demand the market value is expected to reach around 111 trillion yen by 2025. Taking into account these circumstances, ITOCHU Corporation views the water business as a promising market. At present, ITOCHU Corporation is pursuing water businesses in three major fields; (1) water supply and sewerage concession businesses, (2) seawater desalination projects, and (3) EPC* and the production and sale of reverse osmosis elements (RO membranes) for seawater desalination.
EPC: Engineering, Procurement and Construction
Changes in Global Population and Global Quantity of Water Intake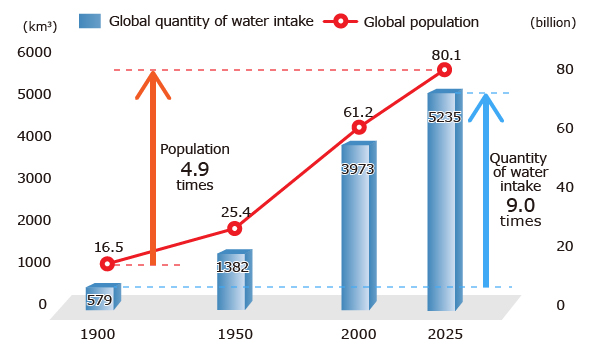 Water Supply and Sewerage Concession Businesses
In 2012, ITOCHU Corporation acquired the equivalent of a 20% stake in Bristol Water Group from a Canadian infrastructure investment firm, Capstone Infrastructure Corporation. With a history spanning more than 160 years, Bristol Water Group provides water supply services to the city of Bristol and the surrounding vicinity in the southwest of the United Kingdom. SUEZ environnement, which maintains a 30% interest in Bristol Water, is a major water company based in France with a history of over 150 years, and running projects in 70 countries and supplying water to approximately 92 million people worldwide.
The UK water utility sector was fully privatized in 1989. Since then, significant improvements in the level of service had been achieved and the UK model is now recognized worldwide as a role model for successful privatization of the public sector. This investment marks the first Japanese investment in a water utility company in the UK providing a comprehensive water supply service to approximately 1.2 million inhabitants, including water resource management, water treatment, supply, distribution, and billing service.
Following involvement in the water utility sector in the UK, ITOCHU Corporation acquired 33.4% of the shares of Canaragua Concesiones S.A., which provides water supply and sewerage services in the Canary Islands in Spain, from SUEZ environnement Group. Canaragua Concesiones S.A. enjoys a leading share in the Canary Islands' privatized water supply and sewerage market, providing services to a total of 1.3 million residents based on concession agreements with local governments.
With its engagement in these projects, ITOCHU Corporation plans to acquire and accumulate expertise in water utility projects so as to contribute to developing sustainable water businesses in the future.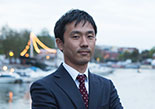 Yu Tanaka
Water & Environment Project Section No. 2,
Plant Project Department
Comments from an ITOCHU Employee Seconded at Bristol Water
Over a two-year period from January 2013 to January 2015, I resided in Bristol, England, being involved in water supply business as a member of Bristol Water. During that period, I was involved in a range of activities - capital planning, accounting and finance as well as the areas closer to operation and maintenance.
While working with the employees of Bristol Water, I was impressed by their strong sense of responsibility to contribute to the region through supplying water. The whole company works together to serve to the community and people in the region, taking in mind of daily lives and health, not only when a disruption occurs in their service but also in day-to-day business activities. During my stay there, I had many opportunities to sense their pride as a water supplier.
Having returned to Japan, I am now working on water and environment projects from Tokyo. I hope to pursue further businesses in the field by combining the experience and knowledge I obtained in Bristol, together with the variety of functions of ITOCHU such as project management know-how, credit capability and technology provision.
Seawater Desalination Project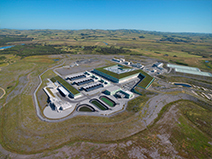 In 2009, ITOCHU Corporation participated in the Victorian Government's seawater desalination project through a 30- year contract with AquaSure, along with its partners including SUEZ environnement, major Australian general contractor Thiess Pty. Ltd., and major Australian investment bank Macquarie Bank. The Victorian Desalination Project is a reverse osmosis desalination project with a daily capacity of approximately 400,000 tons. The project, completed in 2012, includes the construction of seawater desalination facilities, seawater intake facilities, a water pipeline and power transmission line, and supports the stable water supply in the state for generations to come.
Australia has suffered serious water shortages in the past, and it is regarded as a national issue to tackle water shortages. The facility is able to meet approximately 30% of the water demands of Melbourne, with a population of around 4.4 million, making it a project that contributes a rainfall independent water source to the city and connected regional areas.
Due to the global increased demand for water, the market for seawater desalination is expected to be tripled by 2025 compared to that in 2007. With this in mind, ITOCHU Corporation will promote its engagement into water businesses such as seawater desalination in the regions with severe water shortages.
Seawater Desalination Plant Restoration / Expansion and Sale / Manufacture of RO Membranes
In Saudi Arabia, a large proportion of water for domestic use relies on seawater desalination plants, and the country's seawater desalination capacity is the largest in the world. On the other hand, a large number of facilities are wearing out, making rehabilitation work a pressing issue. ITOCHU Corporation has been delivering a large number of desalination plants in Saudi Arabia since the 1970s. In 2003, ITOCHU together with Sasakura, a holder of unique seawater desalination technologies, established Arabian Company and Sasakura for Water & Power (hereinafter "APS"), a joint venture with local capital in Saudi Arabia. Since then, APS has provided a wide range of services as a total solution provider in the field of seawater desalination plants, such as the construction of seawater desalination plants based on Sasakura's equipment and technologies, and the maintenance of existing plants including their restoration and the supply of components for upkeep. More recently in September 2014, APS was awarded by the Saline Water Conversion Corporation (hereinafter "SWCC") a rehabilitation project of the Al Jubail Phase 2 C4 MSF Seawater Desalination Plant, followed by an expansion project for existing seawater desalination units under Shoaiba Phase 2 in January 2015. ITOCHU Corporation will continuously seek projects to tackle the need to rehabilitate aging facilities in the country, as well as smaller-sized projects for regional areas.
On another front, ITOCHU Corporation is promoting operations to manufacture and sell RO membranes for seawater desalination through Arabian Japanese Membrane Company (hereinafter "AJMC"), which was established with local capital along with Toyobo in March 2010. In the future, by manufacturing RO membranes whose demand is expected to increase among Middle East and Persian Gulf nations amid the growing demand for water due to rapid economic development and population growth, AJMC will strive to further expand its sales.
Risks and Opportunities in the Environment Business
According to the OECD Environmental Outlook to 2050, worldwide greenhouse gas emissions will increase around 50% from 2010 to 2050, and more destructive climate changes may occur. ITOCHU Corporation has been involved in various renewable energy projects as businesses that contribute to the mitigation of climate change and reduced CO2 emissions. Here, we introduce the waste management projects ITOCHU has pursued since 2011.
Waste Management Projects
Since 2011, ITOCHU Corporation in conjunction with SUEZ environnement Group has signed waste management PFI agreements and undertaken construction for four projects in the United Kingdom.
In these projects, wastes are treated through incineration, whilst they were traditionally landfilled directly. As a result of the four projects, the total volume of landfill waste will be reduced by 1.31 million tons a year and greenhouse gases will be reduced by 335,000 tons a year. Moreover, the heat produced through incineration process generates electricity of equivalent to the power consumption of 165,000 homes. This clean power generation, without using fossil fuels, inhibits the emission of methane, which has a significant impact on global warming.
ITOCHU Corporation has been involved in the construction of seawater desalination plants since the 1970s. In the intervening time, ITOCHU has worked on water and environment businesses in a way that takes into account the issues and characteristics of each area around the world. Leveraging off these expertise, its international fund procurement competence and connections with many partners around the world, ITOCHU will continue to tackle these challenges to help find solutions to the water and environment issues facing the world.
Global map of our investments in water and waste management sectors

Bruno HERVET
SUEZ environnement
Executive Vice President Smart &
Sustainable Cities
Comments from a Business Partner
We are at the dawn of the resource revolution. In a world facing high demographic growth, runaway urbanisation and the shortage of natural resources, securing, optimising and renewing resources is essential to our future.
SUEZ environnement supplies drinking water to 92 million people, delivers wastewater treatment services to 65 million, collects waste produced by almost 50 million, recovers 14 million tons of waste each year and produces 5,138 GWh of local and renewable energy. With 80,990 employees, our company, which is present on all five continents, is a key player in circular economy and sustainable management of resources. SUEZ environnement generated total revenues of €14.3 billion in 2014.
Our employees are united in providing our customers (local authorities, industry and consumers) with concrete solutions to address these new resources management challenges. To that end, SUEZ environnement works in partnership with industrial companies such as ITOCHU Corporation to develop breakthrough innovations for the whole water and waste cycle.
In recent years, SUEZ environnement has been cooperating with ITOCHU Corporation on water businesses including Bristol Water in the UK, Canaragua Concesiones in Spain and Victoria Desalination Project in Australia, as well as waste management projects in the UK. During our cooperation, we benefited from ITOCHU's financing competence, industrial knowledge and worldwide network, which enabled us to jointly deliver advanced technologies and services that meet our customers' current and future challenges. Furthermore, ITOCHU's approach of "Commitment to the Global Good" is fully in line with SUEZ environnement's long-term sustainable development policy based on the "3Cs", namely Circular, Concrete and Collaborative.
Through expanding water- and environment-related projects worldwide, we are sure that our joint endeavors will help provide solutions to environmental issues in the world.
SUEZ environnement "Sustainable Development"