Industrial Park Business Growing with the Local Community — Karawang International Industrial City, Indonesia —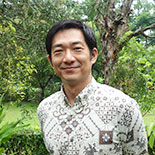 Field report:
Toshihiro Nakamura
Co-founder and CEO of Kopernik, an incorporated non-profit organization
After working for the United Nations and McKinsey & Company, in 2010 Mr. Nakamura founded Kopernik, an NPO, to deliver simple and innovative technologies to people in the Last Mile communities*. In 2012, he was selected as a Young Global Leader of the World Economic Forum (Davos Forum). He also worked as a member of the Global Agenda Council 2014-2016 on Sustainable Development of the World Economic Forum. In 2014, he became an advisor to the UNICEF Indonesia Innovation Lab. He now lives in Indonesia.
*Layers of people in emerging countries with the least access to support.
1. Introduction
A sogo shosha is said to be a uniquely Japanese style of business enterprise, and people often have a hard time understanding what it actually does, as it covers a wide range of business domains, including distribution, retailing and telecommunications, in addition to trading. I myself had never seen the daily activities of such a company up close. However, a recent visit to Karawang International Industrial City in Indonesia, which is run by ITOCHU Corporation, made me understand the special role that a sogo shosha plays in linking the needs of multiple companies and developing ecosystems for advancing their businesses. Let me explain further.
2. What is Karawang International Industrial City?
Karawang International Industrial City (hereafter, "KIIC") is a joint venture established in 1992 by ITOCHU Corporation and Sinar Mas, a major industrial conglomerate of Indonesia, with each party holding a 50% equity stake. To date, KIIC has expanded in three phases, and it provides land, buildings and other necessary services to tenant companies that plan to start a business or wish to increase their production capacity due to the growth of their business in Indonesia. As such, KIIC enables tenant companies to focus on their core business - manufacturing products. Currently, there are around 140 tenant companies operating in KIIC, of which nearly 85% are Japanese-affiliated.
When I visited KIIC, my first impression was that it was "clean." The roads are well paved. The area has a lot of greenery and is meticulously maintained.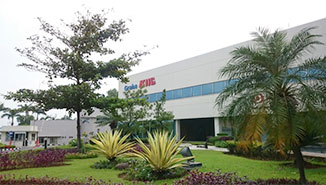 So what kind of high-quality infrastructure is provided? First, the vast area of land and buildings. This huge site of over 1,200 hectares (as large as Chiyoda ward of Tokyo) is situated in a convenient location - only about a two-hour drive from Soekarno–Hatta International Airport in Jakarta and one of Jakarta's ports, which are the entrances to the country for international transportation. It is also located close to a major highway exit. The main tenant companies are manufacturers of four wheel/ two wheel vehicles, such as Toyota and Yamaha, and companies which supply parts to the manufacturers. There are also many tenant companies from other industries operating at KIIC, such as consumable manufacturers and food manufacturers.
Tenant companies build factories on the lots operated by KIIC and engage in production there. Each company is able to concentrate on its main business in an environment with a stable supply of power and industrial water, a reliable communication environment, and a high level of public safety. Tenant companies can enjoy the stable electricity supply in KIIC because it is designated as the highest power supply priority area by the public power company. KIIC therefore provides its tenant companies with an infrastructure that allows them to set up factories in a country where the annual average power outage lasts approximately 250 minutes (20 minutes in Japan). Recently, KIIC also began offering rental factories for companies who wish to save on the initial costs of building factories.
(Sources: 2014 data from METI on the average length of power outages in Indonesia, and 2014 data from the Federation of Electric Power Companies of Japan for the average length of power outages in Japan)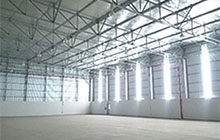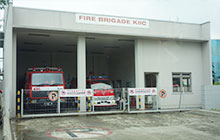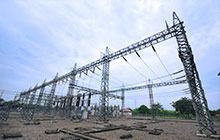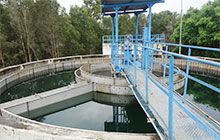 An eco-friendly business ITOCHU Corporation carries out in Japan is also scheduled to be introduced at KIIC. ITOCHU Corporation will build 1,300 smart street lights in KIIC, using software created by a French company Streetlight.Vision. The business not only allows for a reduction in power consumption and CO2 emissions, but also helps to improve the efficiency of operation, maintenance, and control of street lighting. Once these streetlights have been installed, KIIC is expected to reduce up to 70% of the power consumption every year. This project creates synergy between a business ITOCHU Corporation runs in Japan and its business in KIIC.
In addition to providing a highly resilient infrastructure for tenant companies, KIIC also provides critical services to facilitate the business activities of the tenant companies. For example, an association has been established to create and strengthen the community among tenant companies. Members of the association discuss various topics each month, such as activities for contributing to the local community and a shared farm on the premises described later. Lecturers and talk sessions by external speakers on relevant subject matters, such as financial and labor management are especially popular. In this way, the association helps tenant companies establish the appropriate work environment that complies with local regulations.
KIIC is equipped with a Japanese restaurant, Indonesian restaurant, Italian restaurant, a clinic and a mosque for employees. Serviced apartments that can accommodate people working in KIIC are also located nearby.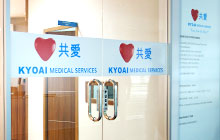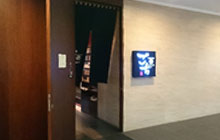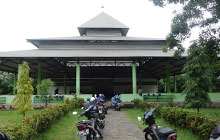 KIIC is one of the few industrial parks in Indonesia that has obtained three international standard certifications (ISO9001, ISO14001 and OHSAS18001). It is highly regarded by outside organizations and governing bodies, having received the Indonesian Government Ministry of Industry's award for the best industrial park in 2013 and for the excellent industrial park in 2015. These recognitions aside, what impressed me the most was the enthusiasm of the KIIC administration team, who says that the "success of tenant companies' businesses are the most important things for us."
3. Provision of further added value of the ITOCHU Group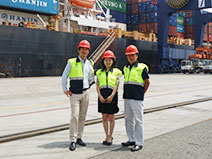 In addition to offering a comfortable working environment to the tenant companies of KIIC, ITOCHU Corporation offers extra benefits through its group companies. For example, PT. Itochu Logistics Indonesia (ILI), a subsidiary of ITOCHU LOGISTICS CORP. (ITOCHU Corporation's subsidiary providing comprehensive logistic services), handles the customs clearance of products imported to Indonesia from Japan and other countries. Globally expanding companies often face challenges in customs clearance due to frequent law revisions and other unpredictable changes in emerging countries such as Indonesia. The roles of companies like ILI are important as they prepare the required documents and help tenant companies to clear customs as smoothly as possible by leveraging its extensive human network within Indonesia.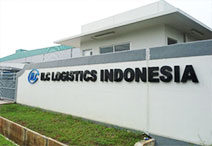 PT. ILC Logistics Indonesia (PT.ILC), another subsidiary of ITOCHU LOGISTICS CORP., provides the optimal inventory management for the tenant companies once goods have been cleared by customs. As the flow of goods today is growing ever more complex in response to changing lifestyles and consumption patterns, PT.ILC manages the sophisticated logistics operations in an integrated manner and helps improve the operating efficiency of its tenant companies, ultimately enabling them to reduce their logistics costs.
Many manufacturers that have factories in Indonesia struggle with the placement of orders for the materials of their products and inventory control. The inventory control system of PT.ILC enables manufactures to promptly and accurately check inventory whenever they need to. This makes it possible to transport the required quantity of materials quickly whenever needed and this in turn helps client companies reduce their inventory. ITOCHU LOGISTICS CORP. will continue to expand its business to provide efficient, high-quality services.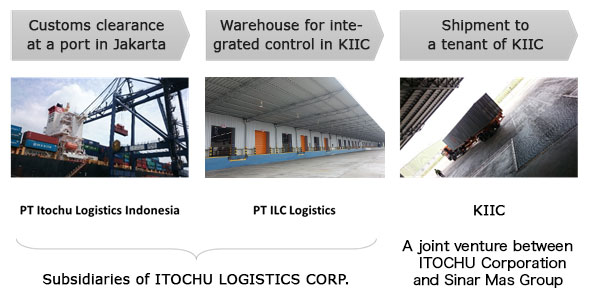 What caught my eye in the warehouse of PT.ILC was a large number of management manuals with photos on the walls. Various manuals, ranging from one on how to wear a helmet properly to one on how to correctly load cargo, are put up on the walls of the warehouse under the title "ONE POINT LECTURE".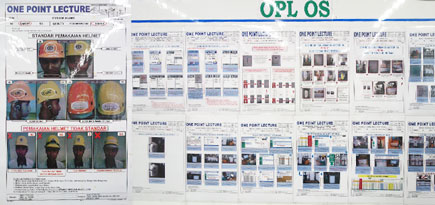 The ideas of One Point Lecture come from not only PT.ILC executives but also the employees working in the factories. These kinds of efforts are contributing to the efficient inventory control and timely delivery of materials to tenant companies.
About Kopernik
Kopernik, the Non-Profit Organization that I co-founded, is based in Indonesia and aims to reduce poverty with simple technologies, and provides support for people in developing countries to help them become self-reliant. Examples of these simple technologies include solar lanterns and simple water filters.
People who live in areas without electricity (approx. 1.4 billion people in the world) generally burn kerosene for lighting. However, kerosene lamps can be expensive and extremely harmful. First of all, users need to buy kerosene on a regular basis, and the cost of kerosene sometimes accounts for as much as 20% of household expenditures. The lamps also generate harmful black smoke, which in turn increases the respiratory disorders that may become fatal. We focus on solar lanterns because they provide a direct and low cost solution to these problems. In addition, unlike Japan where clean tap water is available everywhere, people in many developing countries drink water contaminated with E. coli bacteria or other micro-organisms that cause diarrhea. Statistics released by the United Nations show that 4,000 children die every day due to dehydration. Another part of our work involves delivering simple water filters to these places to reduce health damage.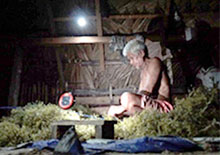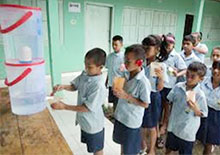 Kopernik delivers these technologies to the poor households in remote rural areas where it is difficult for a company to make a profit. However, the solar lanterns and water filters distributed to the poor communities are all manufactured by private companies. The work of Kopernik would be impossible without the innovation and technologies of those companies. If more technologies that meet the needs of the poor communities are developed at lower cost, they will contribute greatly to improving their quality of life.
4. Relationship between KIIC and solving social issues as seen from the vantage point of Kopernik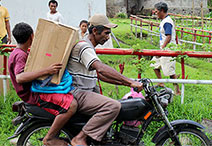 Taking a step back and looking at the activities of KIIC in relation to my own work, I can see linkages between Kopernik and KIIC. For example, two wheeled vehicles are among the products manufactured at KIIC. Those vehicles, which are much more affordable than automobiles, are incredibly valuable in the impoverished last mile communities where Kopernik works. In the rural areas of Indonesia, which have poor roads and are sparsely populated, two wheeled vehicles are essential for carrying harvested agricultural crops to the nearest market or going to a hospital. In addition, in most cases solar lanterns, water filters, and other products are delivered to each household by two wheeled vehicles through Kopernik's network. This means that two wheeled vehicles are indispensable to the supply chain of last mile communities.
Another example is mosquito coils. A Japanese company manufacturing mosquito repellent products is operating in KIIC and has been enjoying its steady growth in Indonesia. According to 2013 data from the government of Indonesia, there were 350,000 cases of mosquito-borne malaria and 100,000 cases of mosquito-borne dengue fever, including cases in which infants and children died. Malaria and dengue fever have a profoundly negative impact on the economy. According to an estimate by The Economist magazine, the economic damage of these diseases is as much as 38 billion yen per year. Thus, mosquito repellent products are essential. Manufacturing these products not only helps prevent the discomfort of itchiness but also prevent fatal infections. This ultimately helps to reduce the economic burden on Indonesia.
The elimination of poverty, spread of renewable energy, securing of clean water, and eradication of infectious diseases (such as malaria and dengue fever) are all included in the 17 sustainable development goals (SDGs) that were adopted by the United Nations in September 2015, and are recognized as important international goals. These goals should not only be tackled by international organizations or the governments of member countries alone, but through the collaboration of private enterprises, the public sector, and other groups on the global level. The delivery of solar lanterns and water filters to last mile communities by two wheeled vehicles and the steady supply of mosquito repellent products at affordable prices can also be viewed as efforts towards achieving these SDGs in Indonesia.
5. Giving back to neighborhood communities
As we saw above, the main business of KIIC contributes to solving social issues through the activities of tenant companies. At the same time, KIIC is also actively supporting the six neigbouring villages through its CSR program together with its tenant companies.
One example is agricultural support. As most residents of Karawang are small-holder farmers, KIIC has partnered with Bogor Agricultural University, one of the leading universities in Indonesia, to provide local residents with agricultural best practices. For example, proper use of fertilizers and new farming methods which help them to improve their lives and be financially independent. KIIC also farms catfish, which are highly nutritious, and provides them to local residents. These activities provide local residents with new seeds for business while at the same time contribute to nutritional improvement.
The other CSR activities of KIIC include support for the establishment of community baby health centers, free medical support, monthly supply of baby food, growing more than 10,000 saplings for forestation every year, and the provision of scholarships. Approximately 50,000 people work at KIIC – providing a significant employment opportunities for local residents.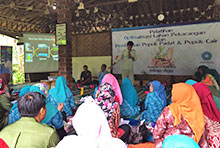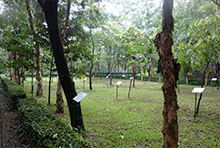 6. Significance of KIIC managed by a
sogo shosha
What is the value of a sogo shosha running an industrial park business? When starting a new business in a new country, many Japanese companies turn to a sogo shosha because of its extensive overseas network, local expertise, financial resources, and experience of running business outside Japan. KIIC business indeed takes advantage of these strengths of sogo shosha. For ITOCHU Corporation, a joint venture with an influential local enterprise ensures compliance with local legislation and smooth negotiations with local governments. At the same time, ITOCHU Corporation attracts tenant companies by leveraging its network and provides additional services, in the areas of logistics and smart street lighting. Tenant companies can make use of the tangible and intangible resources the sogo shosha possesses to expand their businesses while keeping initial investments low. It is a win-win relationship.
Japanese companies as seen through the eyes of an Indonesian partner
How do Indonesian companies perceive Japanese companies that have entered the Indonesian market and have been expanded there via KIIC and other similar industrial parks? I met with Mr. Shingo Kobayashi, who is responsible for technology investment and serves as an advisor on partnerships with Japanese companies at Sinar Mas Group, the Indonesian joint venture partner in the KIIC business.
Over the last 20 years, the Sinar Mas Group has formed 20 joint ventures with Japanese companies in various business domains. It has a much deeper relationship with Japanese companies than other Indonesian conglomerates. The benefits of partnerships with Japanese companies for an Indonesian company go beyond economic gain, and include learning from the diligent, professional and ethical attitude of Japanese work culture and the common long-term perspective on business. Partnering with Japanese companies takes a long time, but once formed it goes very smoothly.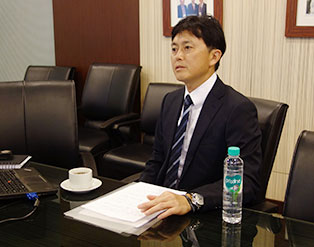 Indonesia suffered immensely from the currency crisis in 1997 and its external environment has not always been conducive to businesses, due in part to the impact of the Lehman's collapse and currency fluctuations. However, in the coming years, we would like to see ITOCHU Corporation and the ITOCHU Group to enhance their presence in Indonesia as a Japanese partner that is extremely reliable from a long-term perspective and one of the most trusted Japanese partners.
After the visit
I visited every corner of the industrial park, and at the port in Jakarta, I saw the customs clearance process. ITOCHU Corporation works on many other businesses, so what I saw this time was only a part of what the company does. Still, I was impressed with the scale of the businesses and the synergy between the businesses among its group companies.
To me, KIIC nicely complements the support provided by public institutions, such as METI, JETRO, and JICA for Japanese companies to expand overseas. Imagine a company, which conducted marketing research on an emerging country with support from JETRO or JICA and is convinced that there is a great potential for expanding its business to Indonesia. This company decides to manufacture products in Indonesia, but wants to minimize the initial costs for finding a site and constructing a building. For such a company, a facility like KIIC might lower its business risks. If many companies use facilities like KIIC as a foothold for developing and manufacturing products and services needed by the poor, our work at Kopernik will be able to expand further.