Pork Meat Business in Canada -HyLife Group Holdings.-


From ginger-fried pork and pork cutlets to "shabu-shabu", pork meat is a staple of the Japanese diet. However, in reality, Japan's rate of self-sufficiency for pork meat is approximately 50% (2014 MAFF data), and Japan's overall food self-sufficiency rate is declining annually. Below we introduce our pork meat business, which is achieving the stable delivery of safe, healthy, and high-quality pork meat to Japan to support the food culture of the Japanese people.
In December 2012, ITOCHU Corporation acquired 33.4% share (worth approx. 5 billion yen) in HyLife Group Holdings (below, HyLife) and currently up to 49.9% by further acquisition. HyLife is one of Canada's largest hog producers and pork meat processors with full-service operations based mainly in the Manitoba Province.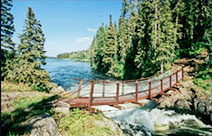 Manitoba Province, the location of HyLife's main offices, is positioned in central Canada and its land is considered optimal for agriculture. With relatively cooler summer climate, the region is well-known for the production of high-quality barley and wheat. Boasting the world's No. 1 water resources per capita, Canada's balanced water sources are used to raise healthy hog. The land is blessed with conditions that are highly favorable to hog breeding. With Canada's pork meat self-sufficiency rate exceeding 250%, HyLife is an invaluable long-term partner in our efforts to resolve Japan's pork meat shortage.
Introduction of HyLife

Hytek Corporation, the predecessor of HyLife, was founded in 1994. The company's history began after a chance encounter between the three Vielfaure brothers and Don Janzen at a gas station, and they agreed to start a pork production business that took advantage of their respective strengths.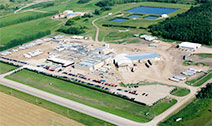 Originally, HyLife primarily conducted exporting wean pigs to the U.S.A., but imports from Canada became difficult following revisions to US laws (Country of Origin Law), so the company's management was forced to change operations. Realizing that by adding slaughter operations to their current production and breeding operations they could establish an unparalleled management system to distinguish themselves and increase both their competitiveness and quality, the company decided to open a pork meat processing plant. In 2008, they completed their current vertically integrated one-stop production system. This increased the company's competitiveness, helped ensure a high level of safety, and the stable provision of high-quality pork.
Today, the company has 1,800 employees, and annually raises 1.9 million hogs and slaughters 1.6 million hogs, representing one of Canada's largest pork breeders.
The Safe, High-Quality Pork Production Process and Customer Care Achieved by HyLife
HyLife operates a vertically integrated production system comprised of hog breeding, the production of compound feed, and pork meet production. This production system enables the internal management and coordination of the company's supply chain. HyLife also achieves the stable supply of safe, high-quality product with full traceability. Highly praised on the Japanese market, today HyLife has grown to be Canada's No. 1 exporter of fresh chilled pork products to Japan.
Process for supplying safe, high-quality pork meat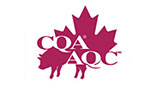 As part of food safety, HyLife's farm is subjected to annual animal care audits by the Canadian federal government and has earned CQA (Canada Quality Assurance) certification.
Feed
Made primarily using high-quality barley, wheat, corn, and canola raised in Manitoba, at HyLife, we produce our own compound feed. This enables traceability to determine which feed was eaten by which hogs at what farm. For Japan in particular, compound feed made based on a special feed program is produced under the supervision of an internal nutritionist to ensure the production of high-quality pork meet.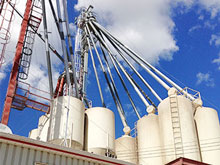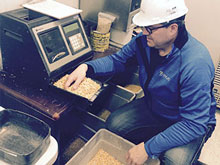 Hog breeding and handling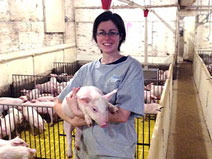 To ensure animal welfare and maintain high meat quality, HyLife requires that all its truck drivers obtain licenses through the internationally certified TQA (Transport Quality Assurance) program. Through this program, drivers learn how the live pig transport process impacts meat quality and the importance of animal handling grounded in animal protection. Additionally, HyLife farms implement ACA (animal care assessments), through which company veterinarians and expert supervisors conduct on-site inspections of each farm. Placing particular importance on biosecurity, to help avoid the spread of infectious bacteria to hogs, we enforce rules outlining that visitors from overseas may not enter a hog barn for a two-week period following their arrival in Canada. This same rule is also applied to company employees returning from overseas business trips.
Slaughterhouse and processing plant
The HyLife processing plant is managed in accordance with the HACCP Method, the internationally-recognized health and safety management method. Quality management supervisors who have received special training conduct a scientific analysis of the production process to prevent the occurrence or shipment of nonconforming products. Furthermore, quality management supervisors confirm all products at each stage of the process, such as cutting and packing. After packing, quality management supervisors also conduct inspections of packed products by using metal detectors and X-ray machines.
Research & Development
Typically in North America, farms and processing plants are separate entities, thus it is uncommon for customer quality feedback to reach the farm. By comparison, HyLife uses its unique characteristic of having a vertical integrated production system to create farms that are specialized in research and development, and has established a regular feedback system for farms and plants. Through this system, HyLife has developed a program that effectively analyzes and researches pork meat quality characteristics to enable continuous quality improvements.
Dedicated employees conduct the following inspections and research throughout daily production to ensure food safety and supply that achieves stable quality and that conforms to safety standards.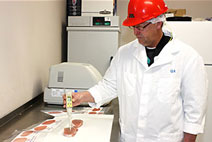 Examples of Research and Development
Full lot inspections and selection of chilled products for shipment to Japan
General bacteria testing
Preservation testing for establishing Use-by Dates
Cold chain monitoring
Lean meat ratio testing
Meat status monitoring, quality inspections
Chemical residue testing
Providing products to meet customer needs
Through the effective use of our vertical integrated production system, the strength of HyLife, we ascertain customer needs and customize products to meet the individual needs of customers. At HyLife, we call this the Specialty Program for Japan (Japan Diet (JD) Program). In addition to this JD program, HyLife produces Herb Sangenton* as a specialty brand for ITOCHU Corporation and Prima Meat Packers.
Example of Japan Program
Program contract defines production requirements for Japan
Feed mixing by internal nutritionists (developed and implemented special feed based on our low iodine value product (IVP) program, which has a positive impact on fat hardness and meat quality, fed herbs for 60 days)
Provide approved breeds (maternal line – large white × landrace; paternal line – Duroc)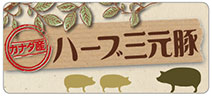 Herb Sangenton, offered by ITOCHU Corporation as a specialty brand for major ham and sausage producer Prima Meat Packers. Sangenton are fed an herb-based feed (made from oregano, thyme, cinnamon bark extracts) for 60 days. This supports to limit pork meat odor, and results in the production of pork meat with increased flavor and richness.
Partnerships with customers
The Specialty Program for Japan consists of Sangenton hogs, which are selected and breed under the guidance of HyLife's nutritionists and veterinarians, that are fed feed made primarily of local wheat produced on land in the Manitoba Province. Resident expatriates of ITOCHU Corporation are involved in the daily management and supervision of these breeding and feeding processes.
The HyLife management team personally travels to Japan several times per year to visit customers, plants, and farmers in order to receive feedback. And through our partner companies, we gather information on a daily basis. During visits to Japan, we conduct comparative taste testing using domestic branded pork and imported pork from other countries as part of our efforts towards continuous quality improvements. This Specialty Program for Japan ensures our ability to provide the type of pork preferred by Japanese consumers.
In addition to the Herb Sangenton brand specifically produced for Prima Meat Packers, one of our largest customers in Japan, HyLife hogs are used in other products such as their "Fresh! Pre-cut Roast Ham" of Prima Meat Packers.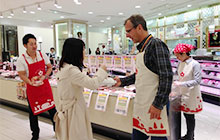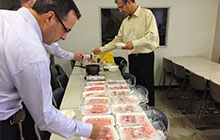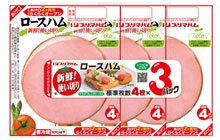 Environment and Community Activities
HyLife believes in the importance of the mutual prosperity of both the local community and our company. This is why we have positioned environment and community activities as the highest priority among our Core Values. We partake in numerous initiatives aimed at strengthening communication with local residents and being a part of the community. We also diligently implement activities related to minimizing the impact our business activities have on the environment.
Environment activities
Water reuse
HyLife built a water treatment facility on company grounds. We promote water reuse by turning the wastewater produced at our processing plants into clean water for use during truck washing and other tasks requiring the use of water. The construction of this facility has enabled us to reuse 50% of the wastewater produced at our plants.
Increasing soil value
Through a partnership with the Canadian government, hog manure produced at our farms is recycled as fertilizer for use on pasture lands. Recycling this manure for use on pasture lands provides the fertilizing elements necessary for nurturing pastures. Additionally, HyLife also raises cattle on this pasture land. Achieving this cycle ensures the cultivation of nutritional land, which raises land value and promotes the more effective breeding of cattle. Furthermore, this cycle contributes to adding value to waste products produced during hog production.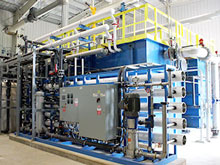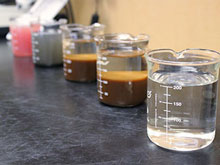 Activities that value community ties
Community enhancement
On weekends during the summer, HyLife sponsors various events for not only employees, but also local residents and families (booths at festivals, etc.) to contribute to community enhancement. HyLife also holds HyLife Fun Days, its major annual event. Originally, the event was only for employees and their families but today the event has grown to welcome participation from people in the local community and vendors. This popular event is attended by nearly 500 people each year.
HyLife also sponsors local community sports events and makes donations as part of our proactive efforts to strengthen community relations.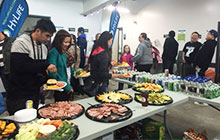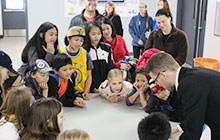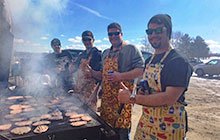 Accepting and supporting immigrants
HyLife proactively accepts immigrants from foreign countries. To secure elite human resources, not only does HyLife manage hiring processes internally, which includes traveling to conduct interviews locally, they also provide a wide range of services, including providing support for opening bank accounts and securing housing after immigration and providing introductions to the religious community. Through this support, HyLife helps immigrants quickly adapt to their new environment and ensure a pleasant start to their lives in Canada. Presently, HyLife sees a particularly large number of immigrants from the Philippines. In Neepawa, where our plant is located, HyLife provides rich support for the Philippine community, which in turn helps improve employee retention.
These efforts tie into Goal 8 of the Sustainable Development Goals (SDGs), which is to promote sustained, inclusive and sustainable economic growth, full and productive employment and decent work for all.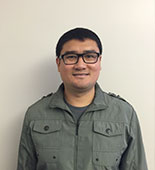 Immigrant from the Philippines: Rex Toledo (HyLife employee)
For one month after I arrived in Manitoba Province and was looking for a place to live, HyLife paid for my housing and transportation costs as well as provided me with various other forms of support. They were so helpful and I am so grateful. When I was first hired, I was involved in quality management and now I work on customer service for Japanese customers. In this way, HyLife supports employee growth by providing opportunities to expand your work domains. I am actively involved in the social contribution activities sponsored by HyLife, and in 2013, I received the Volunteer of the Year Award. It is another form of motivation to be able to contribute to the local community through my job.
Community partner: Don Walmsley (Responsible for immigrant residency support in Neepawa)
Thanks to HyLife, the number of people attending schools and churches in Neepawa has grown and the number of residency support cases I handle has grown each year. They have brought vitality to the entire town. They also provide support for community events, including by providing pork meat products. Community residents are sincerely happy to have HyLife here.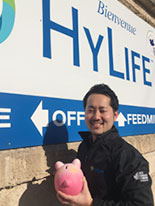 Expatiate from ITOCHU Corporation: Naoyuki Funakoshi (Vice President of Asia Sales and Market Development, in charge of sales to the Asian market including Japan)
I first met HyLife when I was in charge of pork imports at ITOCHU Corporation. I remember traveling to Canada on an observation tour as part of new supplier development. In early 2010 we began with 7 tons of pork per week to introduce the meat to the Japanese market but because of their management that promises absolute quality, safety, and security, today this has grown to over 500 tons per week handled by ITOCHU Corporation.
Following the capital investment, I came here in 2013 to be the local sales representative. Everyone here was kind and welcomed me as if I were family. I was surprised by their system of flat management that allowed everyone from the president to site workers to bring up serious issues directly. I believe it is this corporate environment and the employees' passion for the product that helps HyLife differentiate itself.
On the living front, they treated my family like members of the HyLife family and the company provided support in a variety of ways, including in relation to school, Canadian life and activities. HyLife members also have taken us on numerous nature experiences unique to Canada, so I think it has been an invaluable experience for my children as well.
As the expatriate of ITOCHU Corporation, I intend to utilize and strengthen the partnership and network between HyLife and ITOCHU Corporation in order to expand our exports and the value to Japan and the rest of the Asia market.
HyLife makes best effort to be Canada's No. 1 food company on the global markets. We will continue to optimize the balance between business activities, employees, the local community, and our environment while working to deliver safe and delicious pork meat to customers and achieve company growth.