ICT & Financial Business Company
– Sustainability Management –
Medium to Long-Term Growth Strategies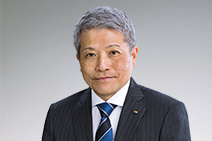 The ICT & Financial Business Company is developing its business in markets affected by rapid change. We comprise some of the Group's leading companies in various sectors of business. We strive to augment synergies between Group companies and undertake new initiatives to proactively provide support for changes in the business environment, thereby expanding our business foundation.
In the information and communication technology sector, the much further development of leading-edge IT services is required to cultivate new markets. We will introduce some of the world's leading technologies through venture investments, using these technologies to lead the market and achieve ongoing growth by fostering the development of Group companies' business foundations.
In the finance and insurance fields, we will further develop our strength in the retail finance business and create a new investment and lending business targeting corporate customers. We also intend to bolster earnings further in our agency, brokerage, and reinsurance businesses.
Viewing societal and environmental issues as business opportunities, in the information and communications field we will provide indirect support to promote preventive medicine, which should help to increase the percentage of people undergoing medical checkups. In the finance and insurance sector, through collaboration with regional banks we intend to contribute to the revitalization of regional economies.
Earning Opportunities for Growth
Challenges to Address

Expansion of the infrastructure services business in response to increasingly specialized and sophisticated business processes
Improved business efficiency and higher productivity through the use of AI and IoT
Cultivation and business development support for excellent companies in regional Japanese locations

Responding to the fast-changing business environment and regulations in various sectors
Thorough information management in the ICT, healthcare, and financial businesses
Throughout our business activities, we respect freedom of expression and privacy rights, which are important human rights issues regarding the Internet and SNSs.
Sustainability Action Plans
Key points of our FY2018 action plans
In the field of ICT, we will strive to increase the percentage of people who receive medical checkups as a measure for promoting preventive care. In the field of finance, we will contribute to revitalizing regional economies by collaborating with regional banks.
Major Sustainable Initiatives
Contributing to corporate health management and healthier employees through a mobile app that assists with health management and promotion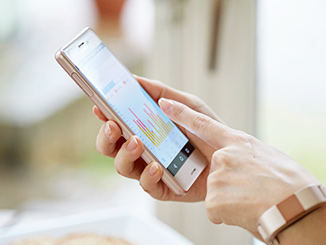 Employers are increasingly being required to assist employees in managing and improving their health, as evidenced by the introduction of mandatory stress checks and data health plans for those covered under company or health insurance union policies. Every year, the Tokyo Stock Exchange and the Ministry of Economy, Trade and Industry publish a "Health & Productivity Stock Selection," reflecting an increase in the number of companies looking to reduce medical costs, increase productivity and enhance corporate value by improving employee health management.
ITOCHU has designed and developed a mobile app called "Re:Body" in conjunction with Wellness Communications Corporation, a company 100%-owned by ITOCHU and NTT DOCOMO. Launched in April 2017, the app is designed to assist companies with health management and promotion. As well viewing and comparing annual health check results, it enables integrated management of data on users' everyday lives, including data on exercise and sleep from wearable devices, data such as weight and body fat from smart scales, and the contents of food diaries. Other features include communication with registered dieticians and other such specialists, so that users can access advice on improving their health, as well as managing and viewing health-related data.
ITOCHU will be providing Re:Body to corporate customers as an employee health management solution in the near future, in an effort to contribute to corporate health management and healthier employees.