ICT & Financial Business Company
The ICT & Financial Business Company consists of two divisions: the ICT Division and the Financial & Insurance Business Division, and strives to create a business synergy focused on service fields such as ICT and BPO. In areas such as the FinTech business, and amalgamation of Finance and Technology that has attracted increased attention in recent years, we are leading efforts to tackle and expand new markets by combining the business development functions of the ICT Division with the customer networks and expertise of the Financial & Insurance Business Division.
Sustainability Action Plans
Materiality
SDGs Targets
Issues to address
Business area
Commitment
Specific approach
Performance indicators
Reinvent businesses through technological innovation

Next-generation business Development
Business incubation through venture investment, focused on FinTech, IoT, AI and etc.
We will try to create new industries with acquiring cutting-edge innovations and business models such as IoT, AI, and FinTech.
Seeking chance to invest in and make partnerships with startups, in order to develop new businesses.
Achieve success new service and business development.
Contribute to healthier and more enriched lifestyles

Promoting good health among people

Business of clinical development support and pharmaceutical marketing support
Business of providing health care management solutions for individuals

We will provide value-added services for pharmaceuticals and medical sites, and will contribute to improvement of people's Quality Of Life (QOL) by utilizing cutting-edge ICT tools.
Store and utilize health data obtained from health checkup, wearable devices, and body composition scales.
FY2021: Managing the health data of 1,000,000 people.

Providing financial services
Domestic and overseas retail finance business
We work on expanding and creating the retail financial market and providing financial services to individuals to contribute to enriching people's lives.
Increase the number of customers and loan balance by expanding and creating the retail financial market.
Increase of the number of customers and loan balance.

Maintenance of industrial, logistics, and transportation infrastructure
ICT infrastructure construction business
We will contribute to maintain safe, secure, and highly convenient social infrastructure through providing various ICT solutions.
Continue to enhance the value of ICT solutions with maximizing new product/service sourcing functions.
Increase the number of procurement partners.
Throughout our business activities, we respect freedom of expression and privacy rights, which are important human rights issues regarding the Internet and SNSs.
ESG related activities
Start-up Investments to Develop New Technologies and Service Models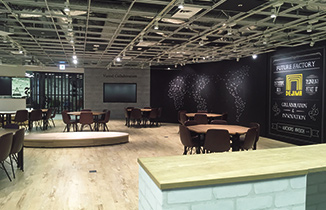 The rapid adoption of AI, IoT, and other new technologies is presenting to rebuild conventional business models and respond to digitalization as an important management issue for companies. By investing in start-up companies, the ITOCHU Group is endeavoring to promote the rapid utilization of new technologies and services at investees. Furthermore, by promoting open innovation and creating next-generation business models, we are supporting digitalization efforts at client companies. We are fostering stronger ties between start-up investees and ITOCHU Group companies by increasing share and dispatching employees. As a result, we aim to internalize some of the growth potential of those start-up companies into the ITOCHU Group and cultivate as a new ITOCHU Group companies.
Contributing to corporate health management and healthier employees through a mobile app that assists with health management and promotion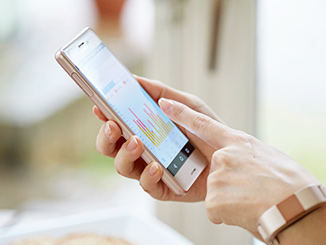 Employers are increasingly being required to assist employees in managing and improving their health, as evidenced by the introduction of mandatory stress checks and data health plans for those covered under company or health insurance union policies. Every year, the Tokyo Stock Exchange and the Ministry of Economy, Trade and Industry publish a "Health & Productivity Stock Selection," reflecting an increase in the number of companies looking to reduce medical costs, increase productivity and enhance corporate value by improving employee health management.
ITOCHU has designed and developed a mobile app called "Re:Body" in conjunction with Wellness Communications Corporation, a company 100%-owned by ITOCHU and NTT DOCOMO. Launched in April 2017, the app is designed to assist companies with health management and promotion. As well viewing and comparing annual health check results, it enables integrated management of data on users' everyday lives, including data on exercise and sleep from wearable devices, data such as weight and body fat from smart scales, and the contents of food diaries. Other features include communication with registered dieticians and other such specialists, so that users can access advice on improving their health, as well as managing and viewing health-related data.
ITOCHU will be providing Re:Body to corporate customers as an employee health management solution in the near future, in an effort to contribute to corporate health management and healthier employees.