Machinery Company
The Machinery Company operates businesses related to infrastructure projects, including IPP, water supply, environmental, energy, and transport, and businesses related to machinery, including marine, aerospace, automobile, construction machinery, industrial machinery, and medical devices. In addition, we are proactively developing opportunities in fields such as water and environment business, renewable energy business, solar industry, and biomass field. We position these businesses as ones for environmental protection, contribution to local communities, and others.
Sustainability Action Plans
Materiality
SDGs Targets
Issues to address
Business area
Commitment
Specific approach
Performance indicators
Address climate change

Taking countermeasures against climate change
Overall power generation business
We will develop power plants with a good balance between renewable energy power generation and conventional power generation, thereby contributing to the development of countries and regions in a sustainable manner that is optimized for each.
Pursue opportunities to invest aggressively in renewable energy power generation through analyses of countries and regions.
FY2031: Target to achieve a renewable energy ratio more than 20% (gross capacity basis) and reflect this to the future strategy.

Taking countermeasures against climate change
Sales of passenger cars and commercial vehicles
We will achieve the eco-friendly mobility society by strengthening businesses of electric vehicles (EVs), hybrid vehicles (HVs), vehicles with a reduced environmental impact, and those related.
Contribute to spread of eco-friendly vehicles by increasing business of eco-friendly and high-efficiency products, such as EVs, HVs, vehicles with a reduced environmental impact, and related parts.
Expand sales of eco-friendly products in response to the expanded lineup of EVs, HVs, vehicles with a reduced environmental impact, and similar vehicles from automakers as our business partners.
Contribute to healthier and more enriched lifestyles

Promoting good health among people
Sales of leading-edge medical devices and provision of medical services
We aim to improve quality of life by providing leading-edge medical devices and advanced medical services in the field of medical care, where technologies are innovated rapidly.
Promote sales of advanced medical devices, such as MRI-guided radiation therapy systems, and the business of supporting the operation of designated regional cancer care hospitals.
Increase the penetration of advanced medical devices in Japan, such as MRI-guided radiation therapy systems.
Respect human rights

Improving water and hygiene infrastructures
Water and environmental projects
We will contribute to improving the hygiene environment, the development of economic activities, and the protection of the global environment through the appropriate treatment and effective use of water and waste.
Expand water and environment projects to promote the appropriate use and treatment of water and the effective utilization of resources, and reduce the environmental impact.
Expand and diversify the investment portfolio in the water and environment field.

Establishing a supply chain reflecting consideration for human rights and the environment
Overall electric power and plant projects
We will contribute to improving the quality of life of all stakeholders in the supply chain and business investment destinations.
Set rules on due diligence related to social and business environmental safety for suppliers and business investment destinations based on the distinctive characteristics of each business, implement due diligence, and strengthen monitoring continuously.
FY2020: Aim to implement the due diligence described on the left in all new development projects.
ESG related activities
Signed a Waste Management Contract with the City of Belgrade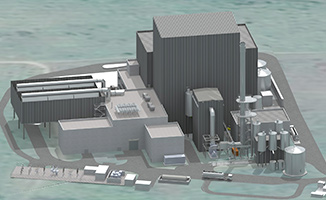 Together with France-based SUEZ, we signed the public-private partnership ("PPP") contract with the city of Belgrade, Republic of Serbia, for a 25-year waste management and resource recovery project. The project involves building and operating an energy-from-waste facility to treat 340,000 tons of municipal waste annually, equivalent to around 70% of the total municipal waste generated in Belgrade, and generate renewable heat and electricity. The project scope also includes the closure and remediation of the existing landfill, construction and operation of a new leachate-controlled landfill site.
We will contribute to Serbia's environmental conservation by reducing waste volume landfilled and greenhouse gas emissions with the introduction of proper waste treatment facility.
A stable supply of water, essential for life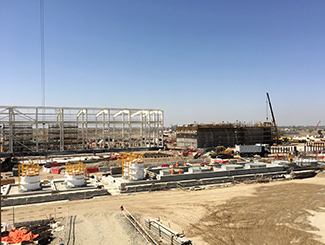 – The largest seawater desalination project in the Sultanate of Oman –
Water demand in the Sultanate of Oman is expected to rise by around 6% per annum. A shortage of potable water arising from population growth and urbanization has become a serious issue for the country. In March 2016, Barka Desalination Company, whose shareholders include ITOCHU Corporation, concluded a contract to build and operate a new seawater desalination plant with a capacity of 281,000 m3 per day at Barka, located in the northern part of Oman. This project is a joint public-private project involving the government of the Sultanate and provides for the construction and operation for 20 years of a reverse osmosis desalination plant with surrounding facilities. The plant began supplying drinking water in June 2018. It will be the largest seawater desalination project in the Sultanate, with a total project cost of approximately $300M. ITOCHU sees the water business as a promising business area in light of soaring water demand arising from rapid worldwide population growth, economic development, global warming and other factors, and has been expanding seawater desalination, water and sewage utilities, and other water businesses. We are keen to promote projects that contribute to the effective utilization of water resources in regions around the world.
Supplying clean electricity with solar power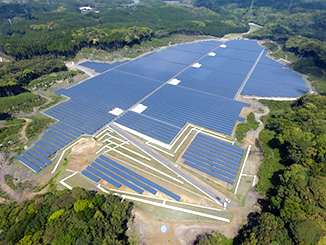 – Fourth operational solar power plant in Japan –
Recently, the momentum to make effective use of renewable energy as global warming countermeasures has been expanding worldwide. In April 2018, the Saga-Ouchi Solar Power Plant (generation capacity: approximately 17,000 kilowatts), in which we participate, commenced commercial operations. The power plant, which was constructed in Ouchi-cho, Karatsu-shi, Saga, is so far the largest solar power plant in the prefecture. We plan to operate the plant for 20 years jointly with Kyudenko Corporation. The power expected to be generated per year amounts to nearly 24,000,000 kilowatts per hour, equivalent to the amount of electricity consumed by about 4,200 ordinary households annually. As a result, carbon dioxide will be reduced by as much as approximately 11,000 tons every year. This is our fourth operational solar power plant in Japan, following ones in Ehime, Oita, and Okayama. We will continue to proactively promote the renewable energy power generation business globally, so as to contribute to the establishment of a recycling-oriented society while taking into account environmental conservation issues such as the prevention of global warming.