Machinery Company
– Sustainability Management –
Medium to Long-Term Growth Strategies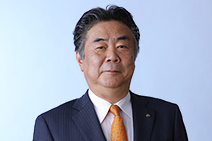 In IPP, water supply, environmental, energy, transport and other infrastructure businesses, we will strive to promote a balance between the accumulation of superior assets in industrialized countries and highly profitable development projects in developing countries. We will endeavor to expand trade in fields of conventional strength, including marine, aerospace, automobile, construction machinery, and industrial machinery, and reconfigure and reinforce the value chain business. We will also strive to generate stable earnings through stringently selected investments in peripheral sectors. Furthermore, we will promote the construction of a medical device value chain to meet anticipated future growth in medical device businesses, aiming to further enhance business investment and trade.
We will maximize earnings from existing business, promoting the accumulation of superior assets and asset replacement, and conducting trade in related and ancillary fields.
In promoting infrastructure projects in emerging countries, we will give due consideration to environmental protection and local communities to ensure projects proceed smoothly. The world faces such issues as climate change, waste management, and water resource securement; the Machinery Company views these as promising medium- to long-term business opportunities. As such, we are taking part in renewable energy-related businesses involving wind and geothermal power, as well as waste management projects. We are also involved actively in seawater desalination and other water-related projects.
Furthermore, based on our strategic business and capital alliance agreement with CITIC and CP Group, we are considering joint investment and trade expansion that will leverage that group's characteristics, particularly in China and the ASEAN region.
Earning Opportunities for Growth
Challenges to Address

Growing needs for leading-edge medical devices in advanced countries as their societies
Participation in renewable energy projects, including geothermal and wind power generation
Initiatives in water-related businesses in response to increasing demand for water

In infrastructure-related businesses, consideration for environmental protection, local communities, and human rights in development regions
In medical businesses, response to the rapid aging of society
Response to a low-carbon society by utilization of renewable energy
Sustainability Action Plans
Key Points of the FY2018 Action Plan
In FY2018, we will consider the impact on the environment as we continue to actively develop our social infrastructure businesses, including renewable energy-related businesses such as wind and geothermal power, waste treatment and power generation businesses, water-related businesses such as seawater desalination and railway-related businesses.
Major Sustainable Initiatives
Participation in geothermal power generation project in Indonesia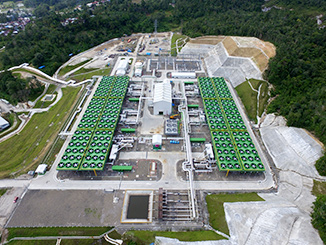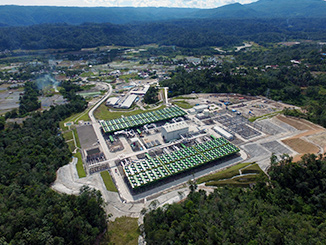 In Indonesia's Sarulla region in North Sumatra, one of the world's largest geothermal power projects (net capacity of 320.8MW by three units) is underway by Sarulla Operations Ltd. (SOL), which was jointly established by ITOCHU Corporation, Kyushu Electric Power Co., Inc., INPEX Corporation, PT Medco Power Indonesia, and Ormat Technologies, Inc.(USA).
In2013, SOL signed a 30-year long-term, power purchase agreement with Indonesia's state-owned electricity company, and began the construction of power plant and steam field drilling, of which commercial operation of the first unit commenced on March 18, 2017. With ongoing construction, the second unit is set to achive commercial operation in 2017, followed by the third in 2018.
Indonesia stands out as the home of one of the world's largest geothermal reserves and the Indonesian government is aggressively promoting its development as a strategic source of electricity. Amid growing infrastructure demand around the world, ITOCHU continues to promote investments in business opportunities which make contributions to the economic development of emerging countries with due consideration paid to environmental protection and local communities.
A stable supply of water, essential for life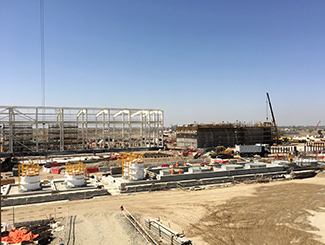 – The largest seawater desalination project in the Sultanate of Oman –
Water demand in the Sultanate of Oman is expected to rise by around 6% per annum. A shortage of potable water arising from population growth and urbanization has become a serious issue for the country. In March 2016, Barka Desalination Company, whose shareholders include ITOCHU Corporation, agreed to conclude a contract to build and operate a new seawater desalination plant with a capacity of 281,000 m3 per day at Barka, located in the northern part of Oman. This project is a joint public-private project involving the government of the Sultanate and provides for the construction and operation for 20 years of a reverse osmosis desalination plant with surrounding facilities. The plant will begin supplying drinking water in April 2018. It will be the largest seawater desalination project in the Sultanate, with a total project cost of approximately $300M. ITOCHU sees the water business as a promising business area in light of soaring water demand arising from rapid worldwide population growth, economic development, global warming and other factors, and has been expanding seawater desalination, water and sewage utilities, and other water businesses. We are keen to promote projects that contribute to the effective utilization of water resources in regions around the world.