Metals & Minerals Company
The Metals & Minerals Company works in a broad value chain, ranging from the development of metal and mineral resources to the trading of steel and non-ferrous products. We create new initiatives for investments and trading, which benefit next-generation industries, aiming to ensure a stable supply while also maintaining a harmonious coexistence with society.
Sustainability Action Plans
Materiality
SDGs Targets
Issues to address
Business area
Commitment
Specific approach
Performance indicators
Ensure stable procurement and supply

Stable supply of industrial resources and materials
Mining business
We will contribute to the stable operation of various industries by maintaining and developing reliable supply chains for essential raw materials and fuels.
Acquire equity interests in superior projects to secure resources to form the basis for the steady supply of raw materials and fuels.
Acquisition of superior resource projects to pass on to the future generations, in addition to maintaining and expanding our existing portfolio of highly resilient mining projects.

Respect human rights
Ensure stable procurement and supply

Sustainable mine development that reflects consideration of the risks in occupational safety and health and environmental risks, and that contributes to local communities
Mining business

We will promote sustainable development of natural resources by fully committing to EHS (environment, health, occupational safety) and harmonious coexistence with local communities in areas which we operate.
We will improve local infrastructure such as medical care and education.

Ensure the thorough application of the EHS guidelines.
Contribute to local communities through activities for improving medical care, education and infrastructure.

Implementation of annual internal seminars to ensure our employees are fully aware of the EHS guidelines.
Donations to medical care, education and build infrastructure in local communities.

Address climate change

Taking countermeasures against climate change

Mining business
Environmental business
Material-related business

We will realize stable energy supply as our social mission and responsibility while fully considering its environmental impact.
We will contribute to reducing greenhouse gases through businesses related to lighter-weight vehicles and Electric Vehicles (EVs).

Continue to be involved in the development of technologies that contribute to the reduction of greenhouse gases emissions, including technologies for carbon dioxide capture and storage (CCS) and carbon dioxide capture and utilization (CCU).
Aim to develop an appropriate portfolio of coal assets by fully considering its environmental impact.
Strengthen initiatives in businesses that contribute to the development of lighter-weight vehicles and shift to EVs (aluminum, copper, and other businesses).

Contribution to the development of a low-carbon society by committing to technologies that help reduce greenhouse gases emissions.
Development of an optimal asset portfolio by fully considering social requirements, including those related to the shift to a low-carbon society.
Implementation and expansion of businesses that contribute to developing lighter-weight vehicles and shifting to EVs.
ESG related activities
Promoting ESG Initiatives That Will Contribute to the Stable Supply of Future Generation Resources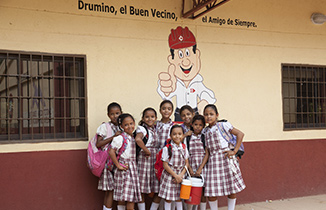 Ensuring a stable supply of industrial resources and materials for the future generations is the Metals & Minerals Company's social mission and responsibility, and we are engaging in ESG-related initiatives to this end.
We are promoting the material business such as aluminum and other metals that will be necessary for lightweight automobiles and electric vehicles. We are also supporting the development of technologies to reduce greenhouse gas emissions. Through such efforts, we are making a proactive effort to realize a low-carbon society. We are also thoroughly implementing our own EHS guidelines, contributing to local communities on an ongoing basis, and ensuring sustainable resource development.
ITOCHU Metals Corporation handles various types of recyclable materials. The company is expanding its recycling business by undertaking the appropriate processing of industrial waste on a contract basis and recovering chlorofluorocarbon gases, thereby helping to create a resource circulation society.
EHS guidelines (mining business)
The Metals & Minerals Company has established its own EHS(Environmental, Health, and Safety) guidelines (for mining business). EHS guidelines have been introduced to avoid and/or mitigate the risks related to environment, health and safety issues. These risks include environmental pollution due to exploration, development and production of metals, coal and uranium resources, and health issues or accidents suffered by those involved with business activities. We respect preservation of biodiversity as well as harmony with local communities under the guidelines.
The guidelines are used when we assess new mining projects and also for existing projects as necessary. The guidelines will always be kept compliant with international standards, and shared throughout our group by educational campaign with specific case examples.