Textile Company
– Sustainability Management –
Medium to Long-Term Growth Strategies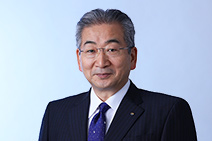 Our scope of business spans all lifestyle categories as a customer-oriented marketing company and we have developed our business around a value chain that covers the entire textile industry, from raw materials / fabrics to garment manufacturing, brands, and industrial materials, demonstrating group-wide strengths.
In Japan, we are working to ascertain changing consumer trends, including inbound consumption, promote high-value-added manufacturing, and expand the number of brands under development. In addition, by forming capital alliances we are working to expand our fields of business in the retail and healthcare sectors. We are also augmenting our asset portfolio overseas and working to reinforce our operations in growth markets, including China, other parts of Asia, and emerging countries where consumption is expected to increase. One initiative involves a joint business with CITIC and CP Group. Further tariff liberalization should lead to more opportunities for us to respond to global consumers' needs as we begin to address the pan-Asia market. We will further reinforce manufacturing in the most suitable areas, remaining cognizant of customs benefits, and expand our value chain from materials procurement to sewing throughout China and the rest of Asia. Meanwhile, we will respect human rights and labor customs, protect the environment, and maintain harmony with communities.
As the Company plays a key role in the consumer-related sector and utilizes its position as the leading company in the textile business, we will steadily work on initiatives to strengthen our existing businesses and expand synergies within the ITOCHU Group as well as accelerate the accumulation of superior assets and the replacement of others. These efforts will enable us to solidify the Textile Company's earnings platform.
Earning Opportunities for Growth
Challenges to Address

Creating a stable structure for manufacturing by developing a supply chain that values human rights and achieves improvements in the working environment
Meet new consumer demand for sustainable and ethical practices by creating environmentally friendly businesses, such as those using recycled textiles

Improve the precision of supply chain management and conduct more in-depth and broader initiatives
Ensure business sustainability by responding swiftly and positively to environmental legislation
Sustainability Action Plans
Key points of our FY2018 action plans
We will pursue further advancement in supply chain management through employee education as well as group-wide implementation of monitoring surveys to overseas manufacturing factories. We will also continue to promote socially and environmentally friendly businesses.
Major Sustainable Initiatives
Power Generation at SANKEI Plant as a Global Warming Initiative
SANKEI Co., Ltd., a subsidiary of ITOCHU, is a total supplier that supports manufacturing in the apparel industry by providing comprehensive services ranging from the provision of clothing materials to OEM of products. In August 2013, the company started solar power generation by installing solar panels on idle land on the premises of its Mikuni Plant in Fukui Prefecture, which is its base for the production, processing, and distribution of clothing materials. In August 2015, the facility was expanded to increase its annual generation capacity to 2 million kWh. As a result, the output was 2.37 million kWh in FY2017, with cumulative total output since the introduction at 5.05 million kWh. The facility thus contributes to creating clean energy. Also, in March 2012, the plant introduced a biomass boiler that uses wood biomass fuels. This boiler makes effective use of wood waste and wood chips generated in wood processing, wood from industrial waste, and other wood materials in addition to providing a cost advantage over the use of LPG as the conventional fuel. As a result, the boiler cut CO2 emissions by 1,142 tons in FY2017 and by a cumulative total of 7,829 tons since its introduction. In this way, Mikuni Plant is tackling global warming by reducing CO2 emissions.
Hunting World's Activities to Support Borneo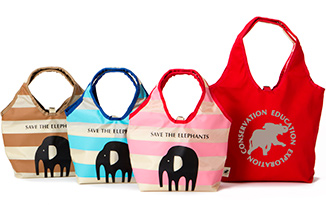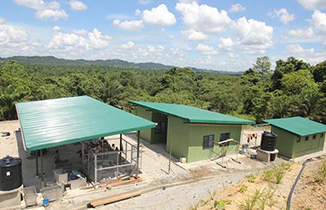 Hunting World is a luxury brand handled by ITOCHU Corporation. Since its creation in 1965, its logo has depicted a tuskless baby elephant. Besides symbolizing freedom and rebirth, this logo expresses the issue of protection of endangered species, and underscores the love and respect for nature felt by the brand's founder. To realize its dream of coexistence with nature, Hunting World Japan Co., Ltd., an ITOCHU Group company that sells the products of the brand in Japan, has been supporting activities for conservation of biodiversity by the NPO Borneo Conservation Trust (BCT) since 2008. The company designs and sells charity goods, and donates 1% of the proceeds from these sales. The donation is used for various conservation activities by the BCT. The fall of 2011 saw the birth of the first site of the Hunting World Kyosei no Mori (Symbiotic Forest of Hunting World) in four acres of land within the Green Corridor Plan* zone in Sabah, Malaysia, using the financial aid provided up to that point. In addition, an additional 1.5 hectares of land was purchased as the second site in February 2016. The financial aid was also used for establishing the Borneo Elephant Sanctuary, the first facility in the Wildlife Rescue Center project promoted by BCT Japan, which is supporting BCT.
Green Corridor Plan: An initiative for conservation of biodiversity, by buying back land, separating forest preserves and protected forests in order to create a corridor for wild animals to move between those forests.
Supply chain management system aimed at sustainable manufacturing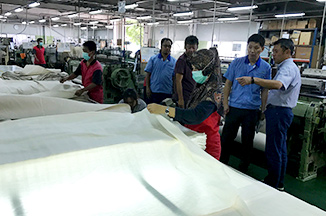 Our optimal global location sourcing system, which is at the roots of the Textile Company, also takes into account labor practices and the environment in the supply chain to promote sustainable manufacturing. We think it is important to gain the understanding and cooperation of suppliers with regard to our procurement policies, and to that end we pursue initiatives with suppliers that are consistent with ITOCHU Corporation's CSR Action Guidelines for Supply Chains. We also conduct ongoing monitoring surveys of Japanese and overseas production plants, including those of Group companies. In FY2017, we conducted a field survey of PT.SANKYO INDONESIA, which manufactures electric blankets, with external specialists. We will continue striving to improve the accuracy of supply chain management.
---