Textile Company
The Textile Company consists of three divisions—the Apparel Division, the Brand Marketing Division 1, and the Brand Marketing Division 2—and develops businesses in a wide range of fields from raw materials to finished products, and from fashion to non-fiber materials. We are proud to be the leading Japanese general trading company in the textile field.
Sustainability Action Plans
Materiality
SDGs Targets
Issues to address
Business area
Commitment
Specific approach
Performance indicators
Reinvent businesses through technological innovation

Next-generation business Development
State-of-the-art technologies (IoT)
We will build a production IT infrastructure that will be a common platform of the supply chain and strive to improve added value and promote sustainable industrialization.
Introduce the production IT infrastructure to the main bases of the Group and contribute to the improvement of Product, Lifecycle and Management.
Visualize the supply chains of the overall Group to reduce costs, improve quality, and reduce lead time, thereby developing a supply system that can cater to market needs.
State-of-the-art technologies (IC tag, RFID, and EC businesses)
We will utilize next-generation technologies, such as Radio Frequency IDentification (RFID) tags, to contribute to improved efficiency, not only in the apparel industry but also in the associated logistics industry.
Improve production and sales efficiency by making use of AI, and in addition, accelerate the dissemination of RFID tags in the clothing industry, in an effort to increase the trading volume.
Make use of AI and disseminate the use of RFID tags, thereby improving production and operating efficiency in the supply chain, traceability, and sales capabilities.
Ensure stable procurement and supply

Stable supply of industrial resources and materials
Environmentally friendly materials (sustainable materials) such as recycled fibers
We will accelerate initiatives for the recycled fiber business, not only to create new businesses but also to help solve the global problem of apparel waste and reduce petroleum-derived materials.
Work aggressively on the recycled fiber business and lead the industry in promoting the use of sustainable materials.
Commercialize the recycled fiber business as soon as possible. Increase the ratio of sustainable materials to materials we trade.
Provision of commodities that help achieve a sustainable lifestyle
Brand marketing business
We will contribute to increasing the visibility of a sustainable lifestyle by taking advantage of our strengths as a marketing company.
Raise awareness of an ethical, sustainable lifestyle through brand business, thereby promoting awareness-raising not only in the overall industry but also among consumers.
FY2021 : Take initiatives with new brands. Have a sustainable lifestyle understood and instilled more widely.

Respect human rights
Ensure stable procurement and supply

Establishing a supply chain reflecting consideration for human rights and the environment
Supply chain management
We will promote information-sharing in the overall Group and establish a safe, secure supply chain, thereby helping customers with risk reduction and contributing to sustainable economic development.
Make Group-wide efforts to review the social and environmental safety of the supply chain and make improvements as necessary, thereby promoting the establishment of a safe, secure commodity supply system.
FY2024: Establish and visualize the supply chain of the overall Group, from material procurement to sales, to ensure a responsible procurement policy.
Prior to FY2017, we cooperated fully with the Japan Fair Trade Commissionon its series of investigations into sales of corporate uniforms. However, thecommission issued the Company a cease-and-desist order citing infringementof Japan's Antimonopoly Act on certain projects. We take the situation quite seriously and will consistently apply the preventive measures* we formulated based on internal investigation results and external advisors' opinions to secure and solidify compliance with alllaws and ordinances, including the Antimonopoly Act.
These measures include: (1) Adjusting our internal rules related to compliance with the Antimonopoly Act, (2) Promoting voluntary reporting of violations, and (3)Strengthening and enhancing education on compliance with the Antimonopoly Act
ESG related activities
Strengthen Branding of Natural and Environment-Friendly Materials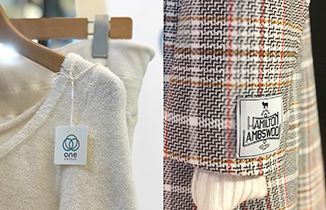 We've differentiated ourselves from competitors in our original raw materials business by branding, commercializing, and proposing natural materials like Peruvian Pima, Hamilton Lambs Wool, and One Cotton.
As the transitional momentum toward sustainable materials in the global apparel market increases, we will strive to upgrade and expand our original materials and develop environment-friendly materials in the near future.
Hunting World's Activities to Support Borneo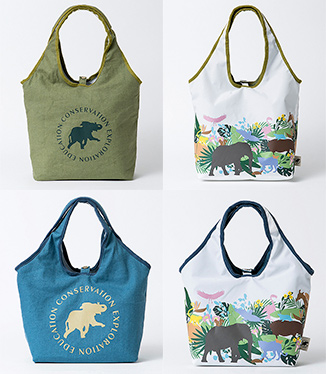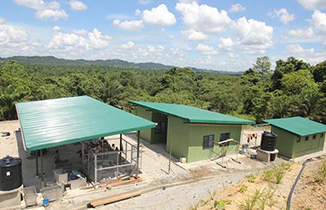 Hunting World is a luxury brand handled by ITOCHU Corporation. Since its creation in 1965, its logo has depicted a tuskless baby elephant. Besides symbolizing freedom and rebirth, this logo expresses the issue of protection of endangered species, and underscores the love and respect for nature felt by the brand's founder. To realize its dream of coexistence with nature, Hunting World Japan Co., Ltd., an ITOCHU Group company that sells the products of the brand in Japan, has been supporting activities for conservation of biodiversity by the NPO Borneo Conservation Trust (BCT) since 2008. The company designs and sells charity goods, and donates 1% of the proceeds from these sales. The donation is used for various conservation activities by the BCT. The fall of 2011 saw the birth of the first site of the Hunting World Kyosei no Mori (Symbiotic Forest of Hunting World) in four acres of land within the Green Corridor Plan* zone in Sabah, Malaysia, using the financial aid provided up to that point. In addition, an additional 1.5 hectares of land was purchased as the second site in February 2016. The financial aid was also used for establishing the Borneo Elephant Sanctuary, the first facility in the Wildlife Rescue Center project promoted by BCT Japan, which is supporting BCT.
* Green Corridor Plan: An initiative for conservation of biodiversity, by buying back land, separating forest preserves and protected forests in order to create a corridor for wild animals to move between those forests.