Communications with Employees
Dialogue Meetings with the President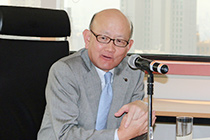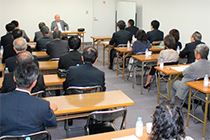 ITOCHU Corporation is proactive about offering employees opportunities for two-way discussions with the president. In FY2017, the president visited 6 domestic branches, which usually have limited opportunities for direct communication with the president, and held dialogue meetings. Along with these domestic meetings, the president also has dialogue meetings with our staff on overseas assignment, as well as local employees of each country when he visits one of our overseas bloc areas. In FY2017, the president held meetings at our business locations in the UK, Italy, France, South Korea, Indonesia, Singapore, and the United States. In these discussions, the president shared directly with employees, the company's management policies and his passion for their realization, while employees in turn could express their opinions to the president and ask questions directly. The meetings therefore provided extremely valuable opportunities for deepening two-way communication. Every meeting is held in a very spirited atmosphere, and touches on everything from management policies to more personal topics.
Dialogue with the Labor Union
At ITOCHU Corporation, a wide range of issues are discussed with the ITOCHU Labor Union in order to realize our corporate mission, "Committed to the Global Good." In FY2017, we held six meetings, including management meetings with the President and similar meetings with Division Companies and the Administrative Headquarters. Labor and management enter repeated and active discussions to build up a healthy relationship that enables both sides to recognize and share challenges currently surrounding the company and to study and implement improvement measures.
Organization of the ITOCHU Labor Union
Objective of the Labor Union
The objective of the Labor Union is to improve labor conditions and other economic concerns of its members. The Labor Union carries out all required operations to fulfill this objective. (Article 3, Rules of the ITOCHU Labor Union)
Headquarters: General meeting of delegates/Officers of the headquarters (Secretariat: Liaison for labor-management negotiations that consists of the president and secretary general)
Branch: Seven branches (Tokyo, Osaka, Nagoya, Hokkaido, Tohoku, Hokuriku and Kyushu)

The company is prohibited from the following:
Providing disadvantageous treatment to a worker because the worker is a union member or on similar grounds
Example: Discharging or transferring a worker because the worker went on strike as a union member or on similar grounds
Refusing to bargain collectively without justifiable cause
Example: Refusing to go to the bargaining table or having an unauthorized person attend a collective bargaining session as a person in charge
Interfering with or providing financial assistance for the organization or operation of a labor union
Example: Interfering with or interrupting the union's events or supporting operational expenses for the union
Providing disadvantageous treatment, such as dismissal, to a worker in response to an allegation made by the worker to the Labor Relations Commission
Example: Providing treatment, such as dismissal or wage reduction, to a worker in response to an allegation made by the worker to the Labor Relations Commission or a similar action by the worker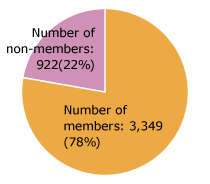 Initiatives with the ITOCHU Labor Union in FY2017

| | |
| --- | --- |
| April 2016 to March 2017 (every month) | Health Committee |
| June 2016 | Settlement of accountings meeting |
| November 2016 | Food Company management meeting |
| November 2016 | Meeting regarding engagement of all employees |
| December 2016 | Textile Company management meeting |
| January 2017 | Meeting regarding time management |
| February 2017 | Management meeting with the President |
Activities by the Headquarters of the Labor Union in FY2017

| | |
| --- | --- |
| April 2016 | First General Meeting of Delegates in FY2017 |
| May 2016 | Second General Meeting of Delegates in FY2017 |
| June 2016 | First meeting attended by three top-ranking officers from each branch |
| July 2016 | Sports Day |
| November 2016 | Training camp for union members |
| December 2016 | Third General Meeting of Delegates in FY2017 |
| January 2017 | Exchange of views with members of other companies |
| February 2017 | Exchange of views with members of other companies |
| March 2017 | 5th General Meeting of Delegates in FY2017 |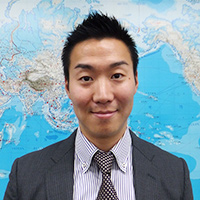 Shion Shinohara
President,
ITOCHU Labor Union
Comments from the ITOCHU Labor Union President
Under the slogan "Moving on Together - To work actively together with enthusiasm and motivation," the ITOCHU Labor Union works to create an environment that allows employees with various attributes, values and environmental conditions to actively work together with enthusiasm and motivation and bring out their individual performance to the fullest, for the purpose of improving labor conditions and other economic concerns of its members.
We engage in union activities with the following key concepts as our action guidelines with members, delegates, branch officers and headquarters' officers playing their respective roles.
Stay ahead: Always work on something new by thinking one step ahead. Think and move forward together.
Be assertive: Each member should be assertive with leadership.
Be reliable: Create a union that is reliable and fulfills expectations.
We will go one step further when engaging in activities and making proposals to the company, aiming for treatment and a work environment which is appropriate for a leading trading company.
Improving the Infrastructure for Employee Communication
ITOCHU Corporation works to revitalize communication between employees and provide opportunities for exchange through a range of welfare facilities and schemes. Revitalized communication helps to foster a sense of belonging and motivation to work in individual employees and also helps to invigorate the organization as a whole.
Dormitories for Single Employees
More than 300 junior career-track employees spread across four buildings for males and two buildings for females, making use of company dormitories. The dormitories allow employees to interact with junior and senior employees who joined the company at different times or who belong to different departments, and also leads to more lively communication among fellow junior employees.
The dormitories for male employees, which are currently scattered in four locations in the Tokyo Metropolitan area, , are scheduled to be integrated into one new building containing approximately 360 units, which is planned to be built in Hiyoshi (Kohoku Ward, Yokohama City, Kanagawa Prefecture) sometime around April 2018. This new dormitory is planned to be equipped with a range of common utilities, such as a dining room with a capacity of 120 people, a shared kitchen, a multi-purpose meeting room, a training room, a large bathroom with a sauna, a library, and communication spaces on each floor (relaxation lounge and open terrace). The dormitory will therefore function as a place for communication between employees, help foster a sense of unity among them, and provide basic training to junior employees.
Employee Cafeteria
The employee cafeteria at the Tokyo Head Office underwent large-scale renovations in May 2013 and was transformed into a space that is brighter and a more comfortable meeting place than before We continued to take steps to make the cafeteria more attractive for employees. These include the introduction of new menus created under the supervision of Kagawa Nutrition University*, which are offered under the name of "Wellness Cafeteria," for helping employees improve their health. They also include the revision of menus and a change in the room layout, which were done in response to requests from employees. As a result, nearly 1,600 people use the employee cafeteria every day.
The special cafeteria, which can also be used for eating meals with customers, is opened as a pub at night. It helps boost internal communication and communication with external people by regularly holding a Happy Hour, during which alcoholic beverages are offered for free or at bargain prices. In March 2017, the menus were fully revised and the cafeteria underwent a major renovation. It therefore contributes to the interaction of employees over meals.
*Kagawa Nutrition University is a pioneering force in nutrition education. The menu it helped create focuses on daily specials offering healthy dishes that fulfill different conditions, such as an energy value of around 600 kcal, sodium chloride equivalent of 3 g or less, and a vegetable serving of 140 g or more.
"SOGO-KAI" Associations
"SOGO-KAI" associations are organizations in which fellow employees assemble and enjoy the same sports or cultural activities. More than forty such associations are active within the company and boast more than 800 employee members. The associations are not limited to current employees of ITOCHU Corporation. Many former employees and Group company employees also take part. Through sports and cultural activities, these associations promote exchanges and communication across different generations and organizations.
Employee Engagement
ITOCHU Corporation believes that raising the level of motivation, satisfaction and engagement (the degree to which employees with a strong desire to contribute to ITOCHU can capitalize on their own abilities optimally at their own initiative) of employees will improve the corporate value.
In the survey conducted in FY2015, the results exceeded those of the previous survey (conducted in FY2011) in all categories, and the positive answers were 20 points higher than the average of Japanese companies that conducted the survey (about 50 large companies). Above all, the level of engagement remained high, which has allowed us to conclude that many employees are proud of working for ITOCHU Corporation and engage in work with strong motivation to contribute to the company and with the aim of achieving better-than-expected results on a voluntary basis.