Human Resource Development Supporting the "Seeking of New Opportunities"
Ongoing Promotion of Global Human Resources Strategy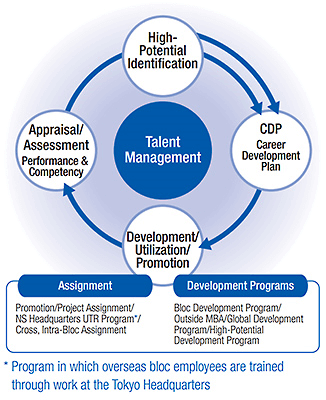 Human resources are what support the stable, ongoing growth of ITOCHU Corporation.
Since FY2008, ITOCHU has been promoting a global human resources strategy in order to maximize the value of human resources and optimize the talent development of the Group on a global basis. Specifically, in FY2011, we established leadership standards for managers and developed a global human resources database of organization managers*. We also created a Talent Management Process for recruiting, fostering, utilizing and promoting talented personnel who will play key roles in the expansion of revenues and profits overseas, by cooperating with each Division Company and the overseas blocs.
In addition, the ITOCHU Mission and Values, which we have passed down since our establishment more than 150 years ago, are reflected in our recruitment standards and in our evaluation and human resources development programs. This enables us to hire and develop human resources around the world who are suited to ITOCHU's values.
We are assigning, promoting, and developing human resources on a global basis regardless of nationality, by implementing the ITOCHU Global Classification (IGC) in FY2010 as a common measure of job level / level of responsibility for all jobs and positions worldwide.
Development Policy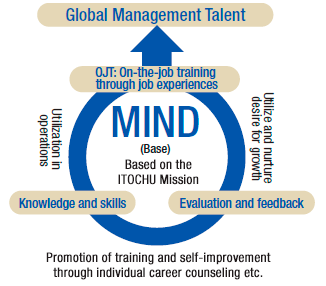 Our human resource development activities are available to employees throughout the Group, both domestically and in overseas blocs. Based on each employee's work experience and abilities, we strive to help them develop into professionals who play an active role in their business field and to provide them with the skills necessary to manage business on a global level.
Through individual evaluations and feedback, centered on valuable job experience via on-the-job training (OJT), we help to cultivate the motivation and willingness of employees to increase their career opportunities within the Group. To further support employees' self-development, we not only provide skills and knowledge through training but also actively support career development. We will continue to invest substantially in our human resources, while at the same time promoting human resources development which is proactively led by the front-lines.
Training System
ITOCHU Corporation's training system consists of company-wide training structures and line training structures for each Division Company and administrative divisions, which are designed in light of industry characteristics, specialties, and other elements. We provide opportunities for human resources at all job levels to develop a wide range of capabilities. This includes not only Headquarters employees but also locally hired overseas staff and Group company employees.
For overseas blocks, we have established original training systems for each block based on the characteristics of the business and market and reflecting the required skills and specialties. We combine these schemes with the training system of ITOCHU Corporation to facilitate the development of professionals who can manage business on a global level.
Key Points of Human Resources Development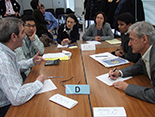 As the key points of our human resources development, we focus on consolidation, overseas and front-line capabilities.
First, from the viewpoint of "consolidation," in FY2014 we built a structure for developing human resources who can play key roles in the business management of Group companies. Specifically, we introduced programs aimed at allowing employees to obtain further basic knowledge of business management and risk management methods. One example is an administrative intern program focused on enabling employees to acquire experience working in in-house administrative units, such as the Audit Division and the Legal Division, for a certain period of time. In FY2015, we also introduced a training program to enable accounting operations to be learned efficiently in a short period of time through hands-on exercises as an essential training program for junior staff. We continue to expand the lineup of training programs for employees of Group companies so that the employees of domestic Group companies will improve their skills and expand their network within the Group.
Next, from the viewpoint of "overseas," we provide training in such forms as global development programs (GEP, GLP, GNP and GPP*) and the dispatch of staff to business schools for short-term programs, with a view to nurturing the growth of global management human resources. In addition, in order to develop English language skills and an international perspective among junior staff at headquarters in Japan, we instituted a program for short-term dispatch overseas in 1999, ahead of other companies in our industry. At present, we are developing candidates for future growth into specialists in each market by dispatching our junior staff, in short term, to China and other emerging markets, for training in Chinese and other languages.
From the viewpoint of "front-line capabilities," we provide diverse object-oriented training such as training to support career visions and independent training based on the human resources strategy of each Division Company and the headquarters administrative divisions, in order to produce professionals with diverse outlooks on value.
Global Executive Program (GEP): This core part of the global talent development program provides training to cultivate global executives.
Global Leadership Program (GLP): The purpose of this training is to cultivate organization managers who can be active in global business.
Global Network Program (GNP): Through training held at Headquarters, this program enables locally hired overseas staff to learn firsthand about the ITOCHU Group's global operations and build up a network with other participants.
Global Partnership Program (GPP): This Program introduces the history and outline of ITOCHU, and communicates and nurtures corporate message to subsidiary staffs. It also helps create network among ITOCHU group members.
Number of employees participated in major training programs

| Name of Training program | FY2015 | FY2016 | FY2017 |
| --- | --- | --- | --- |
| Administrative intern program | 94 | 111 | 115 |
| Global development program | 135 | 126 | 128 |
| Organization manager workshops | 437 | 426 | 417 |
| Dispatch of staff to business schools for short-term | 39 | 41 | 51 |
| Junior staff overseas training for Chinese and Junior staff overseas training for multi-language | 47 | 52 | 52 |
| Chinese lesson | 86 | 390 | 469 |
| Career vision support training (the total number of participants) | 1,893 | 2,097 | 2,108 |
Time and cost allotted for capability development training of employees

| | FY2015 | FY2016 | FY2017 |
| --- | --- | --- | --- |
| Total number of hours of training in the year (Unit: hours) | 178,876 | 193,839 | 200,195 |
| | FY2015 | FY2016 | FY2017 |
| --- | --- | --- | --- |
| Average length of time spent on education and training/human resource development per regular employee* (Unit: hours) | 41.97 | 45.3 | 46.72 |
| Average amount of expenses for education and training/human resource development per regular employee (Unit: million yen) | 22.1 | 26.6 | 35.9 |
Calculation formula: Total number of hours of training in the year / Number of employees as of the end of each fiscal year
Human Resources Synergies with CPG and CITIC
In January 2015, ITOCHU Corporation entered into a strategic business alliance including capital participation with CITIC Limited ("CITIC"), one of Chinese largest conglomerates, and Charoen Pokphand Group Company Limited ("CPG"), one of Asian leading conglomerates. Later, in January 2016, the three companies signed a memorandum of understanding towards enhanced human resources synergies as a basis for creating business synergies between them and increasing corporate value in the medium to long term. The memorandum of understanding is aimed at constructing a strong, consolidated human resources network between the three companies—through initiatives such as short-to-long-term human resources dispatch and exchange, dispatch of employees to participate in existing training programs at each company, and the hosting of newly created joint training seminars—as the foundation that will underpin the strategic alliance.
In May 2016, the three companies held a joint training seminar in Tokyo. ITOCHU head office section chief-level employees and employees with equivalent levels at CITIC and CPG were selected to participate in the seminar, which aimed to create a strong human resources network as partners, with each participant working to gain sufficient mutual understanding of the management policies, values, history and main business operations, etc., of each company and holding thorough debating sessions with a view to the creation of business synergies. In FY2018 the second joint training seminar is planned to be held in Beijing, where CITIC is based.
In addition, given the execution of the strategic business alliance with capital participation with CITIC and CPG, we launched a project in FY2016 for developing 1,000 Chinese-speaking human resources, which is one-third of all career-track employees. We have thus made tremendous efforts toward proceeding thoroughly with establishing the foundation of the language.
July 2015
March 2016
March 2017
March 2018
(target)
Number of Certified Chinese Speakers
361
430
793
1,000
Comment from a participant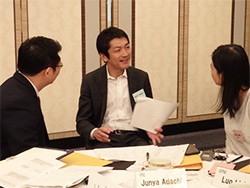 Mr. Adachi discussing with CP・CITIC participants
(Center of photo)
I participated in the joint 10-day training seminar with CPG and CITIC that was held in Tokyo in May 2016. The themes of the training seminar were the business areas of "healthcare," "seeds, fertilizers, and agricultural products," and "evolutionary convenience stores." About 30 people who engage in the themes gathered from three companies.
The Industrial Machinery & Healthcare Business Department, to which I belong, sells medical devices and provides outsourcing services related to hospitals in Japan. I formed a team with participants from CPG and CITIC under the theme of "healthcare" to seek ways of operating these businesses jointly with them in China and ASEAN countries in the future.
During the seminar, the teams held in-depth discussions and delivered presentations on business ideas for the future that take advantage of the strengths or functions of each company. Also, in addition to listening lectures and having discussions, we visited a forefront manufacturing site and distribution center in Japan and the location of the foundation of ITOCHU, where participants could feel the history and spirit of our company. We also visited Asakusa, Kyoto, and other places for cultural exchange. These activities enabled us to create a network of the three companies.
I will continue to value the network cultivated in the seminar and lead to future business development.
ITOCHU Morning Activity Seminar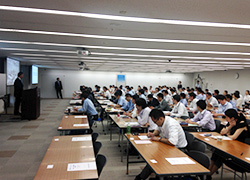 In September 2016, as a measure for promoting the morning-focused working system, we began to hold the ITOCHU Morning Activity Seminar during the early-morning hours to deepen the knowledge of our employees, developing their capabilities, and increasing their vitality. In FY2017, the seminar was held on seven occasions with 818 participants and the themes of the seminars were various such as "businesses in China," "performance improvement," "training on the use of PCs for business efficiency improvement," "cash flows," "AI," "sleeping," etc.
Participants made comments such as, "I attended a beneficial lecture before work, which made me feel very positive" and "I think this initiative is exactly what ITOCHU is expected to do." We plan to continue holding the seminars on a regular basis.
Personnel Evaluation Systems
Personnel evaluation systems are positioned as the foundation of a personnel system that helps employees realize their full potential with enthusiasm and drive. One of these systems is the management by objectives (MBO) structure, which functions as the driver of management strategy by dividing objectives among individual employees based on the company-wide management plan and verifying their execution. We have also established a human resources assessment system that takes a comprehensive look at the skills, expertise, past careers, aspirations and suitability of individual employees and utilizes this information for placement and transfer plans.
We regard fair and equitable evaluations by supervisors and feedback through interviews with subordinates as critically important to ensure proper functioning of these personnel evaluation systems. We make use of evaluator training and other activities to communicate the importance of encouraging employee growth and development to supervisors.