Initiatives Aimed at Occupational Health and Safety and Health and Productivity Management that Support the Activity of Employees
For ITOCHU Corporation, employees are assets, and ensuring the health and safety of employee workplaces is one of the vital responsibilities a company must fulfill so that its employees can reach their full potential. To ensure that ITOCHU Corporation employees stationed around the world and their families can enjoy a meaningful assignment in safety and good health, we have built a full system placing President and COO at the top, not only for incidents, accidents, disasters and other emergencies, but also for health management.
In addition, in order to realize its mission, "Committed to the Global Good," ITOCHU Corporation also discusses occupational health and safety with ITOCHU Labor Union, to which approx. 80% of its employees belong (see "Labor Union and Employee Welfare"). Labor and management enter repeated and active discussions to build up a healthy relationship that enables both sides to recognize and share challenges currently surrounding the company and to study and implement improvement measures.
Click here for the number of employees who received training on health and safety standards.
Overview of Itochu Corporation's Occupational Health and Safety Management Organization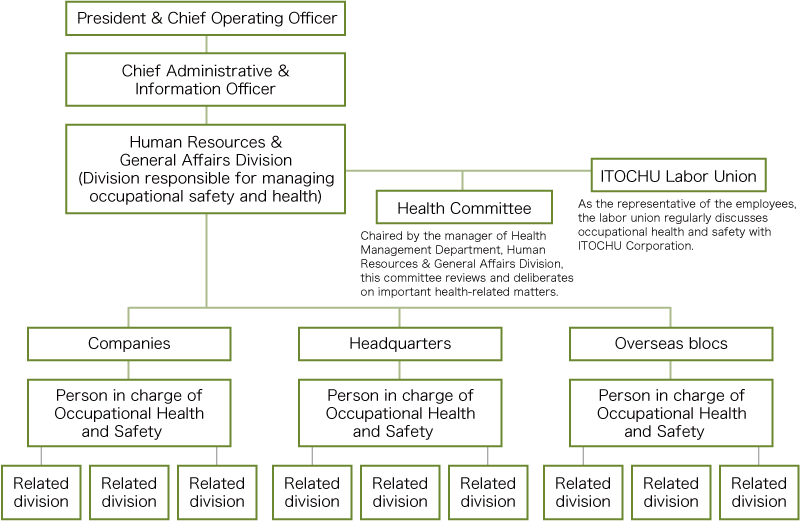 Employee Security Management
ITOCHU Corporation maintains global business operations with roughly 800 rotational staffs stationed overseas, and sends a total of ten thousand staffs on overseas business travel from Headquarters in Japan each year.
In terms of overseas security management, because a close communication between the overseas location and Japan is important, the specialist who are in charge of overseas safety have assigned security management to staff in charge of human resources and general affairs in each regional headquarters of eight blocs worldwide. Information concerning politics, economics, public safety and other factors is periodically collected and disseminated internally, at the safety measures meeting, public security seminars, etc. We have also established a system to cover regions where information is more difficult to obtain through contracts with international security consultant firms. We provide seminars regarding safety and medical practices to our employees and their family, before and after dispatch to overseas. To prepare for emergencies such as diseases or injuries, including preventative measures for infectious diseases in the dispatched area, we collaborate with a special medical service company and developed complete support systems for preventative and post-incident measures, such as providing advice in case of sickness and injuries, including emergency transportation.
We make it mandatory for employees to be assigned overseas to receive the vaccinations recommended by the national government for each region

. Vaccination-related expenses are assumed by the company. Such employees receive vaccinations at the Health Administration Center of ITOCHU Corporation or at a nearby travel clinic.
With regard to safety initiatives in Japan, we implement countermeasures against large-scale disasters, such as earthquakes. These include the creation of a business continuity plan (BCP), the preparation of disaster supplies such as drinking water, food, and toilets, emergency drills, and training on responses to the safety confirmation service.
We encourage our employees and their family to prepare for large-scale disasters, such as securing means of communicating with their families, ensuring that they have walking shoes available, and checking the route for walking home.
Health and Productivity Management
Based on the idea that each individual employee can maximize outcomes, it is the cornerstone of strengthening human resources ability to fulfill the corporate message "I am ONE with Infinite Missions" together with the development of employees' capabilities, the company's policy for Health and Productivity Management was clarified in ITOCHU Health Charter (established in June 2016). With this ITOCHU Health Charter as the core policy, we have implemented diverse initiatives in our efforts to enhance health and productivity. The Health Administration Center at ITOCHU's Tokyo Headquarters, which also serves as a clinic, has more than 20 specialist physicians on staff, as well as an X-ray technician and a pharmacist. For more than 30 years, we have been operating a system, as it were a "health concierge without borders." In this system, health maintenance professionals provide individualized healthcare guidance to employees all over the world adapted to their individual conditions by cooperating closely with physicians who specialize in individual lifestyle-related diseases. We thus encourage improved productivity and health at ITOCHU Corporation through the health management of each employee.
In terms of specific services, in addition to the above specialized disease management, we offer general medicine (internal medicine, orthopedics, dental), medical checkups (regular medical checkups, half-day complete medical checkups, medical checkups for employees traveling overseas and those returning temporarily or permanently), various vaccinations, and examinations (VDT examination, adult-onset disease examinations). We also offer medical counseling and provide information. In FY2017, the rate of employees working in Japan who received regular medical checkups was nearly 100%.
In addition, in April 2017, we introduced the "Health MyPage" apps, which allow medical checkup results to be viewed and permit the centralized management of lifestyle habit data, such as number of steps, weight, body fat percentage, and calorie intake via PC and smartphone in our efforts to raise the health awareness of each employee. For young employees who have a high potential risk of suffering from lifestyle-related diseases, we have introduced individual programs under which we distribute wearable terminals for health to collect data on exercise and sleeping and manage data on diet as well, and enable them to receive diet and exercise instructions online every day from a health coach and national registered dietitian. Over 240 employees have used these programs and made achievements.
Our Health Insurance Union operates two domestic recreation centers, and also cooperates with the Health Administration Center to fully support the smoking cessation treatment expenses, etc.
Click here for the details of the ITOCHU Health Charter.
Initiatives for Employees Living with Cancer
In accordance with the ITOCHU Health Charter that was established in June 2016, we began to promote support measure for balancing cancer care and work in August 2017.
It is said that, at present, one out of every two Japanese develop cancer in their lifetimes. Every year, 850,000 individuals are diagnosed with cancer, with working-age adults accounting for 30% of them. Typically, cancer needs intensive treatment for a certain period of time, with a careful, long-term follow-up. At ITOCHU, there are some employees who are receiving treatment for cancer while continuing to work, and some who have regrettably passed away from cancer. We have determined that providing a work environment where employees continue to work without fear about cancer or yielding to it leads to positive work on the part of employees and the activation of the organization. Consequently, we have decided to introduce this measure from the following three points of view.
Establishment of an environment where employees can receive consultation and share information without concern
Enhancement of a system under which the entire organization provides support for the prevention, early detection, and treatment of cancer
Establishment of internal systems and programs which permit employees to continue working and playing active roles while receiving treatment
ITOCHU has to date had in place a support system for long-term illness, including an enhanced health management system, subsidies for high-cost medical care, and a flexible work/leave system. In addition to this, we have decided to promote the following new initiative as a support measure for balancing cancer care and work from the three perspectives of prevention, treatment, and symbiosis.
Cooperation with National Cancer Center

Prevention: Add "Cancer Special Medical Examination" which supervised by cancer specialist as an item of regular medical checkup, to improve the early detection rate.
Treatment: Where the result of screening is positive, detailed examination at the National Cancer Center is arranged. If cancer is detected, cooperation with a specialist physician from the National Cancer Center is arranged immediately to start state-of-the-art treatment.

Establishment of a system for providing support measure for balancing cancer care and work (See the figure below.)

A coordinator for balancing cancer care and work is assigned to establish a system and climate in which the head of the organization and other employees can help the employee with cancer to balance cancer care and work. After the initial report is received, a plan to support balancing cancer care and work is formulated by following handling procedure that is appropriate for the pathology.
Creation of a handbook for supporting balancing cancer care and work and establishment of a leave system for providing the support.

Enhancing financial support for receiving advanced cancer care

The company purchases a blanket policy to provide financial support for receiving advanced medical treatment which is not covered by insurance at all.

Enhancement of scholarship support for children and job search for them

Increasing the amount of scholarship paid to bereaved children for receiving graduate school education at the highest, by approx. two to three times than before.
Where a bereaved child or spouse desires to work for the ITOCHU Group, a job is searched from within the Group.
By promoting this measure, ITOCHU aims to achieve a workplace in which all employees, regardless of whether they are suffering from diseases or not, can continue working to the fullest potential, without concern and without restraint, while maintaining motivation and finding their work worthwhile. At the same time, we aim to become a company that is challenging but that does work worth doing, and a company that is the strongest and best in Japan.
Support system for balancing cancer and work in ITOCHU Corporation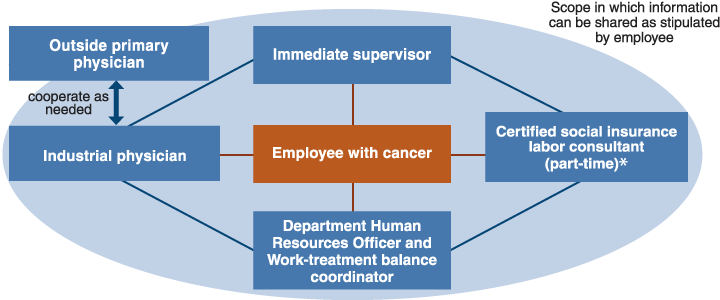 Consultation window for career by qualified counselor
Mental Health
Where mental health is concerned, we have established a stress management room in-house, and offer counseling given by a clinical psychologist. Employees can also seek counseling from a company physician as well as seeing a psychiatrist in-house. Through our Health Insurance Union, we have set up the "Health & Mind Online" health consultation website where employees can seek consultations over the website or telephone. The revised Industrial Safety and Health Act came into force on December 1, 2015, employers are required to conduct stress checks to workers once a year. With the Health Administration Center playing the leading role, ITOCHU Corporation introduced stress checks on a trial basis in October 2015, one year in advance, and began to implement stress checks on a full-scale basis in FY2017.
Working Hours Management
We focus our efforts on reducing the total number of working hours, not to mention observing legislation including the 36 Agreement. To achieve more effective working style, ITOCHU Corporation introduced a morning-focused working system in October 2013, ahead of other companies. Under this initiative, we reviewed the work style that assumes overtime work and shifted from a night-focused style to morning-focused work centered on the basic hours of 9 a.m. to 5:15 p.m. As a result, the total number of working hours has been decreasing year by year. We believe that this initiative will not only enable the maintenance and improvement of our employees' health, but that it will also help female employees demonstrate their abilities and help employees achieve a good balance between work and family life. We are pursuing a well-balanced reform of work awareness and style among all employees, in order to discharge our corporate mission of "Committed to the Global Good" by always viewing things from the customer's perspective.
The above initiatives were highly regarded by the Development Bank of Japan (DBJ), and ITOCHU Corporation obtained the highest rank in the DBJ's Health Management Rating System in FY2016 for the first time as a sogo shosha. ITOCHU Corporation was also selected as a Health and Productivity Stock 2016 and 2017 in the health and productivity management program jointly carried out by the Ministry of Economy, Trade and Industry and the Tokyo Stock Exchange in the two consecutive.
We succeeded in these areas because we have positioned "working style reforms" and "Health and Productivity Management") as important management strategies, introducing a morning-focused working system ahead of other companies, and promoting aggressive health enhancement measures throughout the entire company by cooperating with industrial physicians and the Health Insurance Union.
Application of the Initiatives to Group Companies
Because we promote consolidated management, our initiatives for occupational health and safety and safety management cover not only employees of ITOCHU Corporation (including contract employees) but also those of ITOCHU Group companies.
Specifically, initiatives also taken at Group companies are stress checks, safety initiatives in Japan, provision of overseas security information, collaborations with overseas security companies and medical service companies, and seminars provided before overseas assignments. The morning-focused working system has also been increasingly introduced at Group companies, and the overall ITOCHU Group is striving to reduce the total number of working hours and promote health enhancement among employees. In addition, workshops for obtaining knowledge and expertise on personnel and labor and human resources and labor management assessments are conducted regularly to strengthen the labor management of the overall ITOCHU Group.
<Contents of support for Group companies on personnel and labor that were provided in FY2018>
Workshops for labor management case studies
These workshops are held in the form of case studies by picking up potential labor management cases including ones on mental health problems and working hours management. Participants thus learn how to handle those problems and acquire specialized knowledge.
In FY2018, 45 employees from 27 companies participated in these workshops.
Workshops for labor management case studies (special edition)
In these workshops, lectures are given to explain key points which are likely to cause troubles in human resource and labor management and countermeasures against those troubles. In FY2018, the workshop was held under the theme of "the rules concerning conversion of limited-term employees to indefinite-term employees," and 93 employees from 61 companies participated in it.
ITOCHU Group Human Resources and General Affairs Liaison Council
This council is aimed at allowing people in charge of human resources and general affairs from Group companies to exchange information and strengthen their relationships. Their activities include checking the latest trends related to human resources and general affairs, sharing information about measures and responses of ITOCHU Corporation, and updating themselves about contents of revisions to laws. A total of 121 employees from 73 companies participate in this council.
Human resources and labor management assessments
These are "health assessments" aimed at checking whether rules, systems, and management related to the overall personnel and labor affairs, such as labor contracts, internal rules, occupational health and safety, and time management, are operated in appropriate manners or not. Assessments of 12 companies were made in FY2018.