Introduction of Morning-Focused Working System
Taking Steps to Achieve a More-Effective Working Style
On May 1, 2014, ITOCHU officially introduced a morning-focused working system to achieve a more-effective working style. With a focus on managing employee health and promoting effective operations, ITOCHU has long sought to reduce overtime work. To that end, we decided that it was necessary to implement decisive reforms by reevaluating the traditional working style, which is based on the assumption that employees will work overtime.
This progressive approach has made an impact on not only the industrial world but also political and business establishments. It has grown into a big movement that is changing the way Japanese people work.
ITOCHU believes that this initiative will help individual employees to reform their approach to their own working styles and to advance well-balanced operational reforms. In this way, the Company will strive to achieve a work environment that further strengthens the effectiveness of operations, supports the maintenance and improvement of employees' health, and helps diverse employees, including female employees, to make full use of their capabilities.
Outline and Effects of Initiatives during Trial Period
Outline of Initiatives (Continued after official introduction)
Night work (10 p.m.-5 a.m.) is prohibited. Work after 8 p.m.-10 p.m. is, in principle, prohibited, though it is permitted upon prior application when such work needs to be performed due to unavoidable reasons.
As an incentive for employees who work early in the morning (5 a.m.-8 a.m.), extra wages are provided at the same rate paid for night work (employees subject to time management: 150%; employees not subject to time management: 25%).
When an employee starts working at 7:50 a.m. or before, the extra wage rate is applied not only for 5 a.m.-8 a.m. but also for 8 a.m.-9 a.m.
From the perspective of managing employees' health, the Company provides light meals to employees who begin work before 8 a.m.
Diagram of Morning-Focused Working System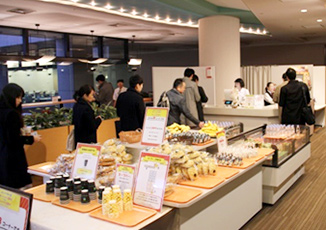 Effects of Initiatives
Prior to introduction (FY2013)
First year after introduction (FY2014)
Five years after introduction (FY2018)
Leaving
8:00 p.m. or after

About 30%

About 7%

About 5%

(10:00 p.m. or after (within 8:00 p.m. or after))

(About 10%)

(Nearly 0)

(Nearly 0)

Entering
8:00 a.m. or before

About 20%

About 34%

About 44%

Hours of overtime work per person

–

About ▲ 7%

About ▲ 11%

Electricity consumption (since introduction)

–

–

About ▲ 7%

Paid leave acquisition rate (since introduction)

–

–

About ▲ 11%