Creating Environments that Bring Out the Best in Employees
Promotion of Working-Style Reforms
ITOCHU Corporation believes that employees are its greatest asset, and that the full exertion of each individual employee's capabilities will lead to an improvement in corporate value. Based on this belief, ITOCHU has pursued a range of initiatives to develop environments where all employees can utilize their respective characteristics and concentrate on work at ease. The morning-focused working style, which we introduced in October 2013 as a measure for working-style reforms, has greatly influenced the government and many companies. More than four years after its introduction, it continues to give the results steadily as the core element of the company's working-style reforms.
For Health and Productivity Management, which we began to work on in full scale in FY2017, we promote a range of measures for improving the health of employees, based primarily on the ITOCHU Health Charter (established in June 2016). These include the introduction of the "Health MyPage" apps, via which all employees can manage their health statuses, individual programs for employees who have a high potential risk of suffering from lifestyle-related diseases (distribution of wearable terminals for health and diet and exercise instructions by experts), and enhanced support for smoking cessation (grants of aid money to reimburse the full amount of medical costs involved in smoking cessation). In addition, we opened a new health-focused integrated dormitory for unmarried employees in April 2018.
As the leading company in "working-style reforms" and "Health and Productivity Management, ITOCHU will continue to implement a range of initiatives in a pioneering manner to establish an environment where employees find it worthwhile to work for the company.
Click here for details of the morning-focused working style.
Click here for details of the Health and Productivity Management.
Supporting the Activity of Diverse Human Resources
Amid intensifying global economy, we at ITOCHU Corporation believe that diversity as an organization is indispensable for accurate response to diversifying needs in the global market as well as continuous creation of new business and additional value. Based on this belief, we formulated the Plan for Promotion of Human Resource Diversification in December 2003 and set about efforts to increase the number of diverse personnel and support their acclimation and activity. We are committed to continued efforts to prepare environments enabling each and every employee to exercise his or her unique talents to the fullest, and to strengthen our power on both the individual and organizational levels. By so doing, we are going to make ITOCHU an attractive company with attractive corporate culture.
ITOCHU Corporation's measures for human resource diversification
(1) Supporting the career development of female employees
Among its measures for human resource diversification, ITOCHU Corporation focuses primarily on supporting the career development of women. We have increased the number of female employees by promoting the Plan for Promotion of Human Resource Diversification. We have also expanded and upgraded systems far and above those required by law to help female employees succeed in both work and family life. At present, we are implementing a Gen Ko Tsu Reform (Gen for genba, or "front line, "ko for kobetsu, or "individual," and tsu for tsunagari, or "connection"). Under this reform, we promote individual support measures based on the life stages and careers of individual employees. At the same time, we focus our efforts on creating role models of women with successful careers, developing an environment that enables women to work with a sense of job satisfaction, and fostering candidates for future management, mainly through training programs for nurturing career consciousness among young female career-track employees and various forums.
The number of female managements and career-track employees
Year
April 2016
April 2017
April 2018
FY2021 Target
Female management
5.2%
5.9%
7.0%
Over 10.0%
Female management /
All management
130/2,479
149/2,505
175/2,515
Female career-track employee
8.8%
9.1%
9.5%
Over 10.0%
Female career-track employee /
All career-track employee
307/3,490
323/3,531
337/3,539
Measures for supporting female career-track employees
Gen Ko Tsu Reform
Support for nurturing career consciousness among female career-track employees
Support for career development by clerical staff
In FY2016, ITOCHU Corporation began to organize the Clerical Staff Career Workshop for clerical staff members in the highest job grade. This training is aimed at fostering the mentality of a role model for core clerical human resources and improving skills for demonstrating leadership in the workplace, by giving trainees companywide roles. Around 20 people from among subject employees of the overall company participate in this training. Over the one-year period of this training, participants carry out missions including giving suggestions about important companywide issues to the General Manager of Human Resources & General Affairs Division, mentoring clerical staff in their sixth year, participation in activities for recruiting clerical staff, and playing a role on the frontline.
(2) Supporting the utilization of senior human resources
ITOCHU Corporation has been proactive in supporting the employment of aged workers. In light of factors such as the declining birth rate and aging population in Japan and support for the utilization of diverse human resources, we have introduced an employment extension system as a new option in addition to mandatory retirement at the age of sixty. This provides an environment in which willing employees can continue to play an active role so that their wealth of knowledge and experience can be utilized after they reach the mandatory retirement age. In addition, we give seminars on life planning and other topics to those who have reached the age of fifty-eight, thereby providing them with support in terms of work styles and financial planning following the employment extension. We will make further efforts to develop environments in which aged employees can continue to work with even greater drive and enthusiasm.
(3) Creating harassment-free workplaces
ITOCHU Corporation aims to create workplaces where no employee suffers power harassment* or sexual harassment (including disadvantageous treatment or harassment of employees who are sexual minorities) and where employees with time constraints (employees who are pregnant or engage in childcare or nursing care) can work without hesitation. We use in-house training programs for organizational heads to raise employees' awareness of the importance of preventing and tackling harassment and informing employees of related systems and communicating with them. We take thoroughgoing measures to create a workplace environment where discriminatory remarks related to sexual preference or gender identity and comments based on unconscious sexual discrimination will never be tolerated. We have also set up a consultation desk for employees. For employees who have time constraints due to childcare or nursing care, their superiors encourage them to balance work and childcare or nursing care by utilizing the related systems appropriately, and we inform employees of the importance of reviewing the contents of work, division of duties, and ways of working in the overall workplace.
An act of causing emotional distress or physical pain to a person who works in the same workplace or of worsening the workplace environment beyond the appropriate boundaries for work, based on one's superior position in the workplace in terms of job rank or interpersonal relationship.
Supporting the Participation in Society by People with Disability

In 1987, ITOCHU Corporation established ITOCHU Uneedus Co., Ltd., the first special subsidiary in Yokohama in Kanagawa Prefecture for the purpose of giving people with disabilities, such as physical disabilities and intellectual disabilities, a desire to work and places where they find working worthwhile. This company handles cleaning, photography and printing services, mail services, laundry and cleaning services, and others under the motto of strict quality control and cordial service. In the cleaning division, people with disabilities and those without help each other perform all the cleaning-related processes. In November 2015, ITOCHU Uneedus Co., Ltd. was relocated to a new office building in Tsuzuki-ku, Yokohama that boasts a floor area that is 2.4 times wider than the old building and possesses the latest equipment. The purpose of this move was to provide a more comfortable work environment for staff members with various disabilities, as well as expand the business.
As of March 2018, the proportion of our workforce with disabilities is 2.04%. ITOCHU Uneedus Co., Ltd. celebrated its 30th anniversary in 2017. We will continue to actively help people with disabilities participate in society.
A good balance between Work and Childcare/Nursing care
Systems for Providing Support for Work as well as Employees' Childcare and Nursing Care
During the course of their working lives, most employees inevitably pass through life stages that require them to render childcare and nursing care. To enable them to continue working with peace of mind and demonstrate their fullest potential, ITOCHU has expanded and upgraded systems to help that are far and above those required by law. These systems are available to both male and female employees, and provide support for them to succeed in their work as well as child and / or nursing care duties. Concerning childcare leave for male employees, which had been taken only by a few employees, we began to implement a campaign in FY2016 to encourage male employees to take childcare leave by involving their supervisors as well. As a result, 168 male employees took childcare leave during the three years until FY2018. Also, in FY2016, we carried out a trial of a work-from-home system for those who need to stay home due to childcare or nursing care. In FY2017, we officially introduced the work from home system, which is applied based on specific criteria to employees who have time constraints due to childcare, nursing care, or similar reasons and those who have difficulty commuting for reasons such as pregnancy, injury, or illness. In response to the growing social importance of being prepared for nursing care, we hold an annual nursing care seminar and introduced online services for providing nursing care information and consultations in FY2018.
Support for Childcare
Support for Nursing Care
ITOCHU Kids Day for Visiting Dad and Mom at Work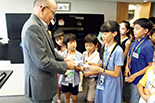 Since 2014, we regularly invite elementary school boys and girls to ITOCHU Kids Day—an initiative where the sons and daughters of employees can visit their dads and moms at work. They visit their parents in the office and practice exchanging name cards with people at work, using their own cards printed especially for Kids Day. They also hold a mock conference in the Board of Directors conference room, and enjoy lunch in the employee cafeteria as virtual ITOCHU employees. Kids Day is very favorably received among the parents, who are grateful to see their children develop an interest in their parents' jobs at ITOCHU and have reported that their children said they wanted to work for ITOCHU in the future. The company also considers such measures for strengthening family ties and the understanding of ITOCHU to be very significant, and plans to continue holding ITOCHU Kids Day in the future.
Career Support
Career Counseling
The Career Counseling Center offers a wide range of counseling and support for diverse career stages, ranging from new recruits to organization managers. All of the counselors in the Career Counseling Center have obtained the national career consultant certification. They provide consultations by discussing an array of topics fit for the circumstances of each individual seeking a consultation, including relationships with supervisors, junior staff and peers, approaches to work and considerations about one's own future. A system is in place for all young employees to receive career counseling when they reach certain milestones in their ITOCHU careers, as part of their training. Counseling is also available to mid-career employees as well as middle-aged employees looking to continue working. The number of visits to the Career Counseling Center to undergo counseling has exceeded 500. The Career Counseling Center aims to provide ITOCHU employees with the opportunity to discover something new about their career development by allowing them to have discussions with a sense of security from the thoroughgoing measures for maintaining confidentiality taken at the Center.
Trial Implementation of the Challenge Career System
This system was implemented twice on a trial-basis, or in FY2017 and FY2018, for career-track employees (excluding organizational manager) working in Japan as a measure for increasing the mobility of human resources. Under this system, an employee checks the list of job openings announced on the internal intranet in advance and makes a request to their supervisor for a transfer to their desired position. Once approval is obtained from the supervisor, the employee is introduced to the desired transfer destination, and if the department accepts the employee, a transfer beyond the boundaries of Division Companies and administrative divisions is carried out. This system is aimed at increasing employees' motivation by providing the opportunities for career options and enhancing the organizing ability by fostering career awareness among them. Under this system, three employees were transferred in FY2017 and informal decisions to transfer two employees were made in FY2018. We will consider future measures based on the results of the trial implementation in two years.
Overall schedule

Working Environment/Style
Dress-down Days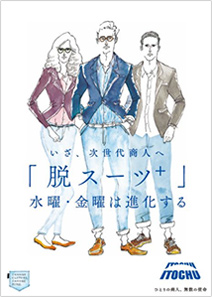 In June 2017, ITOCHU introduced "Dress-down Days" as a new method of work-style reform with the aim of creating an environment that allows each employee to demonstrate their capabilities further and work vibrantly.
Fridays are designated as "Dress-down Days," when employees are allowed to dress down to a level below the previous Casual Fridays, instead of wearing business suits uniformly, based on the premise that what they wear are "work clothes" that are suitable for business settings. Employees are also allowed to wear jeans and sneakers and are encouraged to wear outfits more freely to express the characteristics of ITOCHU. This program aims to develop employees' ability to think flexibly and create a workplace environment that facilitates the creation of new ideas by having employees think about how to dress down while being conscious of their relationships with customers or the people around them.
To raise employees' awareness of the program and spread it among them, the following key measures were implemented in FY2018. We will continue to plan programs that are appropriate for each season.
A program under which around 10 employees have their own stylists to help them undergo a total makeover and experience new styles, with the cooperation of Isetan Shinjuku Store of Isetan Mitsukoshi Ltd., three times a year — that is in summer, autumn/ winter and spring.
Internal events in which employees are recommended to wear a specific item — such as "Jeans Day" and "Sneaker Day" — and which involve a concurrently related event such as a sale with the cooperation of an ITOCHU Group company/associated company and a lecture on dressing given by a stylist.
Cooldown Rooms
In June 2012, ITOCHU Corporation introduced Cooldown Rooms, where summer heat is alleviated, on the first floor and first basement floor of the Tokyo Headquarters building. These rooms are aimed at keeping visitors comfortable in the building and providing employees with a comfortable working environment. As a measure for preventing global warming and saving electricity during summer, when power demand increases, ITOCHU ensures that the temperature setting of the air conditioners in the building is not lower than 28 degrees centigrade. However, the Cooldown Rooms have lower ceilings than other rooms for greater air-conditioning efficiency. Cool air of 15 degrees centigrade is supplied to the rooms to keep the temperature at 20 degrees centigrade or lower. The rooms thus cool down people who visit the building on hot summer days and employees who return from sales activities outside. In addition, in December 2016, we began to make effective use of the Cooldown Rooms in winter by raising the temperature setting to warm people up and established ITOCHU History, a section for history exhibitions, so that many people can experience the pioneering spirit of ITOCHU.
Shower Lounge and Shower Room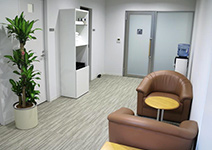 As a measure for creating a workplace environment that provides job satisfaction, ITOCHU introduced a shower lounge on the third floor and a shower room on the second basement floor of the Tokyo Headquarters building in the summer of 2016. Employees who returned from business trips by early morning flight would say that the airport shower rooms were crowded and that they had to use external facilities (such as gyms and saunas) on their way to work. In response to this feedback, ITOCHU established these facilities in the Headquarters building so that employees who have returned from business trips are able to start working in comfort.
The facilities are equipped with overhead showers, which warm up the body immediately, even in winter, and amenities (towels, hair driers, shampoo, and conditioner). A total of 660 employees have used these facilities in a period of about 21 months since they were opened. The employees greatly appreciate the facilities, stating that they make it possible to work in comfort.
In response to employee other requests, these facilities are now open for longer hours and are also available for employees who have exercised to improve their health. These facilities are also open to employees of affiliate companies.
The Hiyoshi Domitory
In March 2018, ITOCHU Corporation established the Hiyoshi Dormitory (Kohoku-ku, Yokohama-shi, Kanagawa), a dormitory for unmarried employees with approx. 360 dwelling units, by integrating dormitories for unmarried male employees that were scattered in four locations in the Tokyo Metropolitan area. This dormitory was designed under the concept of "under the same roof," instead of being positioned as a mere welfare facility. The dormitory is therefore equipped with a range of common utilities, which are designed to serve as gathering places for residents and deepen their communications beyond the boundaries of their ages and divisions. These include a dining room with a shared kitchen, a multi-purpose meeting room, a large bathroom with a sauna, and communication spaces on each floor (space for studying and an open terrace).
From the viewpoint of initiatives such as Health and Productivity Management, the cafeteria in the dormitory provides dietary instructions by taking measures such as serving nutritionally balanced meals for breakfast and dinner. We also provide residents with exercise opportunities by tying up with a local fitness club. In addition, smoking is prohibited in the entire dormitory, including private rooms of residents, and is permitted only in designated areas. For those who wish to quit smoking, we provide a smoking cessation program using a smartphone application. These and other initiatives are taken to create an environment that encourages employees to reform their workstyles voluntarily and improve their health.
As part of business continuity plan (BCP) for disasters, this dormitory is designed to function as a secondary office for the Tokyo Head Office. It has the same internet environment as that of the office and power supply equipment that is ready to supply electricity. Food, water, emergency supplies and other items are also stocked in the dormitory.
Major Awards and Certifications
ITOCHU Corporation's initiatives for creating environments that bring out the best in employees have earned high praise from various quarters.
In FY2018, ITOCHU Corporation received the Award for Excellence from the Minister of Health, Labour and Welfare in the "Family-friendly Companies" category, for "Excellent Equal Opportunity/Work and Family-Life Balance Companies." ITOCHU was also selected a "Best Practice Company" in a program in which the Tokyo Labor Bureau selects companies that are proactive in reducing prolonged work. In addition, ITOCHU received the Minister of Health, Labour and Welfare Prize in the 2017 Award for Companies Promoting Cancer Control in the Action Plan for Promotion of Cancer Control as a project commissioned by the Ministry of Health, Labour and Welfare. The award was granted in recognition of the Support Measure for Balancing Cancer Care and Work, which began in FY2018. We also won an award of excellence in the Tokyo Metropolitan Government award commending companies that implement excellent initiatives to help cancer patients balance cancer treatment and work.
Platinum Kurumin Authorization

New Diversity Management Selection 100

2017 award for Excellence from the Minister of Health, Labour and Welfare for "Excellent Equal Opportunity/Work and Family-Life Balance Companies" ("Family-friendly Companies" category)

Minister of Health, Labour and Welfare Prize in the Award for Companies Promoting Cancer Control in the Action Plan for Promotion of Cancer Control

Tokyo Metropolitan Government award commending companies that implement excellent initiatives to help cancer patients balance cancer treatment and work

Companies with excellent initiatives for providing employees with support at work as well as with childcare receive approval to display the Platinum Kurumin Authorization mark.(Received on 2016 / Ministry of Health, Labour and Welfare)

A project for selecting excellent companies that provide diverse human resources with opportunities and an environment for exercising their potential (Selected in March 2016/ Ministry of Economy, Trade and Industry)

A program recognizing companies that promote exemplary programs with an equal emphasis on work and childcare/ nursing care.
(Selected in November 2017/ Ministry of Health, Labour and Welfare)

A project recognizing companies that are proactive in taking cancer control measures and which take comprehensive, advanced cancer control measures.
(Selected in February 2018/ Ministry of Health, Labour and Welfare)

A program recognizing companies that implement excellent initiatives to help cancer patients balance cancer treatment and work.
(Recognized in February 2018/ Tokyo Metropolitan Government)