Initiatives toward Environmental Distribution
ITOCHU Corporation is working on green distribution that will reduce the burden on the environment in order to comply with the Act on the Rational Use of Energy.
Carbon Dioxide Emissions Associated with Distribution
The following graph shows the CO2 emissions associated with the outsourced shipment of goods consigned by ITOCHU Corporation.
Change in CO2 Emissions Attributed to Distribution★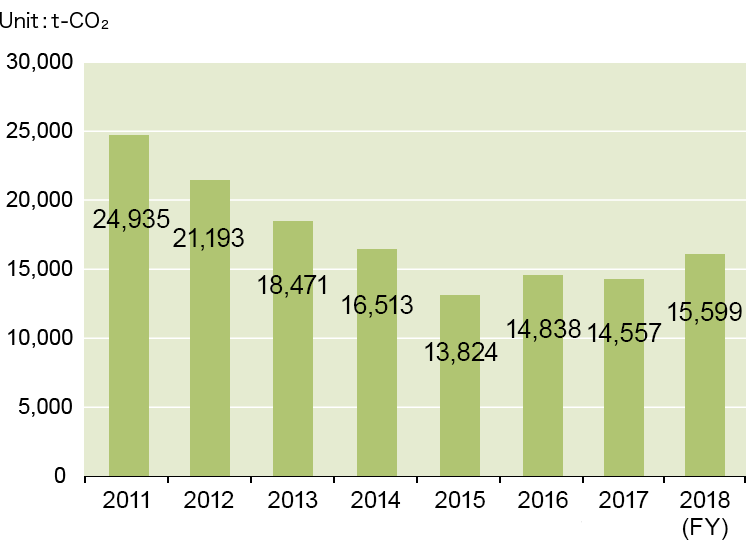 ★ Data assured by KPMG AZSA Sustainability Co., Ltd, an external assurance provider based on the international standard ISAE 3000 & ISAE 3410. Independent Assurance Report(449KB)
FY2016 data was corrected because there was an error.
Environmental Energy-Saving Measures
Environmental Energy-saving measures are set forth in the following measures and policies in effect across the company.
In addition to these, each division company formulates specific measures.
Selection of Modes of Transportation

Promoting utilization of rail and sea transportation

Actions to Improve Transportation Efficiency

Use of partial and consolidated cargo services
Selection of appropriate vehicle models and larger vehicles
Transportation route ingenuity
Improved loading ratios

Coordination between freight carriers and recipients

Review of transportation plans, frequency, etc.
Specific Measures
Selection of Modes of Transportation

Examine and analyze the circumstances of long-haul truck-based transportation and consider changing modes of transportation, starting with businesses able to transition to rail and domestic vessel-based transportation, which place a comparatively lighter burden on the environment.

Actions to Improve Transportation Efficiency

Examine the circumstances of transportation and consider actions such as appropriate vehicle model and transportation route selection. Further, try to improve loading efficiency and reduce specific energy consumption.

Coordination between Freight Carriers and Recipients

ITOCHU's internal judgment criteria on the use of distribution companies requires it to check the status of a company's environmental distribution initiatives and recommends the usage of accredited companies.
To achieve measures (1) and (2) above, ITOCHU will endeavor to build cooperative frameworks with distribution companies as well as partner suppliers and other parties.