Critical Issues (Material Issues)
In April 2018, ITOCHU Corporation adopted an Environmental, Social and Governance (ESG) mindset to identify material sustainability issues. Addressing these critical issues through our primary business operations is how we are working toward sustainable growth through a reinvented Sampo Yoshi approach that will achieve the goals of Brand-new Deal 2020.
In a sustainability effort to carry out the company's responsibilities for the society of today and the future, we are also helping to achieve the Sustainable Development Goals (SDGs)* adopted by the United Nations in 2015.
Sustainable Development Goals (SDGs): Targets for sustainable development to achieve by 2030, adopted in September 2015 by member states of the United Nations
Material Sustainability Issues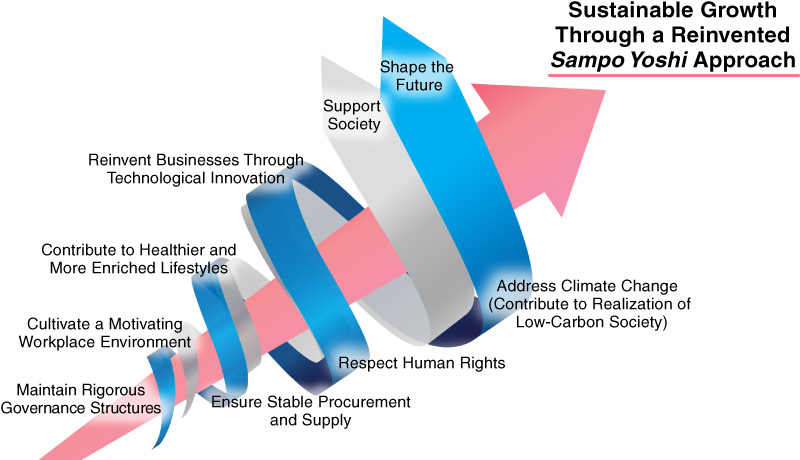 Reinvent Businesses Through Technological Innovation
We create new value by proactively exploring new technologies as we adapt to a transforming industrial establishment by venturing beyond the framework of our existing business.
Address Climate Change
(Contribute to Realization of a Low-Carbon Society)
As we endeavor to adapt to climate change's impact on business, we further business activities that contribute to a low-carbon society and work to reduce greenhouse gas emissions.
Cultivate a Motivating Workplace Environment
We provide a setting where employees are proud and motivated, and where we can leverage diversity so they can fully exhibit their capabilities.
Respect Human Rights
While showing respect and consideration for human rights in our operations, we bring stability to our business and contribute to the development of local communities.
Contribute to Healthier and More Enriched Lifestyles
With the intention of raising quality of life for all people, we help make healthy, bountiful living possible.
Ensure Stable Procurement and Supply
With aspirations for a recycling-oriented society, we give consideration to biodiversity and other important aspects of the environment to engage in effective use and steady procurement and supply of resources in line with their demand in each country.