Sustainability Awareness Activities at ITOCHU
While pursuing sustainable activities, ITOCHU raises awareness within the Company so as to further ITOCHU Group employees' understanding and to apply solutions to social issues in our business in a manner that conforms to the latest global trends.
Recent Sustainability Awareness Activities
The online Sustainability Basic Education and Employee Questionnaire are conducted every year for all ITOCHU Corporation executives and employees worldwide to further spread sustainability in the company and gauge our awareness of the subject.
| | Theme | Participation |
| --- | --- | --- |
| FYE 2021 | Sustainability Trends (ITOCHU Group Material Issues, Risks, and Opportunities) | 100.0% |
| FYE 2020 | Global Sustainability Trends (ESG, SDGs, Climate Change, Supply Chains) | 100.0% |
| FYE 2019 | "ESG – Climate Change Response, Business & Human Rights" | 99.9% |
| FYE 2018 | "ITOCHU's Further Growth – ESG Investment" | 99.5% |
Sustainability Seminars
We have been holding in-house sustainability seminars on a continuous basis since 2007 to bring in outside insights and ideas on various sustainability issues.
Recent Seminars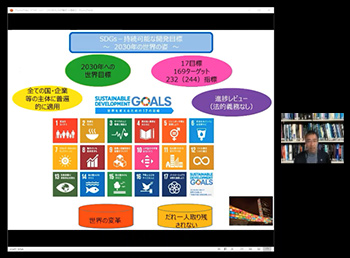 In January 2021, we invited Professor Norichika Kanie of the Keio University Graduate School of Media and Governance for a sustainability seminar titled, "Are the SDGs Profitable?" During the first half of the seminar, Professor Kanie provided a keynote speech on the state of and issues facing SDGs initiatives in corporate activities from the perspective of both global and Japanese markets. The second half of the seminar featured a lively Q&A session centered on issues directly related to the business environment such as evaluating how the SDGs should be incorporated into new and existing operations of ITOCHU Corporation. This seminar provided a wonderful opportunity for ITOCHU to reevaluate the responsibilities we must fulfill in each of our business endeavors.
| | |
| --- | --- |
| FYE 2021 | Are the SDGs Profitable? |
| FYE 2019 | Business and Human Rights (in the Supply Chain) |
| FYE 2018 | Business and Human Rights (Development) |
| FYE 2017 | What Companies and Consumers Can Do to Create a Sustainable Society |
Sustainability Trainings
We engage in various sustainability trainings for ITOCHU personnel so as to promote sustainability awareness within our Group. Details are as follows.
| Training Title | Applicable Employees | Training Details | Participants in FYE 2021 |
| --- | --- | --- | --- |
| Group ESG Managers Conference | Group ESG managers | Basic knowledge and explanation of work duties for ITOCHU Group ESG promotion supervisors | 70 |
| Training New Recruits | New employees | ITOCHU Group sustainability promotion | 120 |
| Training in Preparation for Overseas Assignments | Employees designated for overseas assignment | Points of caution related to ITOCHU Group sustainability and promoting sustainability overseas | 213 |
| Training for New Group Executive Officers | New Group executive officers | ITOCHU Group sustainability and importance of Group alliances | 93 |
| Sustainability Survey Workshop | Employees conducting sustainability surveys | Points of caution related to the Sustainability Action Guidelines for Supply Chains and sustainability surveys | 121 |