Sustainability Awareness Activities at ITOCHU
While pursuing sustainable activities, ITOCHU raises awareness within the Company so as to further ITOCHU Group employees' understanding and to apply solutions to social issues in our business in a manner that conforms to the latest global trends.
Raising Awareness with "ITOCHU Monthly"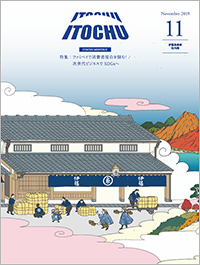 "ITOCHU Monthly," our in-house magazine issued every month in three languages (Japanese, English and Chinese) presents information, terminology and initiatives relating to sustainability. There is also an annual feature on sustainability to further embed sustainable practices at the company.
Sustainabilty Test and Employee Questionnaire
The online Sustainability Test and Employee Questionnaire are conducted every year for all ITOCHU Corporation executives and employees worldwide to further spread sustainability in the company and gauge our awareness of the subject.
| | Theme | Participation |
| --- | --- | --- |
| FYE 2019 | "ESG – Climate Change Response, Business & Human Rights" | 99.9% |
| FYE 2018 | "ITOCHU's Further Growth – ESG Investment" | 99.5% |
| FYE 2017 | CSR in the New Era for the Sogo Shosha | 99.8% |
Sustainability Seminars
We have been holding in-house sustainability seminars on a continuous basis since 2007 to bring in outside insights and ideas on various sustainability issues.
Recent Seminars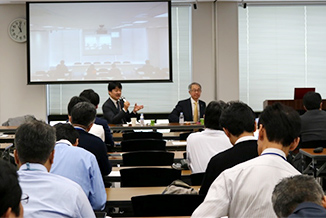 For the sustainability seminar on "Business and Human Rights" on December 13, we invited Japan NGO Center for International Cooperation (JANIC) Secretary-General Hideki Wakabayashi and Lloyd's Register Japan K.K. Director Hidemi Tomita. During the first session, Mr. Wakabayashi gave a keynote address in which he shared discussions at the UN Forum on Business and Human Rights that convened in Geneva at the end of November 2018. In the second session, Messrs. Wakabayashi and Tomita joined a lively panel discussion guided by questions on issues people face in business settings to consider how trading houses operating worldwide should handle human rights issues. Holding the seminar provided a fine opportunity to reexamine the responsibilities our company should uphold in each of our businesses.
| | |
| --- | --- |
| FYE 2019 | Business and Human Rights (in the Supply Chain) |
| FYE 2018 | Business and Human Rights (Development) |
| FYE 2017 | What Companies and Consumers Can Do to Create a Sustainable Society |
| FYE 2016 | Global Initiatives and Innovations to Implement Bold Global Warming Countermeasures |
| FYE 2015 | Running a Business to Solve Global Issues |