Penetration of Sustainability at ITOCHU
Sustainability Confirmation Test and Employee Questionnaire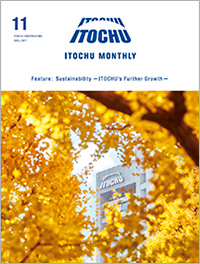 Each year, we conduct the on-line Sustainability Confirmation Test and Employee Questionnaire Survey with all ITOCHU employees around the world, in order to promote the in-house penetration of Sustainability awareness and study the awareness of employees.
More specifically, once a year, our in-house magazine ITOCHU Monthly, which is published in the three languages of Japanese, English, and Chinese, puts out a special Sustainability issue. This issue presents the minimum requisite Sustainability -related knowledge and information which every employee should know. The implementation of the confirmation test on-line helps to heighten understanding of Sustainability among all employees.
In FY2018, ITOCHU Monthly ran a special feature entitled "ITOCHU's Further Growth — ESG Investment —," including the President's message on ESG and articles on basic knowledge and the history of ESG investment, and global trends on E (Environment) of ESG. The Confirmation Test consisted of questions on the topics introduced in the articles. A total of 6,457 non-consolidated and overseas bloc employees responded.
The Employee Engagement Survey, asked employees questions about the sustainability promotion activities of ITOCHU Corporation and questions about their degree of motivation towards work.
Response rate of the Sustainability test and Questionnaire 2017
Questionnaire for employees of
ITOCHU Corporation
Questionnaire for employees of
overseas blocs
Total
Number of employees

4,794

1,663

6,457

Number of respondents

4,794

1,632

6,426

Response rate

100.0%

98.1%

99.5%
<Questionnaire Results Excerpt> Do you feel proud to work for ITOCHU Corporation?

Sustainability Seminars
We regularly organize internal Sustainability seminars to incorporate the views and opinions on various Sustainability issues from outside experts since 2007.
Latest Seminar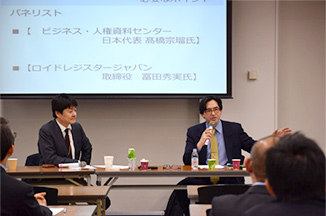 On March 1, a Sustainability Seminar on "Business and Human Rights" was held by inviting Mr. Saul Takahashi, the Representative in Japan of the Business and Human Rights Resource Centre, and Mr. Hidemi Tomita, who is a Director of Lloyd's Register Japan K.K. In the first part of the seminar, Mr. Takahashi gave a keynote lecture on stakeholder engagement. In the second part, based on questions from employees, Mr. Takahashi and Mr. Tomita gave talks on the "key points needed for human rights risk management by a corporation" in the form of a panel discussion. In the keynote lecture, Mr. Takahashi introduced human rights issues that trading company may face and examples of corporations' engagement in human rights problems that have actually occurred. In the panel discussion, Mr. Takahashi and Mr. Tomita talked about more specific examples of human rights issues and ways of handling them. Participants in the seminar provided many opinions such as "Knowing the specific examples enabled me to become more strongly aware of the importance of human rights and gave me an opportunity to think about whether or not ITOCHU is associated with such problems," and "The seminar was too short." With the endorsement of the Guiding Principles on Business and Human Rights, we have entered an era when Japanese companies with supply chains that spread all over the world are required to understand and commit themselves to human rights issues and the responsibility of corporations. This seminar served as an excellent opportunity to think afresh about what responsibilities ITOCHU should fulfill in its individual businesses.
| | |
| --- | --- |
| FY 2018 | Business and Human Rights |
| FY 2017 | What Can Be Done to Create a Sustainable Society? |
| FY 2016 | Global Initiatives and Innovations to Implement Bold Global Warming Countermeasures |
| FY 2015 | Business Activities from the Standpoint of Solving Global Issues |
| FY 2014 | Climate Change: Risk and Business Opportunities |