Penetration of Sustainability at ITOCHU
CSR Confirmation Test and Employee Questionnaire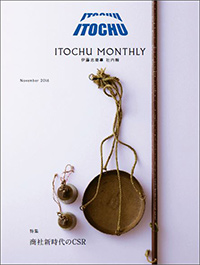 Each year, we conduct the on-line CSR Confirmation Test and Employee Questionnaire Survey with all ITOCHU employees around the world, in order to promote the in-house penetration of CSR awareness and study the awareness of employees.
More specifically, once a year, our in-house magazine ITOCHU Monthly, which is published in the three languages of Japanese, English, and Chinese, puts out a special CSR issue. This issue presents the minimum requisite CSR-related knowledge and information which every employee should know. The implementation of the confirmation test on-line helps to heighten understanding of CSR among all employees.
In FY2017, ITOCHU Monthly ran an article titled "CSR in the New Era of Trading Companies," which described model examples of activities by business partners and recent trends in global CSR. The Confirmation Test presented questions from examples introduced in the article. Non-consolidated employees were requested to take a confirmation test on Waste Management and Public Cleansing Act. Among 6,669 non-consolidated and overseas bloc employees who were covered by the survey and test, a total of 6,481 answered.
The Employee Questionnaire Survey on CSR, which surveys awareness on the topic, asks employees what CSR issues they think ITOCHU ought to tackle each year. For FY2017, we see that the top-ranking CSR issue is "Sustainable use of resources." "Contribution to the development of local communities" and "Respect and consideration for human rights" were ranked 3rd or higher for two consecutive years, showing that employees have high awareness of these issues.
Response rate of the CSR employee questionnaire and confirmation test 2016
Questionnaire for employees of
ITOCHU Corporation
Questionnaire for employees of
overseas blocs
Total
Number of employees

4,810

1,685

6,495

Number of respondents

4,810

1,671

6,481

Response rate

100.0%

99.2%

99.8%
<Questionnaire Results Excerpt> Top 3 CSR Issues ITOCHU Corporation should address
| | | |
| --- | --- | --- |
| 1 | Sustainable use of resources | 54.0% |
| 2 | Contribution to the development of local communities | 47.8% |
| 3 | Respect and consideration for human rights | 47.3% |
CSR Seminars
We regularly organize internal CSR seminars to incorporate the views and opinions on various CSR issues from outside experts. Since FY2014, we have been holding the seminars under the title of the "CSR and Global Environment Seminar" on themes selected for their importance in the pursuit of business activities by ITOCHU employees. In addition, beginning in FY2015, we hold "CSR Seminars for Specific Fields" by inviting specialists in each field to provide our employees with a thorough overview of the CSR risks of each field and region. Through these seminars, we will conduct educational activities that provide a detailed look at the industry trends we face.
CSR and Global Environment Seminar
On March 8, a CSR and Global Environment Seminar on "What Can Companies and Consumers Do to Create a Sustainable Society?" was held and three lecturers were invited: Ms. Rika Sueyoshi, CEO of the Ethical Association, Ms. Noriko Momose, Executive Officer of UNY Co., Ltd. and Ms. Haruka Yamada, from the CSR & Risk Management Group of FUJI OIL HOLDINGS INC. Ms. Momose and Ms. Yamada introduced their company initiatives and Ms. Sueyoshi talked about consumption activities leading to creating a sustainable society. In particular, many participants commented that they were very impressed with Ms. Momose's talk on how UNY's environmental initiatives have been raised to the present high level and that they want to think about what can be done in their own areas. In recent years, compa-nies and individuals have been strongly urged to actively contribute to a sustainable society, such as through the launch of the Sustainable Devel-opment Goals (SDGs) of the United Nations and the coming into effect of the Paris Agreement, an international framework for global warming counter-measures. Participating in this seminar was an opportunity to think again about contributing to a better future on a day-to-day basis in individual businesses and as a consumer.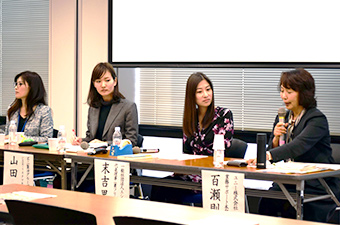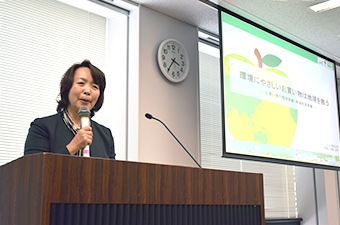 | | |
| --- | --- |
| FY 2017 | What Can Be Done to Create a Sustainable Society? |
| FY 2016 | Global Initiatives and Innovations to Implement Bold Global Warming Countermeasures |
| FY 2015 | Business Activities from the Standpoint of Solving Global Issues |
| FY 2014 | Climate Change: Risk and Business Opportunities |
Internal CSR Seminars in the past
| | |
| --- | --- |
| 8th seminar | Held on Social Business with a Focus on the Front Lines |
| 7th seminar | Human Rights and Global Business for a General Trading Company |
| 6th seminar | Procedures for assessing environmental and social risk in project finance |
| 5th seminar | Biodiversity and corporate initiatives |
| 4th seminar | Loss and recycling in food distribution |
| 3rd seminar | The social impacts and roles of information technology in Japanese society |
| 2nd seminar | Global warming and the business of general trading companies |
| 1st seminar | Human rights / labor issues |
CSR Seminars for Specific Fields for FY2017
| Field/Region | Theme |
| --- | --- |
| PT ITOCHU INDONESIA | CSR for ITOCHU Corporation |
| ITOCHU (Thailand) Ltd. | CSR for ITOCHU Corporation |