Great East Japan Earthquake Reconstruction Support until FYE 2018
ITOCHU Corporation has continued its reconstruction support activities of the Great East Japan Earthquake that occurred in March 2011.
ITOCHU Children's Dream Fund
The ITOCHU Children's Dream Fund is part of the disaster support activities that ITOCHU Corporation has been conducting since March 2013.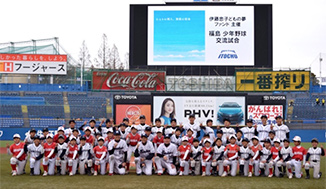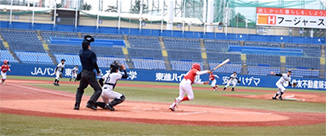 Friendly Games with Competitive Youth Baseball Teams from Fukushima Held at Jingu Stadium
On February 25, 2018, ITOCHU Corporation invited Onahama Youth Baseball Team from Fukushima Prefecture to Jingu Stadium and carried out an exchange game with Nine Stars, a strong baseball team in Tokyo. This was based on children's needs, identified by local NGOs, arising from children in Fukushima having restrictions on their outdoor activities, and not being able to practice sports as much as they would like. With the full cooperation of Meijijingu Gaien and the Tokyo Yakult Swallows, children used the same locker rooms and practice areas as the professional baseball players, given the experience of being a professional baseball player for one day. After the games, the children enjoyed a lunch provided by FamilyMart with employee volunteers of ITOCHU, including members of ITOCHU Group's baseball club, and other people.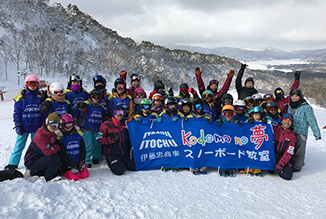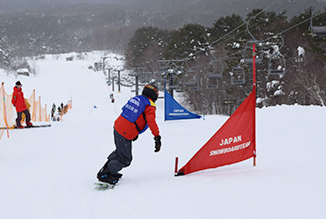 ITOCHU Children's Dream Snowboard School Held
On February 4, 2017, the ITOCHU Children's Dream Snowboard School was held at the Urabandai Ski Resort in Fukushima prefecture as a gift to children from Iwate, Fukushima, Miyagi, and Ibaraki prefectures who dream of being snowboarders. The event was supported by Ski Association of Japan, and snowboarders including Olympians Natsuko Oshida (Vancouver Olympics) and Michiyo Hashimoto (Salt Lake City Olympics), as well as Hayato Imai, Futa Adachi, Kaito Suzuki, and Hyuga Hashimoto, took part in the school as instructors. In the morning, the children received lessons designed to develop general snowboarding skills. In the afternoon, a timed race was held as an opportunity to show the results of the lessons. In the lessons given by professionals, the children's eyes were shinning with the valuable experience that made them dream of becoming snowboarders. Those children with top placings received Japanese snowboard team uniforms by AIRWALK, a brand for which ITOCHU owns the master licensing rights.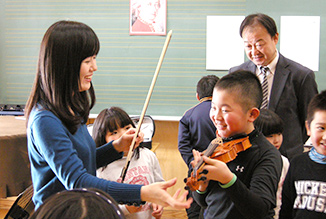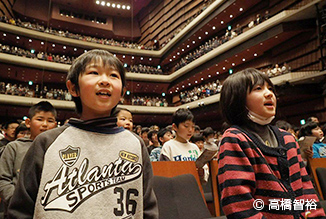 Collaborating with TMSO (Tokyo Metropolitan Symphony Orchestra) on supports for the affected areas through music
ITOCHU Corporation and the TMSO have been collaborating on supports for the affected areas through music since FYE 2014.
Together with the TMSO, ITOCHU cosponsored the TMSO × ITOCHU Class Concert 2017 which was held on January 16-17, in order to cheer up children who were hit hard by the earthquake in Fukushima prefecture. For this third event, Members of the TMSO visited and held string quartet classroom-style concerts at Katsurao Elementary School, Tomioka Daiichi and Daini Elementary Schools and Namie Junior High School, where some students need to travel extended periods from various locations because temporary school buildings have been erected on the grounds of old factory sites or condemned schools, as well as Kawauchi Elementary School, which despite being re-opened, has only a third of its original student population. In the classroom-style concerts, the students were taught how to play the violin by the performers. Then, while giving explanations in a quiz type, the musicians played famous pieces such as "The Nutcracker" from Tchaikovsky. Finally, there was a joint session with the chorus "Believe" and "To the Light of the Future", an original song written by Namie Junior High School students.
For FYE 2017, in addition to the class concert, on February 22, ITOCHU also collaborated with the TMSO in holding the concert "Boku-to-Watashi-to-Orchestra (You, I and the Orchestra): Let's Unite Together by the Rings of Music♪," with the participation of about 3,600 elementary and junior high school students in Iwaki City. The large chorus of students singing together along with the orchestra allowed them to enjoy sharing an emotional experience with friends. In addition, nine students from Katsurao Elementary School, which was visited for the class concert, were invited to the performance. Afterward, they had an excellent time interacting with the conductor, playing quiz games, taking a tour around the hall and experiencing a surprise performance by the orchestra members.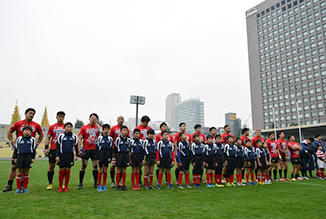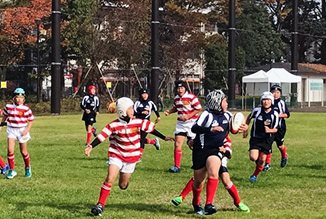 ITOCHU Children's Dreams Rugby Scrum Held
The city of Kamaishi in Iwate Prefecture, known as a "rugby town," has been selected as one of the host cities for the ninth Rugby World Cup, which will be held in Japan in 2019. To support the dreams of many Kamaishi children who aim to become rugby players, ITOCHU Corporation invited 16 elementary school students who belong to the Kamaishi Seawaves Junior team to Tokyo on November 19-20, 2016.
On their first day, the children served as child player escorts for the official professional rugby game at Chichibunomiya Rugby Stadium. The next day, coached by Mr. Hidehito Izumi, a player who helped the Nippon Steel Corporation Kamaishi Rugby Club win the All-Japan Rugby Football Championship seven times, and 10 ITOCHU employee volunteers with rugby experience, they played a friendly rugby match with children from the Nerima Rugby School team, and the children deepened their bonds through rugby.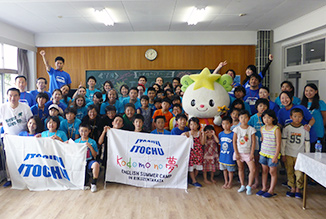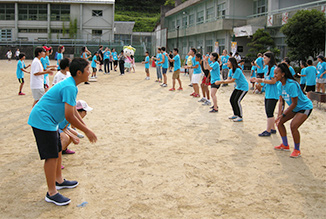 ITOCHU Kodomo no Yume English Summer Camp in Rikuzentakata held as the Fourth Phase of ITOCHU Children's Dreams Fund
Over two days on July 30 and 31, 2016, the "ITOCHU Kodomo no Yume English Summer Camp in Rikuzentakata" was held. With ten employee volunteers from ITOCHU Corporation, a total of 26 children, from fourth year elementary school students through to first year junior high school students gathered in response to a public call , joined with 20 university students, including international students from the United States and elsewhere as well as returning Japanese students studying at universities such as Rikkyo University and Iwate University, which have signed collaborative agreements with Rikuzentakata City on regional revitalization and other areas, enjoyed a summer camp in English together with ten employee volunteers from ITOCHU Corporation. English was used as the language for communication during the two-day camp, which gave the children an opportunity to come into contact with different cultures through sports and activities often seen at American summer camps, such as camp fires.
ITOCHU Takata no Yume Project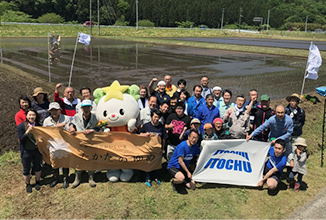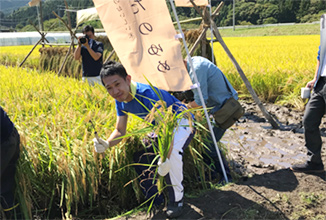 ITOCHU Corporation supports sales of the Takata no Yume (Takata's dream) brand of rice launched by Rikuzentakata City in 2012 through its food material sales company ITOCHU Food Sales and Marketing Co., Ltd.
Since the autumn of 2013, the city of Rikuzentakata in Iwate Prefecture, which suffered enormous tsunami damage, has been striving to establish Takata no Yume as a local brand of rice to ensure regional competitiveness and symbolize the revitalization of its agriculture. Under the project, volunteer employees from the ITOCHU Group engage in exchanges with local farmers in the production process. We provided ongoing support in FYE 2018 from planting in May to the harvest in October. In addition, to increase the visibility of Takata no Yume, we have instituted a number of PR measures, including one involving restaurants around the Tokyo Head Office. In March 2018, ITOCHU Corporation held PR events at various places in Tokyo, and we presented Takata no Yume to visitors together with city officials of Rikuzentakata.
Utilizing the platforms and expertise of the ITOCHU Group, we support the disaster-affected region through the project by providing assistance from production through to sales to ensure the success of Takata no Yume.
Activities to Support Disaster-Affected Areas through the ITOCHU Foundation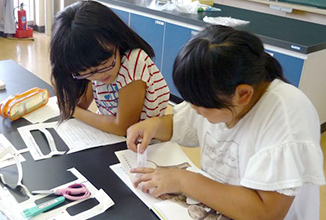 Activities with the ITOCHU Foundation in Tohoku for Sending Picture Books to Southeast Asia
Shanti Volunteer Association engages in activities of sending Japanese picture books to children in Southeast Asia, by affixing labels showing text translated into local languages on the picture books. Every week, employee volunteers of ITOCHU affix the labels on the picture books together with the ITOCHU Foundation by using a dedicated kit purchased from Shanti Volunteer Association. Since FYE 2015, these activities have been expanded to children in areas affected by the Great East Japan Earthquake. In FYE 2018, a total of 399 people took part in these activities at 16 locations including family libraries, libraries, and elementary, junior high, and high schools in Fukushima, Iwate, and Miyagi Prefectures with the support of seven organizations promoting children's book reading locally.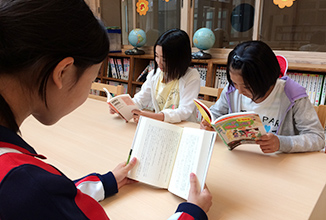 The 100 Children's Books Grant Conducted with Shareholders
Since FYE 2013, ITOCHU Corporation cooperated to ITOCHU Foundation's activity of subsidizing development of children's literature, by donating the money of paper costs and postage fees saved through shareholders' consent to receive shareholder information electronically.
In FYE 2018, a total of 5,411 shareholders agreed to this initiative. By utilizing the money saved and the same amount of money matched by ITOCHU Corporation, ITOCHU Foundation sent new sets of books via local book stores to the following eight schools in areas significantly damaged by the Great East Japan Earthquake.
FYE 2018 recipients
| | |
| --- | --- |
| Iwate Prefecture | Okirai Elementary School (Ofutato City), Nakano Elementary School (Hironocho, Kunohe County), Miyako Elementary School (Miyako City), and Toyomane Elementary School (Yamadamachi) |
| Miyagi Prefecture | Tokura Elementary School (Minami Sanrikucho) and Jonan Elementary School (Tagajo City) |
| Fukushima Prefecture | Ogawa Elementary School (Iwaki City) and Okeuri Elementary School (Iwaki City) |
Other Activities to Support Recovery Efforts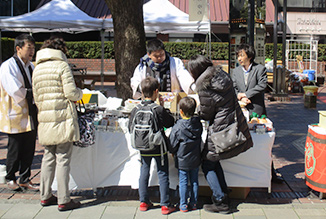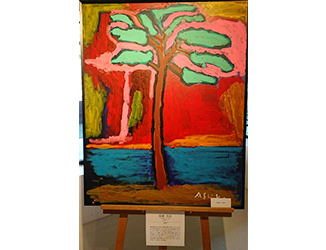 Food Fair Featuring Rikuzentakata City, Iwate, and Other Events Held at ITOCHU AOYAMA ART SQUARE to Support Reconstruction from the Great East Japan Earthquake
On March 11, a food fair featuring the produce of Rikuzentakata City was held with the participation of city officials of Rikuzentakata as sales staff. Various foodstuffs from Rikuzentakata, including kelp, soy sauce, apples, tomatoes, and other local specialties, along with Takata no Yume, a local brand of rice that the ITOCHU Group supports, were on sale at the event. Employee volunteers from ITOCHU Corporation and ITOCHU Food Sales and Marketing Co., Ltd. which sells food ingredients, worked alongside the city officials as sales staff. Freshly puffed rice made using Takata no Yume, which was professionally cooked on site, and boxed lunches featuring rice balls of Takata no Yume made by a restaurant in the neighboring area, were among the products that proved highly popular with visitors. Many customers asked about the current conditions of Rikuzentakata City, such as the recent state of the city. In this way, the event encouraged numerous interactions made via food.
On the same day, an art exhibition by Get in touch also opened at ITOCHU AOYAMA ART SQUARE. Get in touch is a general incorporated association represented by Chizuru Azuma, an actress, and conducts ongoing PR activities with the objective of raising awareness of minorities dealing with afflictions in life. The art exhibition was held with the wish that "Let's make a society where people understand about minorities daily in preparation for emergency situations." The event included a special exhibition of an artwork entitled "Kibou no Ippon-matsu (a pine tree of hope)" by Asuka Tasaki, an artist with a disability who resides in Rikuzentakata City. In addition, a moment of silence was observed following time signal, and "Gareki to Radio (rubble and radio)," a movie for supporting disaster-affected areas, was shown. In this way, visitors to ITOCHU AOYAMA ART SQUARE felt sympathy for the affected areas on the day.