Occupational Safety and Health Management
Policy and Basic Concept
ITOCHU Corporation considers people to be its greatest asset. Ensuring that every employee can reach their full potential leads to increased corporate value. Based on this way of thought, we promote various policies aimed at realizing an environment in which all employees can leverage their unique talents and have the peace of mind to focus on their work.
The cornerstone for achieving our corporate message, "I am One with Infinite Missions," is reinforcing employee health while developing employee ability. Based on this idea, we have codified our company policy towards health management in the ITOCHU Health Charter (enacted June 2016). We hope this will help every employee reach their maximum potential. ITOCHU Corporation recognizes the diversity of its employees with regard to gender, age, nationality, race, religion and existence of handicaps. We have defined our health charter as follows in order to achieve our vision as One with Infinite Missions, and perpetually improve corporate value.
1. Taking responsibility for employee health
ITOCHU will take responsibility for the good health of each employee by actively supporting initiatives they take to maintain or improve their health.
2. Contributing to society by maintaining good health
ITOCHU will develop soundly over the long term based on an understanding that the good health of its employees is the foundation of the happiness of the employees themselves as well as their families, customers and wider society.
3. A legacy for future generations
ITOCHU will carry out its infinite variety of missions as a company in which healthy employees who are fulfilled both spiritually and physically unleash their individual strengths. By so doing, it will continue for years to come to fulfill its responsibility to promote prosperity and "the global good."
Going forward we will pioneer various efforts that lead the way toward work-style reform and health management. And we will build an environment that allows employees to find meaning in their work.
Targets
ITOCHU Corporation is working towards the following targets based on health management and Occupational safety.
Issues to Address
Strengthening employee health
Commitment
We will promote the health of each employee and establish an environment in which they can more fully display their individual abilities. We will foment a climate of mutual support by establishing a support system that helps employees with cancer and long-term illnesses balance work and treatment.
Specific Approaches
Continue 100% participation in medical checkups
Maintain complete in-house infirmaries and a support structure for dedicated medical care for each employee
Promote support measures for those living with cancer
Offer a healthy menu in the employee cafeteria
Promote programs to help people stop smoking
Continue to operate "Re:body" health management website for employees, and carry out special programs intended to prevent lifestyle-related diseases
Success Indicators
100% participation in medical checkups.
FYE 2021: improve health indices (such as BMI) compared to FYE 2017.
FYE 2021: 0% job separation rate due to cancer or long-term illness.
FYE 2021: use stress checks to keep rate of high stress individuals below 5%.
Structures and Systems
ITOCHU Corporation considers employees to be assets. One of the company's vital responsibilities is to ensure health and safety in the workplace so that employees can reach their full potential. We have built a robust system led by the President & Chief Operating Officer, not just for incidents, accidents, disasters and other emergencies, but also health management. This ensures that both ITOCHU Corporation employees working around the world and their families stay healthy and safe.
To implement our corporate philosophy of being "Committed to the Global Good, " ITOCHU Corporation also discusses occupational health and safety with the ITOCHU Labor Union, which counts approximately 80% of employees as members. (see "Labor Union and Employee Benefits"). Recurrent, active discussion between labor and management makes both cognizant of the challenges facing the company and keeps them on the same page. This builds a healthy relationship that enables them to consider and implement measures for improvement.
See here for the number employees who have undergone training on health and safety standards.
Overview of Itochu Corporation's Occupational Health and Safety Management Organization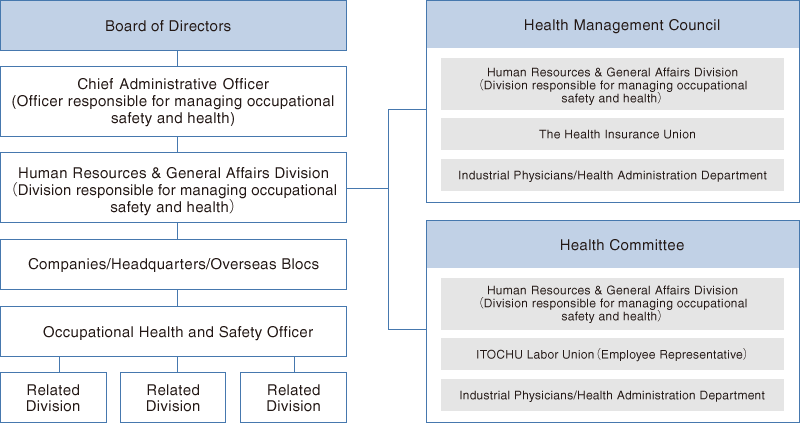 Our domestic occupational health system establishes an occupational health and safety officer for each company/corporate headquarters. Under the system, this officer transmits information about fatal accidents, labor disputes, etc. to the Human Resources & General Affairs Division.
We hold meetings on critical issues related to health (e.g. status and preventive measures against infectious diseases), matters related to industrial physicians, working hours and working environment risks. Relevant personnel hold meetings on matters that need to be discussed and share this information at the monthly meeting of the Health Committee.
We dispatch personnel and general affairs representatives to overseas blocks in each region. These representatives also fill the role of occupational health and safety officer.
Personnel and general affairs representatives visit local companies and offices to provide genial care to representative employees and national staff. They coordinate with offices in Japan and overseas to handle any fatal accidents, labor disputes, etc. that occur, just as they would in Japan. If necessary, they also share information with the Health Committee.
Health Administration Center
The Health Administration Center serves as the clinic for our headquarters in Tokyo and employs a total of 20 medical specialists, as well as x-ray technicians and pharmacists. For more than 30 years public health nurses have acted as "border-less medical concierges" who provide individual health guidance customized to the situation of every employee, both in Japan and overseas. This is based on close cooperation with medical specialists for various lifestyle-related diseases. In this way, the center supports ITOCHU Corporation health management through individual health management for each employee.
Specifically, in addition to the specialized disease management mentioned above, the office provides general practice medicine (internal medicine, orthopedic surgery, dentistry), checkups (regular medical checkups, half-day complete checkups, and medical checkups for employees traveling overseas or returning from abroad on a temporary or permanent basis), various vaccinations, and examinations (VDT examination, adult-onset disease examinations). It also offers medical counseling and provides information. In FYE 2017, almost 100% of our workers in Japan received regular medical checkups.
Mental Health
Concerning mental health, we have set up a stress management room in the company and offer counseling by a clinical psychologist. Employees can also seek counseling from a company physician or see a psychiatrist in-house. Our Health Insurance Union has set up a health consultation website called "Health & Mind Online" that enables employees to seek consultations by phone or over the net. On December 1, 2015, the Industrial Safety and Health Act was revised to require businesses to conduct employee stress checks once per year. ITOCHU Corporation's Health Administration Center took the lead in trialing stress checks a year early in October 2015. These were then introduced on a full-scale basis in FYE 2017.
Safety Measures for Employees on Travel or Stationed Overseas
ITOCHU Corporation operates worldwide with roughly 800 employees stationed overseas. The company also sends as many as ten thousand people on overseas business travel and works to offer health management to overseas staff. Since close communication between overseas locations and Japan is vital to overseas security management, we have stationed overseas safety specialists at our headquarters. They regularly exchange information about politics, economics, public safety and other factors with personnel and general affairs representatives assigned to each of the eight blocs worldwide. Staff meet through safety measures meetings, public security seminars, etc. They then disseminate appropriate measures throughout the company. We have also established a system to cover regions where information is more difficult to obtain through contracts with international security consultant firms.
On the medical front, we partner with specialized health care service companies to maintain a support system for both preventative and post-incident treatment. This includes information on local hospitals, avoiding infectious diseases, advice on treating illness or injury and transportation during emergencies.
We also conduct detailed seminars regarding safety and medical practices for employees and their families, before they are dispatched overseas. We caution employees about global health issues, including various types of infectious diseases like HIV/AIDS, tuberculosis and malaria before they go abroad. We also hold safety seminars for workers and their families after they return from overseas assignments.
We require employees who will be stationed overseas to receive the vaccinations recommended by the national government for each region

, with costs covered by the company. Vaccinations are administered by our Health Administration Center or a nearby travel clinic.
Occupational Health And Safety Data
Safety initiatives in Japan incorporate countermeasures against large-scale disasters like earthquakes. These include creating a business continuity plan, preparing disaster supplies such as drinking water, food, and toilets, conducting emergency drills, and training employees to use our safety confirmation service. We encourage employees to prepare for large-scale disasters by making sure they have a way to contact their families in the event of an emergency, keeping a pair of comfortable walking shoes at work, and being sure they know their way home on foot.
(Unit: people)
Occupational health and safety data (Individual employees*1) ★
FYE 2017
FYE 2018
FYE 2019
Full-time employees
Part-time employees
Full-time employees
Part-time employees
Full-time employees
Part-time employees
Number who suffered from occupational accidents (number which occurred during commute)*2

5(4)

1(1)

7(5)

1(1)

4(2)

1(0)

Number of Fatalities

0

0

0

0

0

0

OIFR (Occupational Illness Frequency Rate)*3

0

0

0

0

0

0

Number who suffered Lost Time Incidents (LTI)*4

0

0

0

0

0

0

LTIFR (Lost Time Injury Frequency Rate)*5

0

0

0

0

0

0
Employees targeted: Full-time employees — career-track employees, clerical employees, those in special positions
Part-time employee — contract employees
Number who suffered from occupational accidents: The total number of those who suffered from of occupational accidents or non-LTI due to their work and those injured during their commute.
OIFR: The rate of incidence of lost-time accidents corresponding to disease per million hours (calculated as the number of people suffering from LTI due to illness divided by the total number of working hours times 1 million)
Lost time incidents (LTI) are situations in which a work-related injury or illness causes the victim to be absent from work on the following day. (occupational accidents)
LTIFR: The rate of occurrence of incidents that caused employees to miss work per million working hours (calculated as the number of sufferers of LTI divided by the total number of working hours times 1 million)
Total number of participants in training related to health and safety standards (individual employees)★

| | FYE 2017 | FYE 2018 | FYE 2019 |
| --- | --- | --- | --- |
| Compulsory training*1 | 2,744 | 3,410 | 3,543 |
| Optional training*2 | 48 | 61 | 48 |
Training new recruits (career-track employees and clerical employees), managerial workshops, training in preparation for overseas assignments and training in preparation for JOT/JOT-M, evacuation drills at the Tokyo headquarters.
Career vision training (including mindfulness classes and mental health management)
Health Management
In FYE 2017 we began to work on health management in earnest. This entailed promoting a range of measures to improve employee health, based on the ITOCHU Health Charter (established in June 2016). These include the introduction of "Health MyPage," which allows all employees to manage their health status, individual programs for employees with a high risk of lifestyle-related disease (distributing wearable devices and offering expert advice on health and diet), and better support for those trying to quit smoking (reimbursing medical costs involved in quitting). And in April 2018, we opened a new health-focused integrated dormitory for unmarried employees.
In an effort to increase the health awareness of each employee, we introduced the "Health MyPage" app in April 2017. This app lets employees view medical checkup results via a PC or smartphone, and permits centralized management of lifestyle data, such as number of steps walked that day, weight, percent body fat and calorie intake. We also launched a personal guidance program for young employees with a high potential risk of lifestyle-related diseases. Participants receive wearable devices which collect data on exercise and sleep, and manage data on diet as well. This enables them to receive daily diet and exercise instructions online from a health coach and national registered dietitian. So far, more than 240 people have taken advantage of the opportunity and made progress under the program.
Our Health Insurance Union operates two recreation centers in Japan, and implements initiatives which include cooperating with the Health Administration Center to fully cover the cost of treatment that helps employees stop smoking.
Moreover, in August 2017 we began to lead the way in Japan with company efforts to support balancing cancer care and work from the three perspectives of prevention, treatment, and coexistence. We are striving to create a workplace in which all employees, regardless of whether they suffer from cancer or long-term illness, can continue to work without concern toward their fullest potential, all the while maintaining motivation and finding meaning in their work.
Policies for Living with Cancer
In August 2017, we began to implement measures to support balancing cancer treatment and work in accordance with the ideas behind the ITOCHU Health Charter enacted in June 2016.
It is said that, today, one in two Japanese will develop cancer at some time in their life. Every year, 850,000 individuals are diagnosed with cancer, with working-age adults accounting for 30%. Cancer typically requires a certain period of intensive treatment, followed by careful, long-term follow-up care. At ITOCHU, some employees continue to work while fighting cancer, and some have succumbed to the struggle. We believe that providing a work environment where employees may continue to work without fear, and without giving in to cancer, leads to positive work on the part of the employees and energizes the organization. So we have decided to keep the following three perspectives in mind as we implement this measure.
Establish an environment in which employees can seek counsel and share information without concern
Strengthen the system that the entire organization uses to support prevention, early detection, and treatment of cancer
Establish internal systems and programs which permit employees to continue to work and play active roles while they receive treatment
Thus far ITOCHU has maintained a support system for long-term illness that included an enhanced health management system, subsidies for high-cost medical care, and a flexible work/leave system. We have now decided to add the following new initiative to support balancing cancer care with work from the three perspectives of prevention, treatment, and co-existence.
Cooperate with National Cancer Center

Prevention: To improve the rate of early detection, we have added special cancer examinations under the supervision of cancer specialists to our regular medical checkup.
Treatment: If an exam comes back positive, we refer the employee to the National Cancer Center for detailed examination. If cancer is detected, we immediately coordinate with specialists from the National Cancer Center to arranged state-of-the-art treatment.

Establish a system that offers support for balancing work with cancer treatment (See the figure below.)

Assign a coordinator who supports balancing work with cancer treatment, and foster a system and climate in which other employees, including the head of the organization, can help the employee with cancer to balance treatment and work. After receiving the initial report, formulate a plan to support balancing treatment and work which follows a prescribed flow that is dictated by the individual patient's condition.
Create a handbook explaining how to support balancing treatment and work, and establish a leave system that allows such support to be provided.

Enhance financial support for advanced cancer treatment

The company purchases a blanket policy to provide financial support to employees who receive advanced medical treatment not covered by insurance.

Expanded scholarships for children and job search support

Increase the amount of scholarship money paid to bereaved children through graduate school by roughly two to three times what it had been previously.
If a bereaved child or spouse desires to work for the ITOCHU Group, every effort will be made to find a place for them within the Group.
By promoting these measures, we hope to create a workplace in which all employees, regardless of whether they suffer from disease, can continue to work as much as they like without concern, and reach their fullest potential. We want employees to maintain motivation and find their work worthwhile. At the same time, we aim to become a company that is challenging but does work worth doing—the strongest and best in Japan.
ITOCHU Corporation support system for balancing work and cancer treatment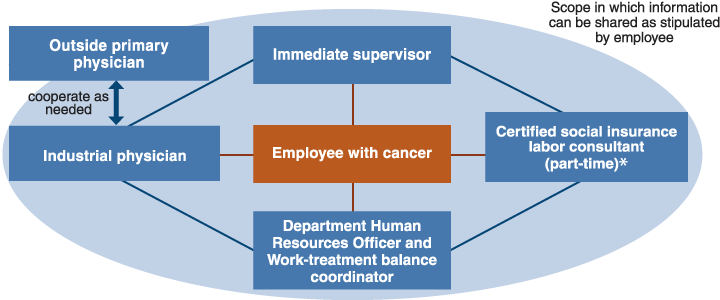 Career consultation desk provided by qualified counselor
Application to Group Companies
Due to our consolidated management, our efforts with regards to occupational health and safety, and safety management, cover not only our employees (including contract employees) but also those of our group companies.
Specifically, Group companies also conduct things like stress checks, safety initiatives in Japan, information on safety measures overseas, collaboration with overseas security and medical service companies, and seminars prior to overseas assignments. Group companies are increasingly adopting a morning-focused work style, and the group overall is striving to reduce the total number of working hours and promote employee health. In addition, we are working to strengthen the labor management of the overall ITOCHU Group by regularly conducting workshops that hone the knowledge and expertise of our personnel, and assessments of labor and human resources.
Details of Personnel and Labor Support Provided to Group Companies in FYE 2019
Labor management case study workshops
These workshops focus on case studies that highlight possible labor management cases including mental health problems and working hours management. Participants gain specialized knowledge and learn how to handle these types of problems. In addition to Tokyo, we held this workshop in Osaka for the first time in three years in FYE 2019. Tokyo: 38 participants from 23 companies (July and November) Osaka: 16 participants from 10 companies (October)
Labor management case study workshops (special edition)
In these workshops, lectures explain key points that are likely to cause problems for human resources and labor management and propose solutions to these problems. In FYE 2018, the theme was "the rules concerning conversion of limited-term employees to indefinite-term employees," and 93 employees from 61 companies participated.
ITOCHU Group Human Resources and General Affairs Liaison Council
This council aims to allow those in charge of human resources and general affairs from our Group companies to exchange information and strengthen relationships. Activities include discussing the latest trends in human resources and general affairs, sharing information about ITOCHU Corporation measures and support situation, and updating one another about the content of revisions to laws. FYE 2019, 138 employees participated from 85 companies.
Human resources and labor management assessments
These are health assessments aimed at checking whether rules, systems, and management related to overall personnel and labor affairs are operated in an appropriate manner. These include labor contracts, internal rules, occupational health and safety, and time management. We conducted assessment of 11 companies in FYE 2019.
ITOCHU Group Human Resources and Labor Management Portal Site
We established a new portal site in May 2018 to share the regulations and expertise of ITOCHU with group companies. The aim of this site is to strengthen the human resources and labor management in group companies.
External Appraisal/Assessment
In FYE 2016 ITOCHU Corporation obtained the highest rank in the Development Bank of Japan (DBJ) Health Management Rating System for the first time as a general trading company. We were also selected as a Health and Productivity Stock for two years in a row in 2016 and 2017 in the health and productivity management program jointly sponsored by the Ministry of Economy, Trade and Industry and the Tokyo Stock Exchange.
We succeeded in these areas thanks to positioning work-style reforms and Health and Productivity Management as important management strategies. We introduced a morning-focused working system ahead of other companies, and cooperated with industrial physicians and the Health Insurance Union to promoted aggressive measures for improving health throughout company.
In FYE 2018 ITOCHU received the Minister of Health, Labour and Welfare Prize during the 2017 Award for Companies Promoting Cancer Control in the Action Plan for Promotion of Cancer Control, which is sponsored by the Ministry of Health, Labour and Welfare. The award was granted in recognition of our Support Measures for Balancing Cancer Care and Work, which began in FYE 2018. We also won an award of excellence, during the Tokyo Metropolitan Government awards commending companies that implement excellent initiatives to help cancer patients balance cancer treatment and work.
Our Balancing Cancer Care and Work Support System was acknowledged in FYE 2019. We received the Award of Excellence in the Corporate Human Resources category at the Nihon no Jinjibu HR Awards 2018. The Nihon no Jinjibu HR Awards are awards that honor innovators in fields such as human resources, personnel development and labor management. We also received the Gold Award at the 1st gan-ally-bu Awards. The gan-ally-bu Awards are awards aiming for workplaces and a society where it is possible to work actively while receiving cancer care.
Health and Productivity Stock 2016-2017

Award for Companies Promoting Cancer Control in the Action Plan for Promotion of Cancer Control, sponsored by the Ministry of Health, Labour and Welfare

Tokyo Metropolitan Government award commending companies which implement superior initiatives to help cancer patients balance cancer treatment and work

Selects companies engaged in strategically carrying out efforts with regard to employee health from a management perspective (Selected February 2017 / Ministry of Economy, Trade and Industry (METI) and the Tokyo Stock Exchange (TSE))

First general trading company to be selected two years in a row

This program recognizes companies that are proactive in taking cancer control measures and which are engaged in comprehensive, advanced cancer control measures. (Selected in February 2018 / Ministry of Health, Labour and Welfare)

This program recognizes companies that implement superior initiative to help employees with cancer balance treatment with work. (Selected in February 2018 / Tokyo Metropolitan Government)

The Best Practice Enterprise

Nihon no Jinjibu HR Awards 2018
Award of Excellence in the Corporate Human Resources Category

1st gan-ally-bu Awards

These awards are held once a year to select just one company in each prefecture as The Best Practice Enterprise that is working proactively to reduce long working hours as a part of the overwork elimination campaign. (November 2017 / Tokyo Labor Bureau)

This is an award system that honors innovators in fields such as human resources, personnel development and labor management. (November 2018)

These awards were established to realize workplaces and a society where it is possible for cancer patients to work actively while receiving care. They were established by the gan-ally-bu private sector project working on the problem of cancer and employment in which employees work while receiving cancer care. (October 2018)