Workplace Environment / Work-style
Working Hours Management / Morning-Focused Work
Not only do we comply with legislation like the 36 Agreement, but we are focusing on work-style reform aimed at reducing total number of hours worked.
ITOCHU has long sought to reduce overtime work from a perspective of managing employee health and promoting effective operations. To achieve a more effective working style, we reconsidered the way of thinking that assumes employee will work overtime and determined that a shift in employee awareness was needed. So in October 2013 we introduced a morning-focused work system intended to help shift work habits from night-focused to morning-focused. This progressive approach has impacted not just the industrial world, but the political and business establishment as well. It has grown into a large movement that is changing the way Japanese people work. More than five years after its introduction, the approach continues to produce steady results and is the core element in our work-style reforms.
ITOCHU believes its efforts as a pioneer in work-style reform will both empower individual employees to change their approach to work, and promote balanced operational reforms. In this way, the Company is striving to achieve a work environment that enhances operational effectiveness, helps maintain and improve employee health, support the activities of employees who face time constraints from raising children or caring for family members in poor health and allows a more diverse set of employees to make full use of their capabilities.
Outline of Initiatives
Night work (10 p.m. - 5 a.m.) is prohibited. Working between 8 p.m. and 10 p.m. is prohibited in principle. However, work after 8 p.m. may be allowed in special circumstances after prior approval if it is unavoidable.
We pay increased wages at the same rate as for night work to encourage employees to work earlier in the morning (5 a.m. - 8 a.m.)(employees subject to time management: 150%; employees not subject to time management: 25%).
When an employee starts working at 7:50 a.m. or earlier, the higher wages are applied not just for the hours of 5 a.m. to 8 a.m. but also for 8 a.m. to 9 a.m.
We also provide light meals to employees who begin work before 8 a.m. to aid in managing their health.
Morning-Focused Work System Diagram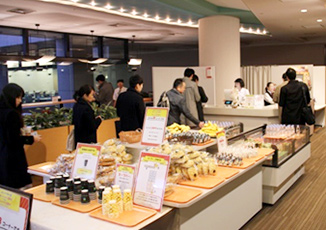 Effects of Efforts
Prior to introduction
First year after introduction
Five years after introduction
Left bldg.
8:00 p.m. or later

Approx. 30%

Approx. 7%

Approx. 5%

(10:00 p.m. or later)

(Approx. 10%)

(Almost 0)

(Almost 0)

Entered bldg.
8:00 a.m. or before

Approx. 20%

Approx. 34%

Approx. 44%

Hours of overtime per person

–

Approx. 7% decrease

Approx. 11% decrease
Dress-down Days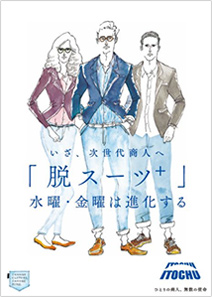 In June 2017, ITOCHU introduced "Dress-down Days" as a new work-style reform aimed at creating an environment in which each employee can vibrantly participate and more fully demonstrate their capabilities.
Wednesday and Fridays are designated "Dress-down Days," and employees are allowed to dress down even more than they could during the previous Casual Fridays. In lieu of business suits, they can wear what the like as long as it can be considered "work clothes" suitable for business settings. Employees may even wear jeans and sneakers, and are encouraged to wear outfits that express the freedom characteristic of ITOCHU. This program aims to have employees consider how best to dress down with consideration for their relationships with customers and the people around them. This will develop their ability to think flexibly and foster a workplace environment that facilitates the creation of new ideas. The following key measures were implemented in FYE 2018 to increase employee awareness of the program and encourage its spread. We intend to continue to develop similar programs appropriate to each season.
FYE 2018
A program in which personal stylists give 10 or so employees a complete makeover and get them to try new styles. The program is conducted three times a year (summer, autumn/winter and spring) in cooperation of Isetan Shinjuku Store of Isetan Mitsukoshi Ltd.
Internal company events that invite employees to wear a specific item ("Jeans Day" and "Sneakers Day", etc.) and which involve related events on the same day. These could be sales, lectures by stylists on dressing well, etc. in cooperation with ITOCHU Group/associated companies.
FYE 2019
We have established a new permanent concept space called the "D+ Lounge" just for Dress-down Days on the second floor of the Tokyo Headquarters. This space offers events relating to personal appearance every month to refine the power of expression of our employees. These events include personal color diagnoses, stylist consultations, shoe shining, first-class shaving experiences and make-up lectures for working women.
FYE 2020
We have established Dress-down Every Day to enable employees to think about what clothes to wear to work in response to the time, place and occasion (TPO) and the weather every day only in the summer (May to September). Every day during this period is a Dress-down Day regardless of the day of the week.
Applies to both full-time and part-time employees
Cooldown Rooms
In June 2012, ITOCHU Corporation introduced Cooldown Rooms on the first floor and first basement floor of its Tokyo Headquarters. These rooms seek to help beat the summer heat by keeping visitors comfortable inside the building and giving employees a comfortable place to work. To help fight global warming and save electricity in summer when demand for power is high, ITOCHU stipulates that air conditioners in the building not be set lower than 28 degrees Celsius. However, the Cooldown Rooms have lower ceilings than other rooms and can be cooled more efficiently. Cool air is supplied at 15 degrees Celsius to keep room temperature below 20 degrees. This makes them great spaces for visitors to the building and employees returning from sales activities to cool down on hot summer days. In December 2016, we began to make effective use of the Cooldown Rooms in winter as well by raising the temperature settings so that people could use these spaces to warm up. We also established a permanent history exhibition corner called "ITOCHU History" in December 2016. This is so that many people can learn about the founding principles of our company while effectively utilizing the Cooldown Rooms in the winter.
Can be used by both full-time and part-time employees
Shower Lounge and Shower Room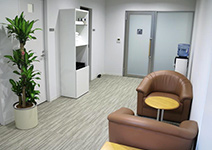 In the summer of 2016, ITOCHU installed a shower lounge on the third floor of our Tokyo Headquarters, and a shower room on the second basement floor. Their goal is to help create a workplace environment that encourages job satisfaction. The seeds of this idea were accounts from employees who often found airport shower rooms crowded when returning from business trips on early morning flights. Many reported using external facilities (such as gyms and saunas) on their way to work. In response to this feedback, ITOCHU established shower facilities at Headquarters so that employees returning from business trips can be more comfortable as they begin work. The facilities are equipped with overhead shower heads, which warm the body quickly in winter, and amenities like towels, hair driers, shampoo, and conditioner. A total of 1,100 employees have used the facilities in the two years and 9 months since they opened. The facilities have been well received, with employees reporting they are able to work in comfort. In response to employee requests, the facilities now stay open longer and can also be used by employees who exercise to improve their health. They are also open to employees of affiliate companies.
Can be used by both full-time and part-time employees
The Hiyoshi Dormitory
In March 2018, ITOCHU Corporation opened the Hiyoshi Dormitory in the Kohoku ward of Yokohama, Kanagawa prefecture. The dormitory has approx. 360 units to house unmarried employees. It brings together unmarried male employees who had been scattered across four locations in the Tokyo Metropolitan area. The design concept for the dormitory is "under the same roof," as opposed to positioning it as a mere welfare facility. Accordingly, it is equipped with a variety of common areas designed to bring residents together and deepen communication across boundaries like age and department. These include a dining room with shared kitchen, a multi-purpose meeting room, a large bathroom with a sauna, and communication spaces on each floor (including study areas and an open terrace).
It also incorporates measures that take into account Health and Productivity Management. The cafeteria provides breakfasts and dinners that take into account a nutritional balance from the viewpoint of policies such as health and productivity management. We have also partnered with a local fitness club to give residents opportunities to exercise. As a rule, smoking is prohibited throughout the dormitory, including private rooms, and is only allowed in designated smoking areas. We also provide a program that utilizes a smartphone app to assist those who wish to quit smoking. Through efforts like these, we hope to create an environment that encourages employees to voluntarily reform their work-style and improve their health.
This dormitory is designed to function as a secondary office for the Tokyo Headquarters and is vital to our business continuity plan (BCP) for disasters. It uses the same Internet environment as our offices and we have installed emergency generator equipment. We have also stocked the dormitory with food, water, emergency supplies and other items.
Intended only for full-time employees