Business Investment Management
The business activities at companies in which we invest must take account of and address their possible influence on the global environment and society at large. For this reason, we endeavor to understand the potential ESG risks and to prevent the actualization of ESG risks at the Group companies. We assess their activities by using a checklist and doing on-site visits, and take the requisite measures in response to the assessment results. We do these assessments as part of our environmental management system and try to improve their management level.
Evaluating ESG Risks of New Investment Projects
In approaching prospective new business investment projects, the proposing unit is required to make a due diligence using our ESG checklist for investments. Specifically, an assessment is made of items such as whether there are the policies and setups at the investment subject set in place as viewed from the standpoint of ESG and whether there is the possibility of significant adverse environmental impact, legal or regulatory violations, and the risk of litigation by concerned parties. The checklist consists of 33 items, including the seven core subjects in ISO 26000*, the international CSR guideline. (*Organizational Governance, Human Rights, Labor Practices, The Environment, Fair Operating Practices, Consumer Issues, Community Involvement and Development) The proposing unit also takes consideration of the opinions deriving from assessment based on risk analysis by the related administrative division. If any causes for apprehension are identified, a request is made for an additional due diligence study by an external specialized institution in the case of projects requiring an expert perspective. The actual project will commence only after this study confirms the absence of any problems.
Fact-finding Investigations of Group Companies
To prevent environmental pollution and related problems among the ITOCHU Group companies, ITOCHU (the Sustainability Management Department of our Corporate Communications Division) has been making on-site visits for the purpose of survey work continuously since 2001. In FY2018, such visits were made to a total of 4 companies, some involving the participation of external experts, with consideration of the level of environmental and social risks at each company. By the end of March 2018, such surveys had been completed at a total of 283 establishments.
The survey work consists of interviews with management, a survey of facilities such as factories and warehouses as well as drainage into rivers, checks of compliance with environmental laws and regulations, occupational safety, human rights, and communication with local communities. Based on the findings, the survey work team points out problems, indicates measures for prevention, and confirms the status as regards correction.
On-site report: a fact-finding survey at DOLE THAILAND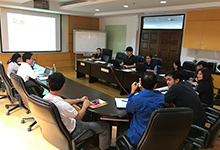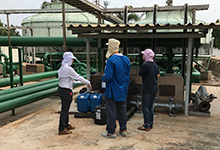 On December 7 and 8, 2016, ITOCHU visited the Hua Hin factory of DOLE THAILAND, a manufacturer of canned fruits and fruit pouches, including those of pineapples, in Thailand. Based on the knowledge of an external specialist familiar with local laws and regulations, we conducted a detailed check of the status of risk management and compliance with laws related to the environment and labor safety, such as those for soil contamination control, waste control, chemicals management and safety measures. We confirmed that the company properly manages these matters. We also confirmed that the company implements important CSR measures, such as creating an internal occupational health committee, setting environmental targets and achieving the targets steadily, guaranteeing purchases from contracted farmers and having regular dialogues with the local government. The company responds appropriately to the advice that was given concerning the method for storing chemicals, measures for preventing accidents that may result from the operation of food-processing machines and other measures to further improve their level of management.