Volunteer Activities Vol.26
Ten volunteers from ITOCHU Corporation participated in the "Second ITOCHU KODOMO NO YUME English Summer Camp in Rikuzen-Takata," which was held from July 31 to August 1. They supported the camp as persons from sogo shosha so that the children of Rikuzen-Takata would become familiar with different cultures and English and gain a global vision through sports as a common language.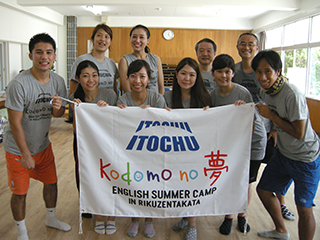 It was a very worthwhile support activity.
To be honest, I wondered what type of support activity it would be when I heard that the volunteering was about "children in the affected area, English, and sports." However, I was given an opportunity to experience wonderful volunteering, and it was I who was encouraged and vitalized. I was very impressed with the energy of the local children, who are forward-looking, the warm feelings of the people from the support groups for the children, the expressions of the children that grew happier and happier over the course of the two days, and the dance that the children performed with a strong sense of unity at the end of the camp. It was a very good camp program. I hope that it will continue to be held and give the local people happiness and hope for the future.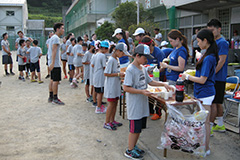 The memory we will never forget
I participated in the Summer Camp as a volunteer for the first time with the cooperation and support of the people in my department.
I was greatly inspired to see the children learning seriously at the camp. The children became able to understand English by the second day, which made me feel that they will progress at a surprising speed if they work seriously. In addition, the interactions with the enthusiastic students from the United States made me remember something I had forgotten. I was there to teach the children, but I learned a lot from the camp. I hope that this camp program will be continued. "Together We Rise."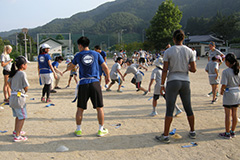 Volunteering with English and sports
I visited an affected area for the first time, saw the area with my own eyes, and listened to the people with my own ears. Knowing that many people are still living in temporary housing made me realize that reconstruction takes a long time, although it depends on the definition of "reconstruction."
As I worked as a volunteer, I was impressed by the children as I saw them communicate with gestures and smiles to bridge the language gap. I hope that the camp will continue to expand the future opportunities of the children as much as possible through English.