Volunteer Activities Vol.29
On November 2 (Sat), 18 employees from the Tohoku Branch of ITOCHU Corporation participated in Sendai's Tree Planting, a part of Furusato no Mori Regeneration Project together with the Sentokai comprised of ITOCHU Group companies and business partners in the Tohoku region. The approximately 200 participants planted 3,023 seedlings. This was to regenerate greenery in the eastern coastal area that suffered tremendous damage due to the Great East Japan Earthquake.
Furusato no Mori Regeneration Project (Japanese only)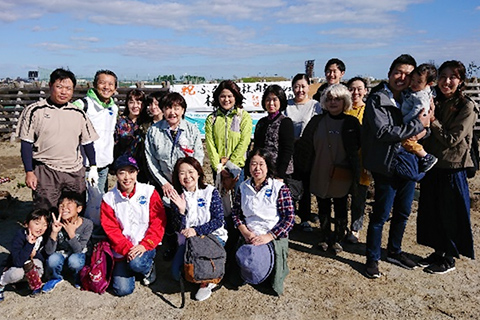 Participants from the Tohoku Branch and Sentokai surrounding Kazuko Kori, Mayor of Sendai

First Time to Participate in a Tree Planting Party
It was prepared so that even novices could plant trees easily. Therefore, we participants just had to dig holes and plant seedlings in the designated places. However, although it seemed simple, it was surprisingly difficult. If the roots do not take hold properly, the seedlings will not grow. Accordingly, I am a little worried that the seedlings I planted will not grow. The forests in the eastern area in my memory thrived with big trees, so I thought that was only natural. This event made me realize that these forests were the result of local residents planting trees in the same way as us long ago. I thought that I must leave something for future generations.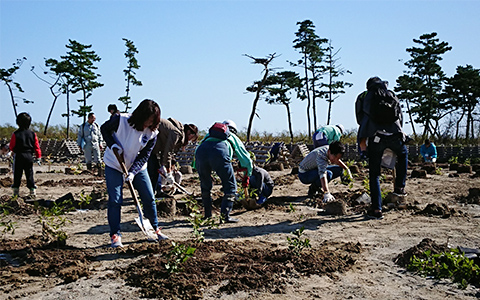 30 Years for the Seedlings to Become a Forest
After going past the baseball ground and further into the coastal park in the eastern area of Sendai, vacant land with light brown ground exposed extends out. This area acted as a rich windbreak up to the Great East Japan Earthquake. We participated in this project conducted there with a tree planting party while listening to the cheers of children under the clear sky. It was unexpectedly difficult to dig the ground with the shovels. Therefore, we said "let's dig with our hands" and our work gloves become covered in dirt. I gradually picked up the trick to the work after planting a number of seedlings. I felt that I was able to plant the seedlings well in the second half of the event. It will take 30 years until the seedlings we planted this time become a forest. I would like to continue activities that will connect to Furusato no Mori – a coastal disaster prevention forest to protect citizens – in the future.