Volunteer Activities Vol.2
Twice in December, a total of 25 employees in the ITOCHU Group participated in voluntary activities for earthquake disaster relief operations in the city of Rikuzentakata. Nine months after the massive earthquake, demand for volunteers was shifting to reconstruction purposes, but volunteers are still needed. All participants met with local residents and engaged enthusiastically in collaborative work.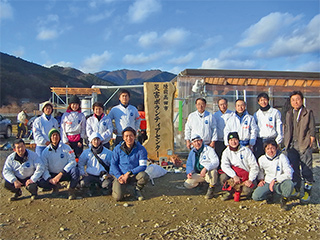 We helped some women who were working hard to create a flower field in an effort to recover from the disaster. We worked together in the cold wind, starting off by first breaking up the hard ground. After we had finished by planting the flowers, we shared a feeling of satisfaction with a job well done. The colorful flowers made a healing effect in a rough, cold landscape. I had a warm sense of connection with the person who had ordered this work to be done.
We did only a little over a short time, but I felt it was a meaningful experience because in serving as volunteers we shared the feelings and the daily lives of those affected by the disaster.