Volunteer Activities Vol.4
ITOCHU Group employees engaged in volunteer work for supporting areas devastated by the Great East Japan Earthquake and tsunami twice this month, first from March 15 to March 18 and second from March 22 and March 25. A total of 25 ITOCHU Group employees took part in these two rounds. The two work occasions represented the fourth and fifth rounds of such support activities by ITOCHU volunteers. Poor weather restricted their activities at times, but the ITOCHU Group employees who took part in the two rounds worked together to carry out their activities, such as scooping rubble from gutters.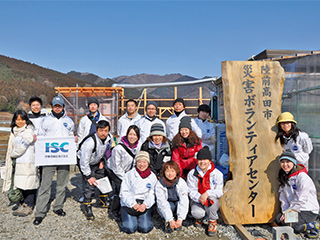 I was part of the No. 4 crew participating in the activities from March 15–18. One particular activity that left a lasting impression on me was the work we performed to remove debris from the irrigation ditches of rice paddies. Our seemingly repetitive task of shoveling out the mud and rubble and separating the rubble from the mud by hand meant that we uncovered evocative objects that told of people's lives. Torn from homes, we found everything from roof tiles, roof beams, storm windows and other construction materials, to personal belongings such as tableware, stationery, stuffed animals and sports trophies. What I contributed may have been little compared to the larger objectives of disaster recovery. But I came away thinking that what I saw with my eyes and felt with my hands in the disaster area was more meaningful than the small tasks I managed to accomplish. The residents I encountered were so positive and determined to go about their everyday lives that it strengthened my resolve to support them even further.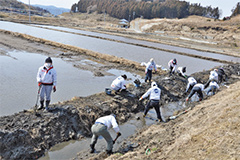 Dumbstruck Upon Arrival on March 15.
Vacant land where buildings once stood, homes left demolished and abandoned, smashed cars stacked up like toy blocks—these were the staggering results of nature's awesome power that I encountered. These sights were a strong reminder that one year was a very short amount of time along the road to recovery.
There are many ways to volunteer besides clearing the wreckage and taking away the mud, but I felt that at the heart of every volunteer was a yearning to help. This yearning electrified the air we breathed as we volunteers immersed ourselves together in our tasks and enjoyed our sense of accomplishment. I myself felt at home in the disaster area thanks to this kindred spirit and my three days as a volunteer was a mesmerizing experience.
I believe we need to build a caring chain of one person helping another, because this will help achieve the recovery. In the course of a year, the number of volunteers heading for the disaster area has dwindled to a tenth of its peak. Nothing would make me happier if my report encourages someone else to step forward and volunteer.