Volunteer Activities Vol.5
ITOCHU Group employees engaged in volunteer work for supporting areas devastated by the Great East Japan Earthquake and tsunami twice this month, first from March 15 to March 18 and second from March 22 and March 25. A total of 25 ITOCHU Group employees took part in these two rounds. The two work occasions represented the fourth and fifth rounds of such support activities by ITOCHU volunteers. Poor weather restricted their activities at times, but the ITOCHU Group employees who took part in the two rounds worked together to carry out their activities, such as scooping rubble from gutters.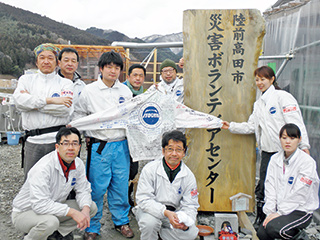 A year had lapsed since the disaster and I felt as though the amount of direct news coverage of the damage had diminished. Then I read somewhere that the disaster victims were saying that they were afraid they felt abandoned. I had every intention of going eventually, but it was these voices I read about that finally compelled me to step forward and volunteer.
I arrived to find heavy machinery had done the job of removing most of the rubble from the disaster area. But there were no clear land markings and the rice paddies remained buried. We volunteers were given shovels and trowels and asked to restore the fields by digging out the remaining debris. It didn't take much digging before we hit scraps of timber and chunks of concrete, including what appeared to be the large remains of a doorsill that took some effort to unearth. Most of the pieces of wood we found were charred. As we dug further down, we found the soil contained a large amount of sand soaked black with heavy oil that appeared to have come from somewhere else. I felt the field was now unsuitable for growing rice. There were many things to be done: land areas need to be demarcated, water channels need to be rebuilt and the soil needs to be improved.
Having been in the disaster area, I now have a full appreciation of just how difficult are the recovery tasks that lie ahead. The problems have stretched the government and local municipalities, and more people must pitch in as soon as possible with their ideas and any small thing they can do.
My heart is with the Tohoku region still, and I will now always remember that I must continue to contribute whatever I can to the recovery.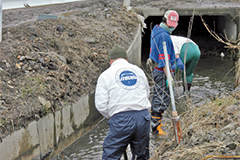 I was glad to have participated in the activities even though I had had some second thoughts about volunteering.
Although I only had a short stay of three nights and four days, the disastrous sights I saw along the coastline of the Rikuchu and Minami Sanriku regions in places like Kesennuma, Rikuzentakata, Iwaisaki and Minamisanriku left me speechless. And the work removing rubble and cleaning out ditches I performed as a volunteer made me keenly realize that there were limits to what people could accomplish working with their hands.
This may have been part of reason that there was no shortage of friendly conversation among fellow members of the No. 5 crew and myself while we were riding in vehicles, having meals and sharing communal baths together. I think we were seeking affirmation to make up for the bewilderment and powerlessness we felt amid the devastation. It was uncanny, but in hindsight it seemed I had been friends for many years with these peo ple who in fact I'd just met.
If you like the sound of that, why not participate if you can find some time.
You will find that the experience will renew your desire to help people as both an individual and corporate citizen.