Volunteer Activities Vol.7
22 people participated in the Itochu Group employee's seventh volunteer action to support victims of the Great East Japan Earthquake. Many new recruits from food companies and chemical units participated in this round of action, which gathered the most participants ever. With new recruits taking advantage of their young strength and experienced employees of their own experiences, the action group worked on its first debris removal work after the quake on a slope at a junior high school. So many things, including daily commodities and motorbikes, were dug out of the earth. Everyone was convinced that more support is yet needed toward recovery.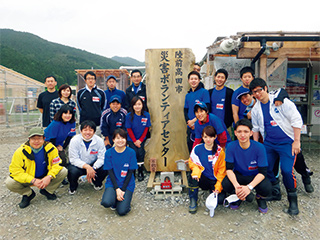 Participation in Voluntary Recovery Support
To create farmland on the vacant lots of houses washed away by the tsunami, we prepared the soil, picked up stones and rubble. It took a lot of time to dig out stone by stone. Our team of 20 were only able to work on a patch that would be farmland. Nevertheless, there are many vacant lots that still need to be made into farmland. Moreover, even if this is successfully done, the farmland will clearly not be able to produce enough crops to reward the labors of the people who made it. Still, I was awed that the people of Rikuzentakata are resiliently trying to stand on their own feet by growing crops instead of relying on aid.
It was valuable to see first-hand the reality of a disaster zone that one usually would not know about. I would like to convey my experience to others and let them know that disaster victims still need help even a year after the disaster.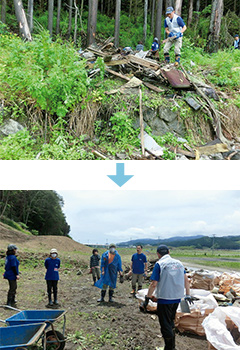 Think Hard and Do Your Best
This was my second visit to the disaster area. My first was in April last year, when I was still in my fourth year at university. I previously went to Iwanuma in Miyagi Prefecture. This time was Rikuzentakata in Iwate Prefecture. While the location was different, I still sensed that conditions in affected areas have not improved over the year since the disaster. I was determined to do my best while in the area.
I was shocked at what I saw. At the same time, I felt the strength of the locals. In speaking with people at the volunteer center and restaurants and others on the street, it was obvious that the locals had determination, whether it be in rebuilding a cram school for children or a pub in temporary premises just a few months after the disaster. It was also impressive to see so many flowers blooming, just like they did in Rikuzentakata before the disaster.
I believe in the strength of the Tohoku region, and will keep following recovery progress as I explore ways to help out.