Volunteer Activities Vol.8
Twenty-one employees went to Rikuzentakada to participate in the eighth volunteer action by Itochu Group employees to support the victims of the Great East Japan Earthquake. This time, we had a very varied group of volunteers from ITOCHU companies in North America, Osaka and a group company in Okayama, who all worked up a sweat in Rikuzentakada. Everyone felt that there is still a lot of work where volunteers are needed in the disaster-stricken area and they worked hard to get rice fields ready and to clear ditches.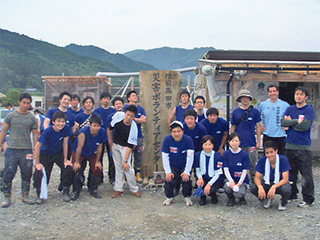 I participated in the Great East Japan Earthquake volunteer activities from July 12 to 15.
On the second day, we cleared out street ditches. At first, I didn't even know where the ditches were because of the earth, weeds, bamboo thickets, and so on that had come down from the sloping ground. I and all my young companions worked away hard and gradually we could identify the street ditches one after another. I dug away with a small shovel, pulled out weeds, and cleared away debris into a sack. I kept asking myself if such a small contribution was really worthwhile, but I also answered myself that it was the number of people that was important. I definitely couldn't do much just by myself, but because there were many of us in the group, we could get things done.
I also had a chance to talk with a male volunteer who had been afflicted himself by the disaster. He told me that even after the disaster the region's haul of bonito fish was still the best in Japan. He also said that even spending as little as ¥500 in the region can make a difference.
I came to understand that I shouldn't try too hard and lose track of my normal self. The important thing is to keep the relationship with the disaster area and do whatever one comfortably can.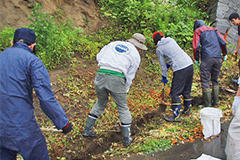 As a year and a half has already passed since the earthquake, I did not expect that there would be much clean-up and rebuilding still required. However, when I arrived in Tohoku, the region devastated by the tsunami, I was shocked to see the huge amount of work still remaining to be done.
The actual job we did was to help restore some rice fields that had been swamped by the tsunami. Our group spent hours removing stones and rubble from the farm soil and clearing out mud from water troughs. While it may have only been a small contribution overall, it was important that we could assist even in this limited way.
I will always remember the enchanting natural beauty of Tohoku— the sea, sky, mountains and lush greenery. Yet, the people of the region are still faced with daunting challenges and a tremendous amount of rebuilding. For some time to come, the support activities of volunteers will continue to be needed.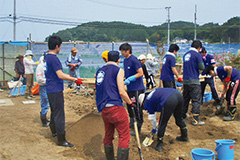 I felt that helping the stricken region with its recovery, however modestly, would at least make me feel a little better about my own good fortune—but, in fact, it made me feel strongly that I really want to continue helping.
It was a very valuable experience for me that I could see with my own eyes the current situation in the afflicted region of Kesennuma and Rikuzentakata City about which I'd only heard news. Even one year after the earthquake there are many places that look just the same as the day when the disaster struck.
Moreover, on this occasion, I was the only volunteer from DAIKEN CORPORATION, but the volunteers from ITOCHU Corporation and ITOCHU KENZAI CORPORATION made me feel very welcome. I could feel the warm solidarity of the ITOCHU Group, and as a result I could spend a meaningful four days completing volunteer activities.