Volunteer Activities Vol.10
During September 13 to 16, nine employees participated in the tenth volunteer action by ITOCHU Group employees to support the victims of the Great East Japan Earthquake. In the daytime, the volunteers cut the grass and made flowerbeds in Rikuzentakata. At night, they helped local people in Kesennuma -- the place of their accommodation -- with recovery from the disaster damage by eating and drinking at local restaurants, as ITOCHU volunteers always do. This time, they saw a person from an affected area whom ITOCHU supported in December last year. The person told them about the efforts he makes toward reconstruction. This made the volunteers want to continue the activities in the affected areas further.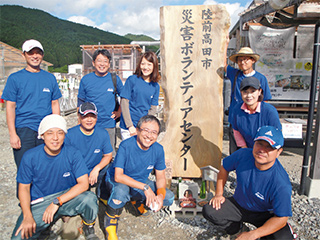 Participating in Great East Japan Earthquake Recovery Volunteer Activities
Yayoi Foods Co., Ltd. is one of the companies that was struck by the Great East Japan Earthquake. I am one of its employees who had been at times seconded to the ITOCHU Group, and I had occasion to visit Kesennuma about 30 times before the earthquake. As a result, I have always been concerned about the current situation in the earthquake area and the safety, whereabouts and well-being of the people I'd known. So I went early to Kesennuma on the first day of our volunteer activities and visited the site where Yayoi Foods' plant once stood and the port. I was quite overwhelmed by a feeling of emptiness as I looked at the damage wreaked by the tsunami. The only things that reminded me that there used to be a plant there was a square box-shaped hole where the elevator had been and some coated flooring material. It was as if the Kesennuma Plant that had boasted the third largest production volume of frozen foods in Japan had never existed.
Our volunteer activities comprised making flowerbeds and cutting down weeds to make a recreation area. In doing so, I also thought it was very worthwhile that I could visit places where ITOCHU volunteers had done work in the past.
In closing, I will mention that I was very moved by the words of one disaster victim who said "We can't allow ourselves to become spoiled and rely forever on the work of the volunteers. We have to change ourselves. At any rate, let's have a positive attitude and try to move forward with the recovery."
My volunteer activities provided many valuable experiences and learning points.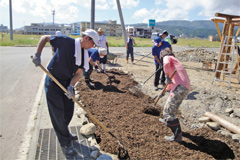 We Should Think About the Things That We Can Do
The people who live in the disaster-afflicted area are still struggling in their lives. Moreover, many of those in these circumstances manage to stay cheerful every day and keep making efforts to move forward with the recovery. Participating in the volunteer activities this time made me realize that the fact that I was being led to think about things I'd never thought about before is in itself a valuable experience. At the same time, I think it is wrong to think that I've come to know something thoroughly after only 4 days of volunteer work. As a result, I also don't want to force my ideas onto other people just because I've come to some realization. But I do know that I want to visit Rikuzentakata again. I also know that there are things I can do still both in Tohoku and in Tokyo.
Finally, I can't stop hoping that more ITOCHU employees will take advantage of the opportunities provided by their company to undertake earthquake volunteer activities. I want more and more people to visit Tohoku and do this, for 4 days in the first instance. There are many things that we can do and should do.