Volunteer Activities Vol.11
During the four-day period between October 11 and 14, employees of the ITOCHU Group participated in the eleventh volunteer action by ITOCHU Group employees to support the victims of the Great East Japan Earthquake. 12 employees worked hard for clearing ditches, sorting debris, etc. Following the volunteer activities on the 12th, the employees visited Otomo Elementary School in Rikuzen-Takata City and also had an exchange with the Otomo-cho Volleyball & Sports Youth Team. These activities started when a part of the funds raised in the in-house fund-raising activities was donated to the Youth League for purchasing volleyballs. The employees spent an active day with children, practicing volleyball and playing games.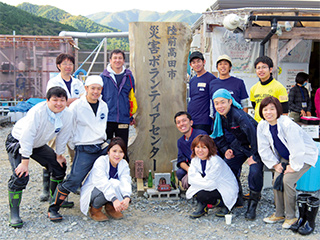 Tohoku, Let's Do Our Best!
For the first two days, we engaged in removing the debris from the side ditches. This work comprised clearing out the mud and wreckage that had accumulated in the side road ditches. We removed the stone covers and then took a shovel to remove all the mud underneath. There was a lot of rubble mixed in with the mud, and we found that the work didn't progress as we had hoped: it was so difficult to shovel out the mud. The water in the mud made it very heavy, and as a result the amount of each shovel-full was quite small.
I really want to let everyone know that this disaster-hit region still needs everyone's help for quite some time into the future. There really are large areas of the region that still haven't been cleared up. There are people living in these areas, going about with their daily lives. Even if you are not sure about volunteering, I'd like you to go there and help. I think it's good if you just have an urge to go there and have a look at what's happening. I strongly felt that they still need help from as many people as possible. Every supportive action is a step, however small, towards recovery—whether it's from the modest efforts of one individual or from the cooperation of a group.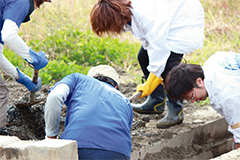 1 Year and 7 Months Have Passed
In the four days of October 11–14, a total of 12 volunteers, including five new recruits from ITOCHU's Machinery Company, conducted volunteer activities in Rikuzentakata City in Iwate Prefecture. Although it's now been one year and seven months since the earthquake and tsunami, volunteers are still needed in the region and on this occasion we worked at clearing out the mud and debris from the side ditches of roads.
I learned many different things from the voluntary activities this time, and I also felt that I must share what I've learnt with other people. I know that it's not possible for everyone to actually participate in the volunteer activities, but I think it's possible for each volunteer to share what they felt and experienced with others. I will try to tell everyone around me about what I felt during the volunteering.
I'd like to thank all those who offered me this precious opportunity.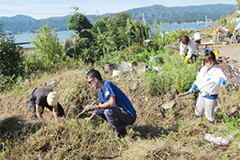 The Current Situation in the Earthquake Area and Sustained Volunteer Work
When I visited the Kesennuma and Rikuzentakata regions, my first impression was "There's nothing here at all." They looked like open fields, overrun with weeds. It seemed as if they had always been like this; in fact it was hard to imagine the terrible power of the tsunami. However, as we removed the mud and debris that had clogged the roadside ditches, things like everyday supplies that suggested people's lives were uncovered. Finally, I came to realize the devastation that the disaster had caused.
I was the first one to participate in this volunteer activity from ITOCHU PROPERTY DEVELOPMENT, LTD. In addition to our volunteer work, we played volleyball with students from Otomo Elementary School in Rikuzentakata City and toured the Otokoyama Sake Brewery which continued production even after the earthquake and tsunami hit. Also, I interacted with people of all ages in different companies or sections in the ITOCHU Group. All in all, the time we spent in the region was both very precious and meaningful. I will pass on my experiences to people both inside and outside ITOCHU in the hope that many more people will participate in these volunteer activities.