Volunteer Activities Vol.13
During the four-day period between December 13 and 16, employees of the ITOCHU Group participated in the thirteenth volunteer action by ITOCHU Group employees to support the victims of the Great East Japan Earthquake. This time, the activities included interactions and joint work with disaster victims in the Takata district of Rikuzentakata. The disaster victims told the participants what it was like at the time of the occurrence of the disaster and their recent situations. This motivated all the participants to work harder in their volunteer activities. Above all, the volunteers were impressed by words from a person from the affected area, who said "We want people to come here. We would even welcome those who come just to have a look. We don't want to be forgotten."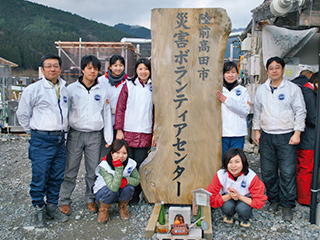 Continuing the Recovery to the Next Stage
This was my third visit to Rikuzentakata. This time when we arrived, "Minna no Ie" (a community house for local residents) stood on the land we reclaimed in December 2011, and there was a new sports field next to an embankment we cleared debris from in June. What we can do to help each time is so limited that when the body is tired from volunteering, the mind can be tempted to doubt whether the work has any meaning. On this trip I was glad to see people gathering at Minna no Ie to seek warmth from the cold, and children playing catch in the field. It made me realize that our efforts had certainly helped local people to make progress. However, there is still a long way to go before a full recovery. This trip made us want to always remember the people in the disaster zone and continue volunteering.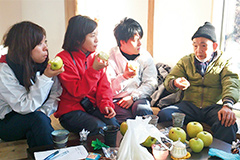 My Thoughts on Volunteering to Help in the Recovery from the Disaster
I volunteered for the first time to help in the recovery effort. It was my first trip to the disaster zone, and I was shocked to see the damage left behind by the raw power of the earthquake and tsunami was much greater than I had imagined. Once there, I spent three short days doing my best to shovel sand and gravel out from roadside ditches. As much as it pained me to realize my limitations, I was inspired by the sincere and positive enthusiasm that both the local residents and my fellow volunteers showed for the recovery work. It made me want to continue helping in my own small way. I also want to take this opportunity to thank the volunteer center staff for organizing the trip.