Volunteer Activities Vol.14
During the period between February 14 and 17, employees of the ITOCHU Group participated in the fourteenth volunteer action by ITOCHU Group employees to support the victims of the Great East Japan Earthquake. They worked in the Takata district of Rikuzentakata, the same place as the last time. Starting from this time, ITOCHU volunteers mainly engaged in activities via the Rikuzentakata Support Station operated by people in the affected area. With their hands paralyzed with cold, the volunteers helped with oyster farming works, chopped firewood, and cleared ditches along community roads, for example, and interacted directly with disaster victims during the three-day period. On the last day, a person from the affected area said "We would normally do all of these works by ourselves. We asked you to help us because we still can't handle all of them." The volunteers were deeply touched by these words.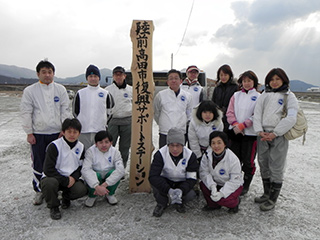 My Thoughts as a Volunteer who Assisted in the Earthquake Recovery
I think there are many things about the region affected by the Great East Japan Earthquake that we can't understand without going there, looking for ourselves and hearing people's talk directly. When I went to the region, I myself found that my long-held values were changed the more I looked at how much of the earthquake's devastation still remains. Even though the tsunami had swept everything away and the local residents were forced to suffer the inconvenience of living in temporary housing, they treasured their human relationships with the people around them and tried to live as cheerfully as they could. As I talked to them, I felt that it was me who was experiencing the warm feeling of being helped. With the passing of time and the dwindling numbers of company-worker volunteers in general going to the region, the activities of the ITOCHU Group have gained the thanks of many local people, especially the teachers and students of Rikuzentakata junior high schools, people engaged in oyster farming, and hotel and restaurant staff in Kesennuma. I felt very proud that the ITOCHU volunteers' activities have left their mark on the local communities. In conclusion, I myself strongly feel that it's necessary for as many people as possible from the ITOCHU Group to go there and help.
Thinking Again About the Tohoku Region
Two years have now passed since the Great East Japan Earthquake, and I've been surprised by the sluggish rate of reconstruction and recovery. There are still many local people in the Tohoku region who have to live in temporary accommodation and are grappling with their daily lives as they steadfastly wait for more progress with the recovery. After the volunteer work, I was really moved when a person affected by the disaster said to me quietly, "You've been a great help to us." I was also very struck by the various people I met and relationships I formed on this occasion. ITOCHU has provided us with the opportunity to converse a lot with disaster victims about their experiences. For these people, the memories of that time are still painfully vivid in their mind. Nevertheless, they have a strong need to talk about the earthquake and related things. This is because they want us all to never forget about the tragedy. This is perhaps also why when we were leaving the region on our bus they continued waving to us until they couldn't see the bus any more. I couldn't help but respond out loud with, "I'll be back soon!"