Volunteer Activities Vol.21
During March 20 to 23, 17 ITOCHU Group employees visited Kesennuma City, Miyagi Prefecture and Rikuzen-Takata City, Iwate Prefecture. They interacted with local people by engaging in volunteer activities for supporting recovery at "Hanakko Batake (flower field)" and "Minna no Ie (house for everyone)."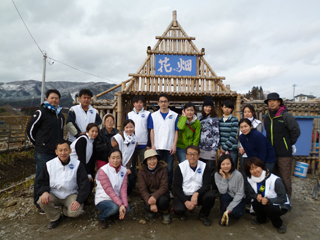 My Thoughts on Volunteering to Help in the Recovery from the Disaster
I could sense the feeling that "We must not keep crying forever" from the city and people. As I felt that, the support activities gradually changed from "clearance" to "creation." I could feel the full-scale movement toward recovery. When we interacted with a local boys' baseball team, we were given more power from the boys than we intended to give them.