Volunteer Activities Vol.15
From March 14 to 17, seven staff members of the ITOCHU group participated in the fifteenth volunteer action by ITOCHU Group employees to support the victims of the Great East Japan Earthquake. As part of the support for local fisheries, the volunteers visited Otomo area in Rikuzentakata City, an area that was particularly damaged by the tsunami, and helped grow oysters. At first they all looked clumsy at chopping oysters and doing other routines. On the second day they became more accustomed and capable of sorting many oysters. On the final day the volunteers strongly shook hands with the local aquaculturists before parting. The leaving volunteers were impressed very much by the local people's waving their hands until when they were no longer visible to each other.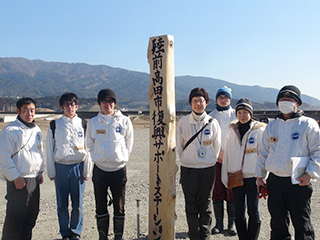 Words that echoed in my mind
I helped oyster farmers who had many pieces of equipment washed away by the tsunami and have restarted farming oysters with a large amount of debt. Their oysters have been growing well. However, they are not sure how much of them they can harvest, because they are short of manpower. "We will keep working hard until the day when this place will no longer be called an 'affected area'." "Why we can laugh? Because we are living." There are many people who have lost their families, houses, and jobs and still live in temporary houses. The words of the oyster farmers, who have taken a powerful first step toward reconstruction in such a situation, echoed in my mind deeply.
I work for a factory and have a forklift license. This time, one of the works I helped them with was to transport oysters with a forklift. The people were surprised and pleased because they had never met any volunteer with the license. I was very happy that the license was useful in an unexpected way and helpful for them. Some elderly people in the area treated me as if I were their grandson. When I said goodbye to them, they shook my hand strongly. I cannot forget the feel of their hands and their lonely look.