Volunteer Activities Vol.16
During the period between May 23 and 26, seven employees of the ITOCHU Group participated in the sixteenth volunteer action by ITOCHU Group employees to support the victims of the Great East Japan Earthquake. Two years after the devastating earthquake and tsunami, Rikuzen-Takata City as the place of the volunteer activities had areas where reconstruction seems to have advanced and ones which still need support. The volunteers worked hard to get rid of weeds from vegetable gardens, clean up debris of houses, transport materials for a fisheries company, and restore shrine grounds. As they engaged in these and other activities, the volunteers were encouraged, empowered, and inspired by the local people's willingness to "do as much as we can to move forward."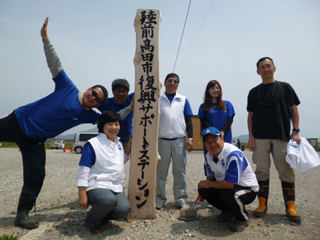 I worked in the area as a volunteer for the first time last year and for the second time this year. Reconstruction seemed to have made progress. However, there was a disparity among facilities. While reconstruction of some facilities had made progress, reconstruction had yet to be started in other places. I felt that eagerness for recovery or reconstruction and circumstances differ greatly among people in the area. The owner of the land where I worked this time said that nobody around him was killed or injured but he lost everything in a moment, so he had been out of steam. He said he had requested for the volunteer activities because he had finally got motivated again. Another person said that there were many quake victims who still hesitated to request for volunteer activities. I felt that the area still needs a lot of support.
From reconstruction to revitalization
There was no longer any pile of rubble as the symbol of the disaster, which made me realize the efforts of, and strong bonds among, residents, large number of volunteers, the police, firefighting department, and the government. At the same time, I felt they have yet to shift from the phase of "reconstruction" to that of "revitalization." However, rubble was removed, roads have been improved, and school premises have become usable again. Remembering the complete destruction immediately after the disaster, I felt that the small power of each one volunteer has accumulated and developed into tremendous power in the two years.