Volunteer Activities Vol.17
During the four-day period between June 20 and 23, a total of 24 employees of the ITOCHU Group participated in activities for supporting reconstruction of Kesennuma City and Rikuzen-Takata City. Together with disaster victims, the volunteers engaged in a variety of support activities including earth-retaining works for the community house, chopping wood, weeding, and rice paddy maintenance. The volunteers were inspired and invigorated by working with disaster victims, who keep working hard to reconstruct the disaster-affected areas.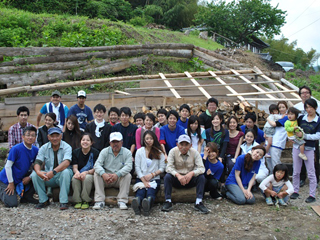 Revitalizing the affected area little by little
People in the area seemed to be enjoying conversations and interactions with us volunteers more than a year and a half ago, when I visited this area for the first time. I was impressed with this change. They overcame (or hoarded) grief and hardship, and rose up powerfully and were continuing activities toward reconstruction. I was highly impressed with the smile they showed us when they were teaching us external supporters how to use a chainsaw and skills of chopping wood and mowing.
Comments from employees who participated in the volunteer activities in June
What impressed me most was the power of the people in the affected area. They were working hard to create a better community on their own. / I was near to tears when I saw disaster victims' notes in the museum. People in Tohoku, who had been deeply grieved after the disaster, welcomed us warmly and told us the hardships they had gone through./ I noticed that what a volunteer should do is not "what I want to do" or "what I can do" but "what they want me to do." I strongly felt the necessity to think from the perspective of people I help.