Volunteer Activities Vol.20
The final program of recovery support volunteer activities by ITOCHU group employees for 2013 took place from December 19-22, in the cities of Kesennuma and Rikuzentakata. Unfortunately, participants were prevented from doing outdoor activities during the first half of the program because of bad weather; however, they were able to listen to locals from the disaster-affected area talk about their plans for recovery.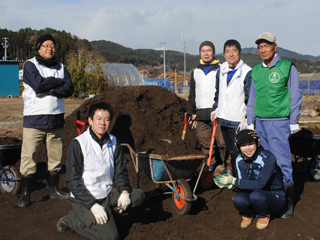 My Thoughts on Volunteering to Help in the Recovery from the Disaster
It was a very meaningful visit because as well as doing our volunteer work we also had a chance to listen to the stories of the local people. Although it was only a short 4-day trip, we were able to glimpse the conditions of the affected area in the third year after the disaster, and it was very thought provoking. I have a strong desire to continue helping out the locals in the future.