Metals & Minerals Company

The Metals & Minerals Company consists of two divisions -- the Metals & Mineral Resources Division and the Coal, Nuclear Fuel & Solar Division -- and one department, the Steel Business Coordination Department.
The Metals & Mineral Resources Division operates a large supply chain consisting of operations of large-scale iron ore and aluminum projects; development of mineral resources such as minor metals and base metals, and trades in iron ore and non-ferrous metal products.
The Coal, Nuclear Fuel & Solar Division promotes the key lifelines of electric power and power generation and supports the steel industry through development and trade in fuel coal, coking coal and uranium.
It is involved in the global trade of coal and uranium as well as the development and trade of new fuels for power generation, including biomass. The solar power generation business is another important segment of the division. The Division is consequently active within the extensive sphere of worldwide electric power and power generation.
The Steel Business Coordination Department is exploring ways to develop synergies with Marubeni-Itochu Steel Inc.
The activities of the Metals & Minerals Company contribute to the stable supply of mineral resources to Japan and the world and to the development of the global economy and environmental initiatives.
Business Fields
Mineral Resources
Iron ore, Pellet, Direct reduced iron, Non-ferrous metals, Minor metals, Base metals, Aluminum, Alumina , Ferro alloy and its materials
Steel, Non-Ferrous & Solar
Steel plates, Hot & cold rolled sheets, Galvanized steel, Steel for machinery, Stainless steel, High tensile steel, Various specialty steel materials, Construction materials, Welded steel pipes, Seamless steel pipes, Steel wires, Marine steel structures, Bridges, Prefabricated steel for buildings, Rails, Non-ferrous/light metal products, aluminum rolled products, Aluminum extrusion products, Electric Wires, Optical Fiber cables, Electronic materials and products, Steel scrap, Pig iron, Metal powder, Electrodes, Activated carbon
Business Portfolio,Strategy
Business Portfolio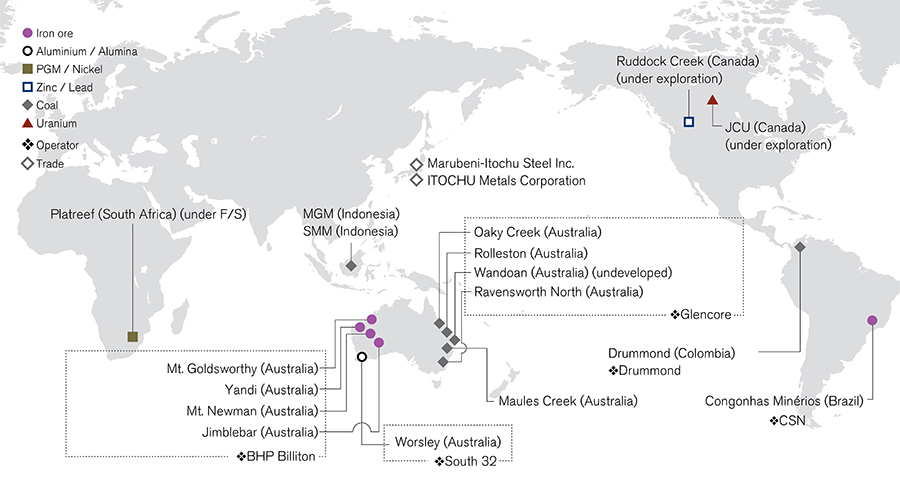 Medium to Long-Term Growth Strategies(Conceptual Diagram)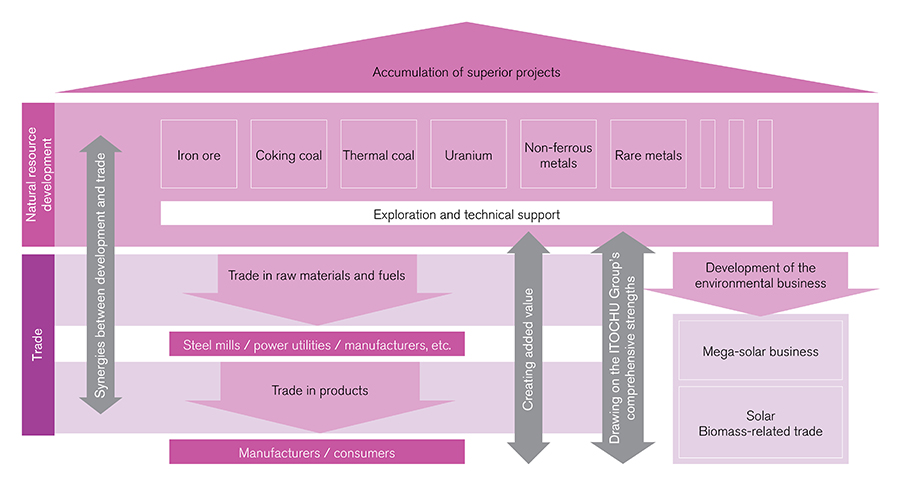 We will grow by striking a balance between investment and trade, creating a stable earnings base, and taking advantage of new growth opportunities.
In the resource development business, we will strengthen our resistance to fluctuations in market prices through acquisition of prime projects that are cost competitive and have other superior characteristics, as well as continuous improvement in production efficiency of existing projects. Also, we will further expand and optimize our asset portfolio, including through the acquisition of non-ferrous resources and rare metal interests, where stable supply is an issue.
In the trading business, we will expand resource and fuel trading based on our equity interests. We will also create a value chain including manufactured product fields and leverage the collective strengths of the ITOCHU Group to create added value. Through these measures, we will develop a broad and deep flow of trade spanning upstream and downstream categories.
By strengthening ties with our strategic partner, CITIC and CP Group, we will promote collaborative projects on the resource development and trading fronts by leveraging each other's strengths.
To ensure a stable supply of metals and mineral resources, we will work with our business partners to develop metals and mineral resources in a sustainable manner, taking into consideration the environment at development sites and harmony with local communities, and giving thorough consideration to safety in the workplace. Furthermore, we will aggressively take up the challenge of environmentally friendly businesses, including the mega-solar, biomass-related trade, and recycling businesses.