COO MESSAGE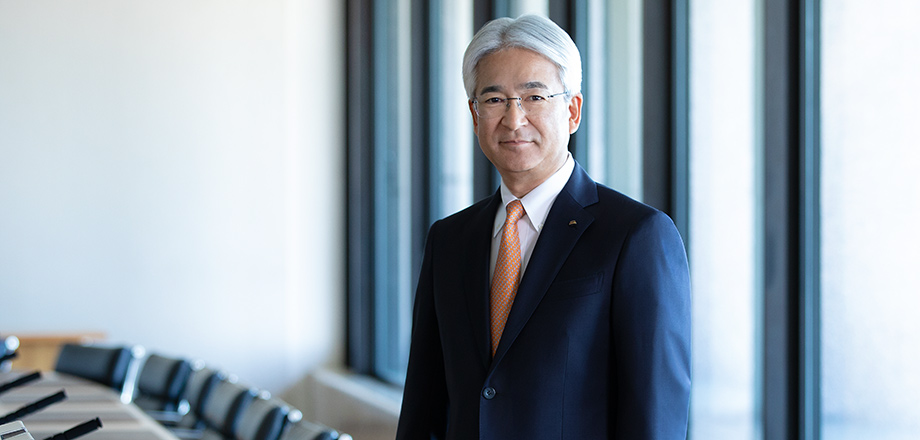 FYE 2020 will be a year of change.
We strive to cross a pass through the mountains in our quest to realize "a new vision of what a trading company can achieve."
In FYE 2020, the second year of "Brand-new Deal 2020," we aim to generate consolidated net profit of ¥500.0 billion for the second consecutive year. Concentrating on our "earn, cut, prevent" principles, we will prepare ourselves meticulously for macroeconomic uncertainty. As the Fourth Industrial Revolution progresses, we will accelerate realizing "a new vision of what a trading company can achieve" and our growth strategies for the next stage beyond ¥500.0 billion. Taking on challenges is in our DNA.


Yoshihisa Suzuki
President & Chief Operating Officer
First Firming Up the Foundations, Then a Year of Change
In FYE 2019, ITOCHU set a number of quantitative records, such as delivering consolidated net profit of ¥500.5 billion. These results came at the milestone marking our 160th anniversary of establishment. Under our medium-term management plan, "Brand-new Deal 2020," we made steady progress with the "reinvention of business" as well as reinforcement of our business foundation in the non-resource sector centered on the consumer sector by converting FamilyMart UNY Holdings Co., LTD., and POCKET CARD Co., Ltd., into consolidated subsidiaries. At the same time, we made a number of strategic investments and invested in start-up companies.
The economic outlook for FYE 2020 is extremely difficult to read, being marked with such uncertainties as sharply declining resource prices and prolonged trade friction between the United States and China. Times like these make the strength of our earnings base even more apparent, as it is centered on the non-resource sector, which is relatively resistant to economic fluctuations. Management is like a marathon, where the ability is truly required during long uphill stretches. For this reason, first we will promote the "earn, cut, prevent" principles that are the hallmark of our business to put the foundations firmly in place. Specifically, we will perfect the "cut" and "prevent" principles to prepare ourselves for uncertainty. At the same time, we will apply the "earn" principle, promoting reinvention by steadily implementing measures in response to a digital revolution being likened to a Fourth Industrial Revolution and anticipate structural changes in a host of industries.
FYE 2020 will be a year of change as we set our sights beyond ¥500.0 billion. (→FYE 2020 Management Plan)

The Beginning of Evolution
"The supermarket is overflowing with food that is fresh and safe. Here and there, staff gaze at their tablets, skillfully picking products once they receive orders. Bags stuffed with fresh food—which can even be prepared if the customer prefers—are automatically transported to delivery staff in the back of the store via rails in the ceiling. Consumers use an app to place orders, which are sent out within 10 minutes and are delivered to their homes via electric bicycle within 30 minutes." This is not a shopping experience of the future. This is the present.
In FYE 2019, which was my first year as President & COO, I, as COO, implemented the strategies that Chairman & CEO Okafuji formulated under "Brand-new Deal 2020," engaging in dialogue with numerous customers and employees. I visited a total of approximately 30 sites in Japan and overseas, and I traveled overseas on business 10 times. Five of those trips were to China. On one of those trips, I witnessed the supermarket scene described above. I was in Shanghai, inspecting a supermarket that one of China's largest online shopping companies had invested in. I experienced the Fourth Industrial Revolution and the digital revolution firsthand through seeing the dynamism and the speed in China, which you cannot sense by being only in Japan.
Upon becoming President & COO, I was worried that ITOCHU had become a "clumsy elephant," but in that first year I saw employees struggling to find new opportunities and racking their brains to utilize digital technologies every day. I feel the sense of challenge endemic to ITOCHU's DNA has been rising.
Surely there are few employees nowadays who think the organization they belong to will look the same five years from now as it does today. Each of our Group companies is also trying to change, sharing the same sense of crisis. From my position within the ITOCHU Group, I feel the beginning of evolution as we move forward to take on new challenges.
Rice and
Furikake

Seasoning

In a dialogue between Professor Ken Kusunoki at Hitotsubashi University and Shunsuke Noda, ITOCHU's Chief Digital & Information Officer (CDO & CIO), a parallel was drawn linking a company's operations with "rice" and connecting data and technology with the "furikake seasoning" used on top of rice. Our existing value chain and assets centered on the consumer sector are like a large serving of rice, and sprinkling a little digital furikake on top can drive major growth. But new internet start-up companies do not have such rice.

In FYE 2019, the consumer sector including the Textile, Food, General Products & Realty, ICT & Financial Business Companies contributed approximately ¥286.0 billion to profits. Judicious use of our digital furikake will be key to maintain consolidated net profit at the ¥500.0 billion level and to look beyond. In FYE 2020, we will accelerate such initiatives as working with Group companies on developing products by leveraging data, making stores more efficient, promoting digital strategies, and incorporating IT into the wholesaling and logistics functions.

In FYE 2019, the contribution to profits from the basic industry sector (machinery, chemicals, energy trading, and steel products) was approximately ¥92.0 billion, while the resource sector (mineral resources and energy development) contributed approximately ¥115.5 billion—together accounting for more than ¥200.0 billion. Unless these sectors grow steadily, we cannot expect further growth beyond ¥500.0 billion or even dynamism as a general trading company. In the basic industry sector, we will seek to generate earnings in new fields, including mobility, renewable energy, and new electric power, while aggressively replacing assets. In the resource sector, meanwhile, while monitoring changes in the global energy situation, we are currently looking further into superior resource projects following on from those in Australia, Sakhalin, and Azerbaijan.
Growth investments—Shifting from "individual" to multifaceted" strategy
Consumer sector—Moving toward a new stage
Basic industry sector—Responding to changes in industrial structure
Resource sector and overseas business—Aiming for further growth
Moving Toward Multifaceted Investments
In FYE 2020, we will make a major shift in direction toward investing in growth. We will strike a good balance between investing to evolve and transform existing businesses and investing toward growth in new domains resulting from changes in the industrial structure.
In FYE 2019, our investments for reinventing business totaled approximately ¥30.0 billion. We spent around ¥19.0 billion in the consumer value chain, centered on venture companies with new business models that will add value to the value chains we possess, including fintech, advertising and marketing, data utilization, cross-border e-commerce. We invested approximately ¥6.0 billion in next-generation mobility and electricity. As well, we invested in an electric vehicle (EV) venture in China, which is taking the lead in EVs; a ride-sharing business; and new electricity service businesses that make use of storage batteries and AI. These investments were in areas where the industry structure is likely to experience dramatic changes. In the category of the application of other new technologies, we invested approximately ¥5.0 billion in new materials and the move away from plastic, regenerative medicine, and the transition to the IoT and digitalization.
In FYE 2019, we focused on individual investments such as these. In FYE 2020, we will transition to a multifaceted strategy, either developing these investments within our existing value chain or using these investments as springboards to further develop new business flows.
For example, we have made investments in emerging EV manufacturers in China, a company renting commercial EVs, ride- and car-sharing businesses in Europe and the United States, and companies involved in storage batteries and next-generation batteries. Although these investments are promising individually, they also represent steppingstones to the future, as we are preparing ourselves for structural changes in industries. We are aiming to develop an EV business model in China, which has a large population, a high growth rate, and government support. This model involves working with local ventures and includes battery recycling. Following this as an early example, we will roll out this business in Japan and other parts of Asia. In such manner, we shift toward multifaceted developments as we stay one step ahead of changes in industrial structures. (→Aiming to Reinvent Our Business)
Market-Oriented Perspective and The 8th Company— From "Selling" to "Creating"
To realize "a new vision of what a trading company can achieve," in addition to growth investments including our framework for next-generation investments, we will need to reinvent organizations and people. One way we are doing so is through The 8th Company.
With our vertical organizational structure based on the traditional product-oriented approach, it is difficult to cater to a "platformer" with a foundation of customer contact points. Even if it is not noticeable now, the function of the conventional product-centered wholesaling model is likely to gradually fade away as customers connect manufacturers directly over the Internet. Seen from a platformer's perspective, the ITOCHU Group's purchasing routes for a wide range of products might appear as an agglomeration of small shops.
For general trading companies, the ability to "create," rather than "selling," the products and services that markets and consumers require will become essential. In addition to the expertise we have cultivated over the years through our seven existing Division Companies, we have developed excellence in the functional areas of logistics, finance, accounting, human resources, and law. Trust and the human resources that we have developed are even more important. The addition of an ability to "create" from the consumer perspective should enable us to realize "a new vision of what a trading company can achieve," exceeding the function of a platformer.
How can we get there? Shall we create a new development organization? We must not repeat past mistakes, where development was conducted just for the purposes of development. Reorganization that involves mere rearrangement and efforts to just enhance cross-Division Company functionality will be insufficient. The people who work at trading companies are not consultants, nor are they venture company entrepreneurs. Rather, we must get our feet on the ground and engage in daily trade activities as merchants with ITOCHU-style spirit.
In other words, The 8th Company represents the creation of a new, consumer-oriented business model with a constant awareness toward "earning." This Division Company conducts business from a market-oriented perspective that serves consumer and market requirements. As such, it is not product-oriented, which is why we have given the Division Company a number as a name.
The 8th Company marks the biggest reorganization since we introduced the Division Company System in 1997. For the new Division Company, we have selected people from throughout ITOCHU who have diverse knowledge and expertise. The 8th Company is an amoeba-like structure, having no internal departments or sections and just four general managers of such categories as product development, digital strategy, and logistics. We expect The 8th Company to be the model of "the new vision of what a trading company can achieve," changing its shape increasingly in response to future developments. (→Establishment of The 8th Company)

Expanding Business in the Chinese Market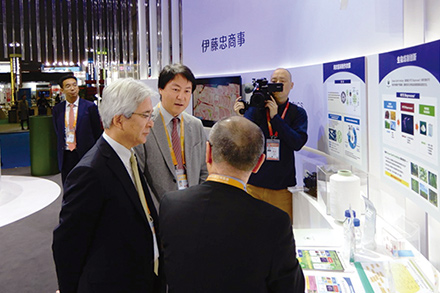 Although trade friction between the United States and China is expected to grow increasingly severe, global economic development would surely be difficult without the huge Chinese market, which represents 1.4 billion people. ITOCHU restarted business in China before the normalization of diplomatic relations between Japan and China, and we have a long history with the United States as well. Giving consideration to future international relations, we are actively promoting business development in China, including trade and investment. Regardless of international circumstances, we believe Chinese domestic demand is certain to grow and the full-fledged expansion of our business in China is essential to further expand our overseas profits.
China's EV market, already one of the largest in the world, is on course to rapid, and apparently certain, expansion. This is one promising area of our business in China. We have invested in ZHICHEAUTO Technology (Shanghai) Co., Ltd. (Singulato), a venture company that manufactures EVs based on an entirely new concept—cars that are like smartphones. As with smartphones, new applications can be added to its smart cars at any time. Similarly, last year we invested in Dishangtie Car Rental (Shenzhen) Co., Ltd. (DST), a world leader in the rental of commercial EVs that also engages in vehicle operation management and develops the EV charging infrastructure.
We are accumulating business models and expertise in areas that China is taking the lead in establishing, which we will deploy further into Japan and other parts of Asia. Additionally, we will roll out into China areas of business where Japanese companies have strengths, such as high-quality Japanese services and the convenience store business. For these reasons, we consider China a very attractive market.
CITIC and CP Group are robust partners in such developments. As a state-owned company, CITIC has a quality information network and Group companies under its umbrella, which are extremely valuable to the ITOCHU Group. These groups offer a variety of pipelines we can use to provide products and services to Chinese consumers.
In FYE 2020, we will continue doing our utmost to identify and minimize risks as we strive to further accelerate collaborative projects in China.
Overseas Development
Each Division Company is strengthening ties with our overseas bases, and our overseas development is becoming more consistent. We will continue to develop overseas business in the consumer sector, furthermore, overseas will be key for the growth in the basic industry and resource sectors, which generated the ¥200.0 billion indicated earlier. In addition to expanding local businesses overseas centered on the consumer sector, expansion of overseas operations in the basic industry and resource sectors, such as formulating infrastructure and plant projects and acquiring new resource interests, will play a major role in future profit growth.
With this understanding, in the first year after being appointed President & COO in addition to going to China and North America I visited Australia, Russia, Central and Eastern Europe, Latin America, and Africa.
Australia:
Several decades ago, the export of iron ore from Australian mines was forbidden. The lifting of this export ban in 1961 marked a new chapter in ITOCHU's history. At first, our aim was to acquire the trading business to Japan relating to the Mt. Newman mine in Western Australia. Due to the untiring efforts of then-President Echigo and members of his management team, in 1967 ITOCHU succeeded in acquiring the iron ore interests themselves. Later, we acquired additional mining interests at Yandi and Mt. Goldsworthy. With these acquisitions, our interests exceeded those of other general trading companies. We also acquired an interest in the Jimblebar mine in 2013. Through this deal, we forged an excellent relationship with BHP, which is both an excellent partner and the world's largest resource company, strengthening our iron ore mining business in Western Australia.
IMEA, a holding company that oversees the iron ore and coal interests from these four mines in Western Australia, has generated cumulative reported profit of more than ¥670.0 billion over the past 15 years, contributing greatly to ITOCHU's performance.
We should remain mindful of the foresight our predecessors had in building a resource business that includes crude oil and LNG as well as iron ore and coal. While protecting this legacy, we will further grow in the resource sector.
Russia, Central and Eastern Europe:
Our business in this region, including the Sakhalin-1 Project, the oil and gas development business in Eastern Siberia, and the construction of an ethylene plant, are proceeding favorably. We continue to search for business opportunities centered on LNG and crude oil in Russia, a major source of natural resources. Learning from the fact that the Russian version of Uber is beginning to spread in Moscow, we will pay attention to new local business opportunities in Russia. In Belgrade, we are undertaking an energy-from-waste (EfW) project, for which we have received plaudits from Serbia's prime minister. We are building our renewable energy business, which includes four EfW projects in the United Kingdom and an offshore wind power plant in Germany, into the core of our infrastructure business. To date, our business in Eastern Europe has centered on infrastructure and automotive projects. Going forward, we aim to expand to foodstuffs and other products in the consumer sector as well as ICT and finance.
Latin America:
For the past several years, Brazil has experienced negative economic growth and high levels of unemployment, but the country is now starting to see signs of major change. Reforms to pensions, the government, and fiscal policy are currently underway, fueled by the voices of people who have suffered from long-term inflation and the election of President Bolsonaro, and finally the economic outlook is gradually improving. Our business in Brazil mainly includes CENIBRA, through which we have taken part in the business of making pulp from eucalyptus wood since the 1970s, and an iron ore mining business that began in 2008 (formerly NAMISA, now CSN Mineração). In 2018 we invested in a mobile phone business in the country. We see business opportunities in the impending recovery of the Brazilian economy and Brazilian government reforms to the industrial structure, including the privatization of state-owned firms, so we will monitor these trends going forward.
Africa:
We expect Africa to become an increasing focus of attention, spurred by the Tokyo International Conference on African Development (TICAD) in Yokohama this summer. We plan to engage in a number of initiatives with local companies, mainly in the infrastructure and consumer sectors. Africa has a large population and is growing rapidly, but economic conditions differ greatly by country, so we plan to search for optimal partners and businesses country by country. We already deal in automobiles throughout Africa. However, given the rate of mobile phone adoption, we believe there may be potential for development in the ICT and fintech businesses. We will be following these categories.
In FYE 2020, we expect overseas profits to account for around half of consolidated net profit, which we plan at ¥500.0 billion. As Division Companies continue to develop overseas market with our feet on the ground, we aim to further expand profits from overseas business.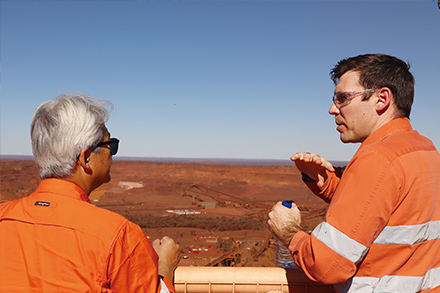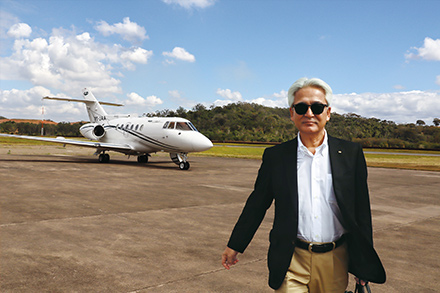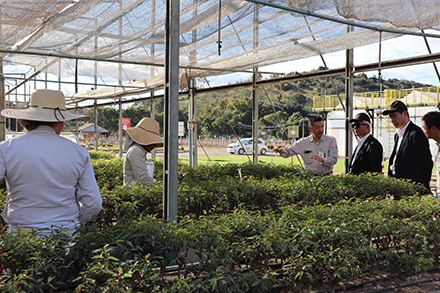 The Long March Forward
From the time Chubei Itoh I set off from his hometown across mountain passes peddling linen until the present day, ITOCHU has weathered shifts in the environment and the changing times, always welcoming new challenges. We have made mistakes and gained experience along the way, but such ideas as "move forward, even if by only a single step" and "failing and trying again is better than not failing" are part of our corporate culture and ITOCHU's DNA.
In FYE 2020, ITOCHU looks forward to taking on new challenges as we go over another mountain pass.