Our Business Model,
as Seen through Business Development
We will take advantage of our distinctive strengths and consecutively expand our areas of operation, as well as promote an expeditious exit from inefficient assets to maintain and improve asset efficiency.
Advancing into Areas Where We Can Leverage Our Distinctive Strengths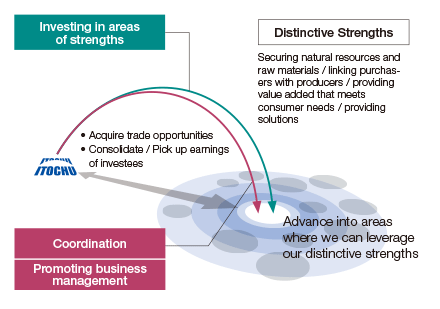 ITOCHU narrows down possible areas to those in which it can generate synergies with existing businesses and control risk, and advance into new businesses and markets through trade and investment.
Establishing a Market Position and Creating Multifaceted, Linked Businesses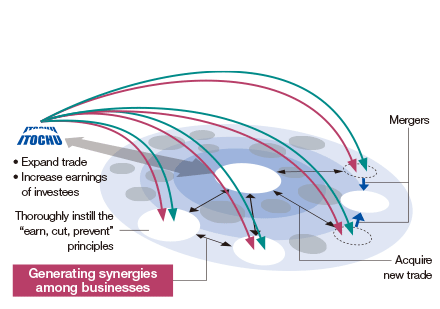 After advancing into a new area, we strive to acquire business know-how while setting our sights on the next step. At the same time, we leverage our management resources and create added value to increase investees' corporate value and establish a market position.
Thereafter, we work to thoroughly instill the "earn, cut, prevent" principles, acquire new trade, generate synergies among businesses, and reorganize business, creating businesses in a multifaceted, linked manner.
Reinforcing Earning Power and Promoting Asset Replacement by Advancing Reinvention of Business and Strengthening Cross-Divisional Functionality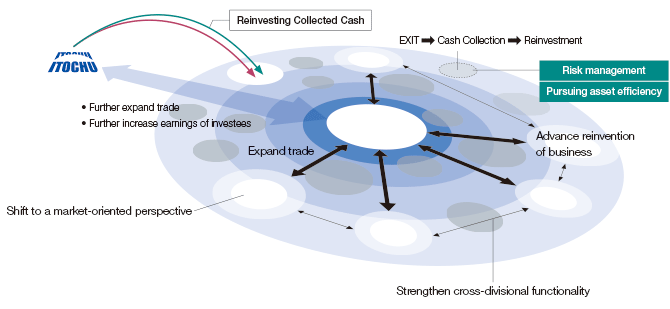 We see the rapidly changing industrial structure as a business opportunity. We bring in "reinvention of business" and a "market-oriented perspective" to our multifaceted, linked business model, and accelerate cross-industrial integration and cross-Division Company initiatives, which leads to an establishment of even more robust earnings base and a sustainable increase in our corporate value.
In addition, from the viewpoint of risk management and asset efficiency, we exit and recover funds from assets that have lost strategic significance. We use the cash generated from exits to reinvest in new strategic fields.
Example in the Food Business
Acquiring Customer Contact Points
ITOCHU acquired approximately 30% of the issued shares of FamilyMart Co., Ltd., in 1998, marking our first full-fledged foray into the retail field. In 2006, we converted the general food wholesaler NIPPON ACCESS, INC., into a consolidated subsidiary. These moves accelerated reforms in our business model highlighted by the introduction of the Strategic Integrated System (SIS) strategy—building a value chain spanning the securement of foodstuffs; midstream processing, manufacturing, and intermediate distribution; and downstream retail.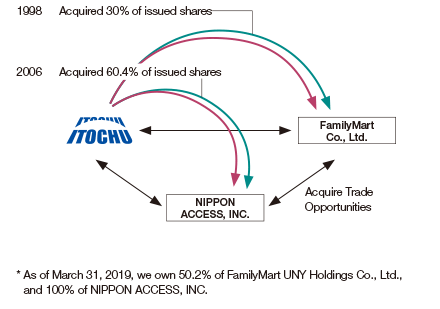 Strengthening the Intermediate Food Distribution Business through Reorganization
In October 2011, ITOCHU integrated its intermediate food distribution business, centering it on NIPPON ACCESS, INC. In this way, we built a system that can offer integrated handling of not only processed foods in all temperature ranges—ambient, frozen, and chilled—but also the three main groups of fresh food products. This move also facilitated the provision of integrated distribution services. Now possessing top-class scale and functionality in the field of food distribution, we have created a structure providing our business partners with low-cost, high-quality logistics.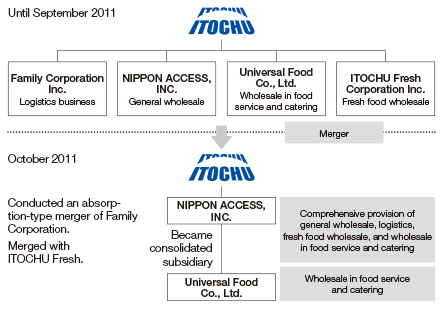 Creating a Value Chain in the Convenience Store Business
Centering on FamilyMart, we are creating and enhancing a value chain spanning upstream to downstream operations. At the same time, we are working to maximize Group synergies through the provision of business infrastructure involving such areas as non-food products, financial and insurance services, electricity supply, and system configuration. We are also collaborating with FamilyMart UNY Holdings Co., Ltd. to utilize the data FamilyMart Co., Ltd. holds to develop new businesses and moving ahead with reinventing the value chain.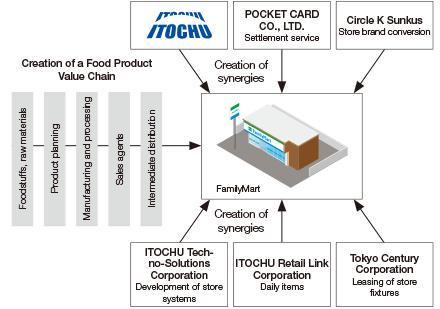 How ITOCHU Differs from a General Private Equity Fund
As we consider business investment one of our major options, our business model is often compared to that of a private equity fund. There are certain similar aspects, such as the desire to contribute proactively to management and maximize the corporate value of investees. We view as different, however, the facts that we are also aiming to increase our own corporate value, we focus on generating synergy with existing businesses, and we enjoy returns (cash) centered on trading profits and dividends.
General private
equity fund
ITOCHU
Investee liquidity

In principle, unlisted

Either listed or unlisted

Investee
ownership ratio

In principle, majority stake to 100%

Decided individually, based on business conditions and market environment

Investee
ownership period

Buy and hold having an exit strategy

Buy and hold

Business synergies

In principle, none

Create synergies with existing businesses

Returns (cash)

Capital gains and dividends

In principle, trading profit and dividends
Examples in the Convenience Store Business (FamilyMart)
Creating Synergies Infinitely—Vertically and Horizontally
The ITOCHU Group is building and enhancing a value chain spanning upstream to downstream operations in the aim of maximizing earnings from the convenience store business. In addition to fortifying the food value chain, we are generating synergies among businesses by going beyond Division Companies' boundaries in such areas as daily necessities, financial services, system development, and construction materials. In August 2018, we accelerated this trend by converting FamilyMart UNY Holdings Co., Ltd., to a subsidiary, whose corporate umbrella includes FamilyMart Co., Ltd.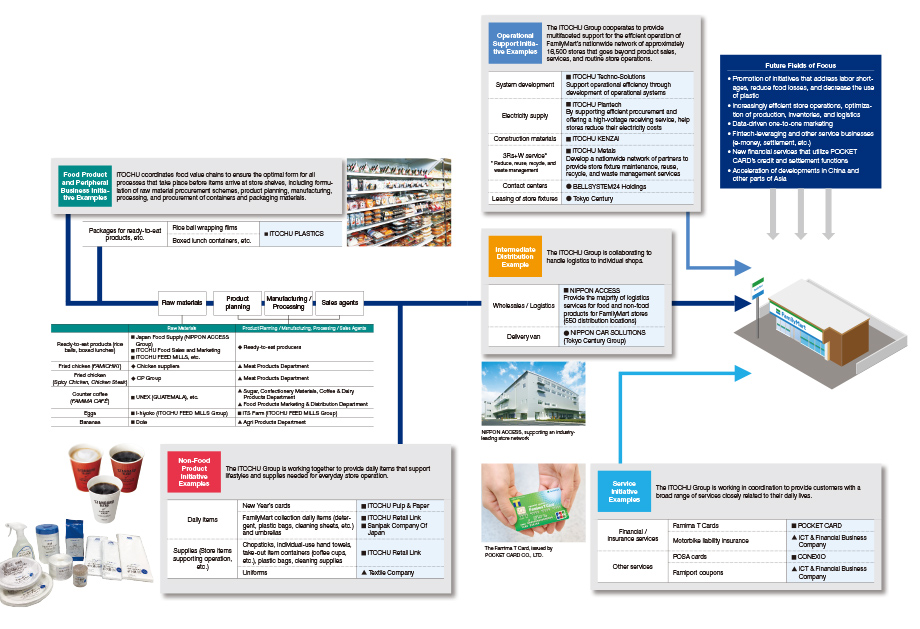 →An Example of "Enhancement of Value Chain in the Consumer Sector" [PDF]