OUR BUSINESS MODEL
The "Merchant" Business Model
With a management philosophy rooted in the sampo yoshi ideal, we strive to respond flexibly to the social needs of the changing times. By promoting and expanding the financial and non-financial capital we have honed and accumulated over time, we will build a foundation for sustainable growth and enhance corporate value.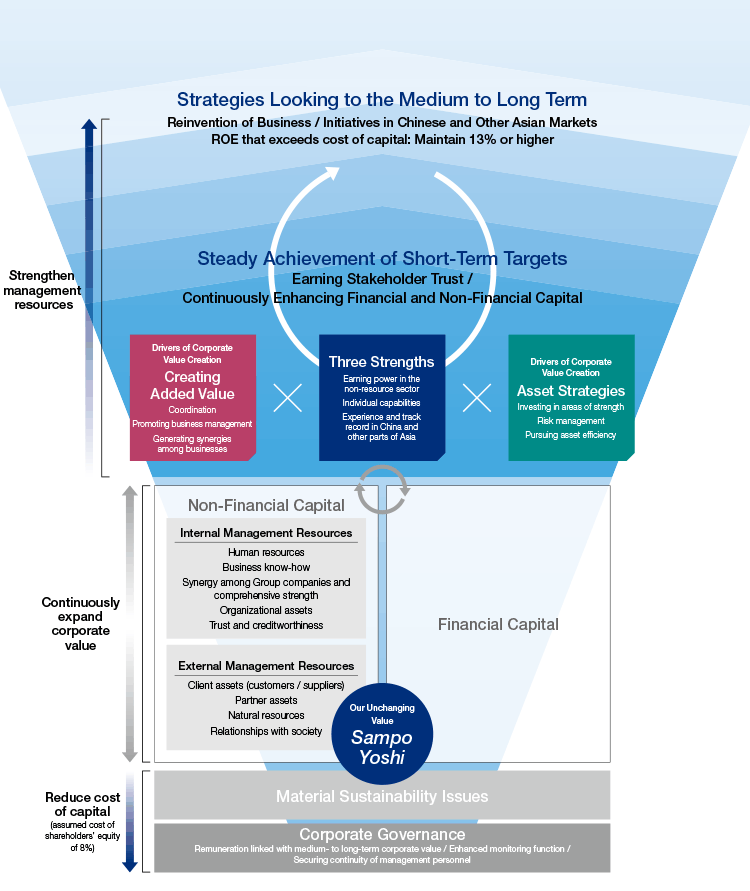 Creating Added Value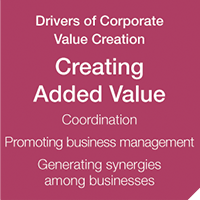 We strive to stabilize commercial rights, expand trade, and increase the value of businesses, including the companies that we have invested in, by leveraging the distinctive functions of a general trading company, continually creating added value from the viewpoint of our customers and the market-oriented perspective.
Coordination
In addition to the traditional functions of a general trading company, we aim to leverage client assets and partner assets to cultivate sales routes and procurement partners as we respond to various customer needs and strive to expand trade.
Promoting Business Management
By leveraging the various functions and management know-how we have accumulated as a general trading company, we take the initiative in forming business combinations and alliances with Group companies, enhancing the competitiveness of our investees.
Generating Synergies among Businesses
By leveraging the Group's management resources, we maximize synergies between existing businesses and Group companies, increasing the Group's overall corporate value.
Asset Strategies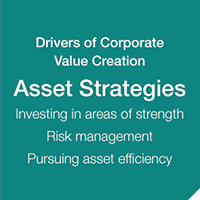 With the strategic importance of business investment increasing, we have developed and are steadily implementing asset strategies comprising investment in areas of strengths, risk management, and the pursuit of asset efficiency.
Investing in Areas of Strengths
Our fundamental principle is to invest in areas where we have strengths, such as the non-resource sector, centered on consumer-related businesses, and in China and other parts of Asia. On this basis, we are working to further reinforce our competitive edge.
Risk Management
In addition to managing total amount of risk by utilizing risk assets, we are also conducting risk management on a project-by-project basis through evaluation of investment efficiency using a hurdle rate based on the cost of capital. In this manner, we also work to analyze and control the various risk surrounding our businesses.
Pursuing Asset Efficiency
We exit from investments that are determined to be low-efficiency assets from such perspectives as scale of earnings, investment efficiency, and strategic significance. In this way, we are working to increase asset efficiency and to maximize free cash flows under strengthened cash flow management.
Management Resources
Financial Capital
We continue to create robust financial capital through successive efforts to build (1) a solid earnings base in the non-resource sector, which is resistant to economic fluctuations, (2) the capacity to steadily generate Core Operating Cash Flows, and (3) a high level of capital efficiency.
Non-Financial Capital
Internal Management Resources
Human Resources: Human resources are the driving force behind the functioning of our business models. In addition to conventional product professionals, we are working to develop marketing professionals who possess a keen market perspective. Through human resource strategies that support increases in labor productivity, we are striving to create a virtuous cycle that leads to increases in corporate value.(→Human Resources)

Business Know-How: We are developing businesses in a broad array of industries and have accumulated a wide range of business know-how. This know-how is an indispensable intangible asset in creating new businesses and in advancing into new business fields.
Synergy among Group Companies and Comprehensive Strength: Amid increase of cross-industrial integrations and in response to increasingly diverse demand from consumers, we strive to alter synergies that we generate among the Group, along with a changing management landscape. By maximizing our comprehensive strength as a "general" trading company, we are enhancing sustainable profit growth.(→Examples in the Convenience Store Business (FamilyMart))
Organizational Assets: In addition to rapid decision-making systems, we also have administrative divisions that possess high levels of expertise in such fields as law, risk management, accounting, taxation, finance, and more. These organizations provide strong backup for ITOCHU's ability to earn profit from a front-line perspective.(→Organizational Assets)

Trust and Creditworthiness: The trust and creditworthiness we have cultivated as a general trading company underpin our earning power throughout the value chain, including customers and investees.(→Credit Ratings)
External Management Resources
Client Assets (Customers / Suppliers): Maintaining relationships with customers and suppliers is indispensable in obtaining and expanding trade opportunities. We can achieve sustainable growth in profitability precisely because of our extensive client assets.(→Client Assets and Partner Assets)

Partner Assets: From the viewpoints of rapidly advancing into new business areas and increasing the probability of business success, we emphasize win–win relationships with partners. Over many years, we have built up positive relationships with numerous leading companies.(→Client Assets and Partner Assets)

Natural Resources: Through our businesses in the non-resource and resource sectors, we respond to societal demands for the stable procurement and supply of natural resources, while linking those demands to new business opportunities in response to social issues described in the SDGs.(→Natural Resources)

Relationships with Society: Through constructive dialogue with stakeholders, we seek to understand and meet the demands and expectations they have for us, allowing us to promote stable business activities in Japan and overseas and further enhance corporate value.(→Relationships with society)