Sustainable Value Creation through Capital Accumulation
The ITOCHU Group conducts its business through both trade and business investment. In the course of its history over 160 years, we have steadily accumulated internal capital such as human capital and business know-how.
Meanwhile, we believe that trust and creditworthiness are extremely important for achieving enhancement of interaction between internal and external capital. By always remaining cautious of trust and creditworthiness in our management practice, we aim to realize increases in economic and social value, and to continuously expand our corporate value.
Importance and Monitoring Indicators of Each Capital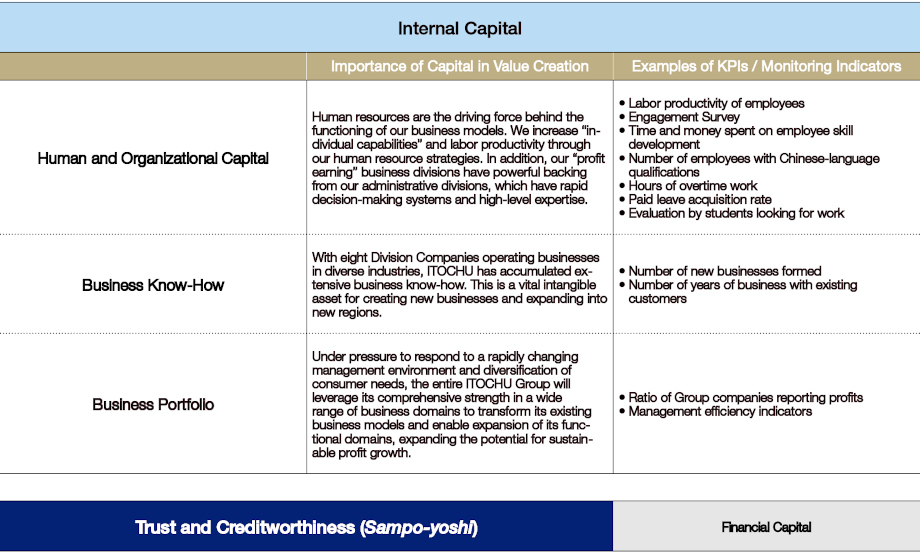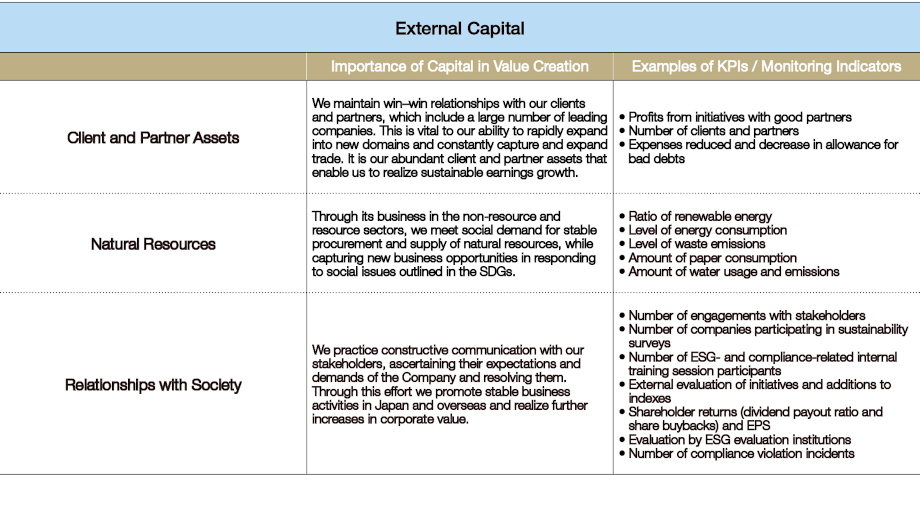 Relationship between the Corporate Mission of "Sampo-yoshi" and Increase in Corporate Value
On April 1, 2020, we changed our Group corporate mission to "Sampo-yoshi." Through our business as a general trading company, we earn the trust and creditworthiness from various stakeholders in the spirit of "Sampo-yoshi." We will leverage these to strengthen a cycle of value creation.
Our policy is to promote business activities with an awareness of our external capital, which are clients, partners, natural resources, and society, and to promote internalization of these external capital. This results in interaction between our external capital and our existing internal capital, which will enable us to realize even more sustainable creation of corporate value.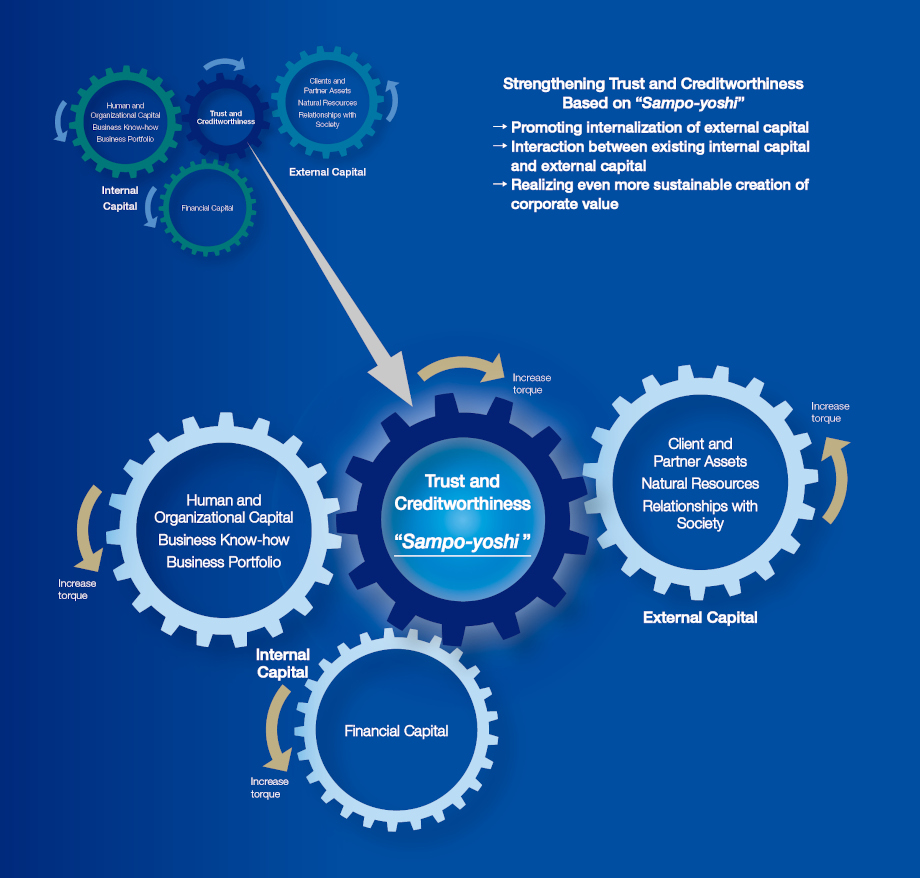 Examples of Measures for Strengthening Trust and Creditworthiness
Revision of corporate mission to "Sampo-yoshi"
Examples of Measures for Strengthening Human and Organizational Capital
Revision of the corporate mission, establishment of the Guideline of Conduct
Morning-Focused Working System and working from home system
Health management (ITOCHU Health Charter, Support Measures for Balancing Cancer Care and Work)
Business support leveraging abilities of administrative divisions (high level expertise)
Examples of Measures for Strengthening Business Know-How
Initiatives to transform business models that utilize ITOCHU's comprehensive strength
Establishment of The 8th Company, development of business from a "market-oriented perspective"
Acquisition of new knowledge through venture investments, etc., and incorporation into ITOCHU's business models
Examples of Measures for Strengthening Business Portfolio
Pursuit of highly efficiency management through execution of rigorously selected strategic investments and continuous asset replacement
Thorough refinement of existing businesses by enacting our business fundamentals: "earn, cut, prevent."
Announcement and implementation of ITOCHU's Policy on the Governance of its Listed Subsidiaries, etc.

(→ITOCHU's Policy on the Governance of its Listed Subsidiaries)
Examples of Measures for Strengthening Client and Partner Assets
Selection and securing of good partners
Use of cutting-edge technologies and services and business model transformation
Consideration for Environment, Health and Safety (EHS)
Building of safe and secure supply chains
Examples of Measures for Strengthening Natural Resources and Relationships with Society
Announcement and implementation of our policy on coalrelated business initiatives (ongoing review of existing project based on engagement)
Strengthening of value chains and business investment ­management based on sustainability
Promotion of environmentally friendly business

(→Sustainability Initiatives for Sustained Corporate Value Creation)