COO Message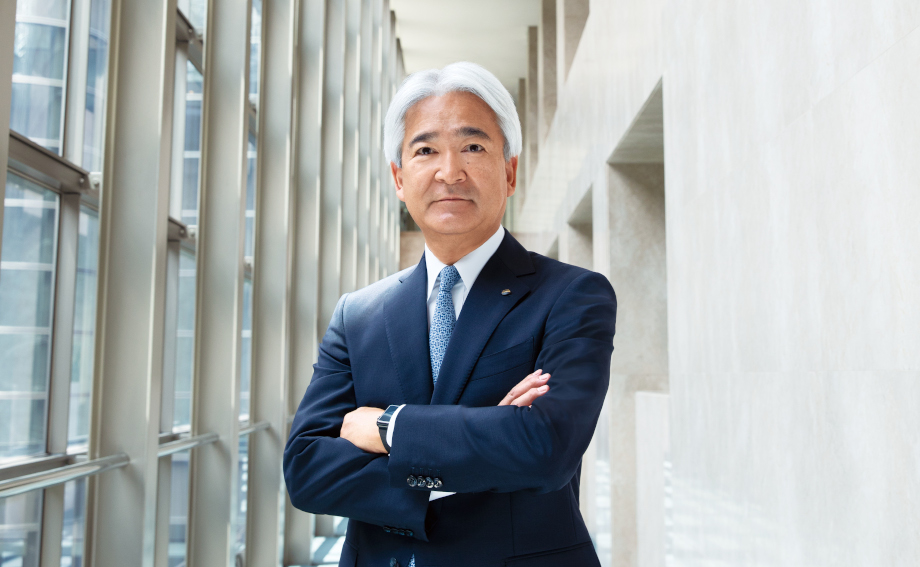 By keeping our focus firmly fixed beyond the current difficulties and taking forward-looking preparations, we aim to sustainably enhance our corporate value.
Amid this unprecedented phase brought about by COVID-19 and other recent developments, we will unflinchingly maintain our steadfast efforts and continue achieving the goals we have outlined. In addition, through our market-oriented perspective, we will perceive changes in customers and industry structure to steadily seize good opportunities.

FYE 2020: The Year the Tide Turned
In April 2019, as we were almost sure about achieving an historic ¥500.0 billion in consolidated net profit, we held a Special Headquarters Management Committee meeting to discuss the FYE 2020 management plan. Rather than revel in our major ¥500.0 billion achievement, we honed our gaze on the trajectory beyond ¥500.0 billion. Our discussion focused on how ITOCHU could continue to steadily grow and what actions were needed with our organizational systems and human capital. We started the meeting reflecting on the many ups and downs the Company has experienced and what lessons could be learned. We narrowed these down to three major lessons. The first is not to formulate long-term management plans on hypotheticals. In other words, we should not announce baseless quantitative targets, and management should emphasize its commitments. The second is not to conduct management through excessive selection and concentration. The third is that the business environment will always change: Overconfidence is forbidden. "The higher the peak, the lower the valley."
Based on these lessons, we set the FYE 2020 consolidated net profit plan at ¥500.0 billion, or about the same as the FYE 2019 results, and maintained our progressive dividend policy with a dividend of ¥85, an increase of ¥2. This was a result of emphasizing our commitment to achieving the numbers we promised while first establishing a firm foothold amid an uncertain economic outlook. Another contributing factor was the establishment of The 8th Company as a new Division Company with the purpose of securing resilience against volatile business environments and withdrawing from legacy businesses. One goal of the new Division Company is to enhance the corporate value of FamilyMart, which was made a subsidiary in FYE 2019, and strengthen the Group's value chain by using the consumers' perspective, a "market-oriented perspective," rather than our conventional product-oriented perspective. Finally, learning from our lesson of not using excessive selection and concentration, we did not alter the Division Companies that comprise our existing profit pillars.
In the summer of 2019, the stock market took a turn, which had until then been steadily advancing. It started with the worsening of the U.S.–China trade friction, which caused a drop that some said could make for another "unlucky August." As the Company was strengthening its warning about the eventual collapse of the long sustained period of global economic growth, ITOCHU used this market shift, under the guidance of its Chairman & CEO Masahiro Okafuji, to redouble its efforts on the "earn, cut, prevent" principles, which form the foundation of ITOCHU's management. Specifically, we redoubled efforts to uncover potential concerns and thoroughly practice our "prevent" principle. To prepare for further economic deterioration, we also decided to swiftly shift toward lean management, leveraging our "cut" principle.
We began to take countermeasures ahead of other companies. For example, we conducted an interim review of the management plan on September 9, a month earlier than usual. We also instilled a feeling of restraint during summer vacation. This was because ITOCHU, which had grown dramatically over the course of a decade, determined that it was facing a major challenge about whether it could keep its commitment of achieving the promised ¥500.0 billion. Since then, the stock market fortunately recovered, and ITOCHU's share price set 22 record highs. The preparations we made for that time helped us be ready when COVID-19 struck. This example illustrates how we practice the lessons learned from our past of not becoming overconfident.
At the beginning of 2020, the WHO raised the alarm in January about the spread of COVID-19 in Wuhan, and, in March, it declared a pandemic, as the COVID-19 shock raced around the world. While the 2007 global financial crisis involved a collapse of the financial system, this shock was set off by the global spread of a virus with no vaccine. It will take time to develop treatments and vaccines, and even when the pandemic ends, it is inconceivable that the world will immediately go back to how it was before COVID-19. With plummeting oil prices, eroding consumer confidence, and sharp declines in automotive and other basic industries, FYE 2020 has shaped up to be the year the tide turned on the general trading industry. While ITOCHU's business portfolio showed stability as it encompasses a diverse range of operations mainly in the consumer sector, other general trading companies with their assets more heavily concentrated in the resource sector and the basic industry sector faced a harsh environment. We also saw the emergence of huge differences in results across the general trading industry.(→COVID-19's Impact on the Company and Status of Initiatives)
FYE 2021: Continue Commitment-Based Management
With the impact of COVID-19 growing every day, we held a Special Headquarters Management Committee meeting on March 31, 2020 to discuss FYE 2021. In a normal year, the entire management team would assemble with executive officers stationed overseas returning to Japan. However, considering the risk of infection, this year's meeting was limited in duration and participants to include only Directors and the President of each Division Company.
General trading companies are sensitive to economic fluctuations and the COVID-19 shock has thrown all of us into an era of extreme difficulty. Three of the difficulties include: 1) a crisis that intertwines healthcare with an economy that defies forecasting; 2) economic decline that is a cyclical contraction ensuing 11 years of economic growth following the global financial crisis so things are not expected to simply return to normal; and 3) falling crude oil prices that create worries as oil money dries up and give rise to growing credit instability for shale companies. Recognizing this era of extreme difficulty, our discussions centered on how ITOCHU can succeed in FYE 2021 and whether we should ultimately release an FYE 2021 plan or go without. Ultimately, we confirmed that we would shift our strategic focus on combatting these risks and would remain faithful to ITOCHU's commitment-based management.
In an effort to proactively disclose as much as we can to the market after accounting for currently conceivable risks, we decided to announce our FYE 2021 management plan calling for consolidated net profit of ¥400.0 billion and, in a continuation of our progressive dividend policy, dividends of ¥88. In addition, we need to prepare for upheaval in the business environment and a global economic recession that will likely last for several years. Recognizing that we have entered a new business phase, we positioned this year as one in which we should establish a firm foothold, and decided to formulate a single-year management plan that is not contained in the medium-term management plan to address risks.
With the future unforeseeable, we should not think of FYE 2021 as a continuation of the economic expansion to date. Instead, we are designating this as a year in which we need to hold our position for a while. In order to put this into practice and fortify our position, the Company needs, I think, to thoroughly assume the lean management that Chairman & CEO Masahiro Okafuji refers to as stricter and smaller. In every field, we have vowed to return to our "earn, cut, prevent" principles. In particular, the "cut" and "prevent" ­principles will be key to achieving our plan. The entire Group carefully monitors contract and sales trends, logistics, credit status, and other variables to take forward-looking measures, such as insurance coverage, shorter payment terms, and rapid recovery of accounts receivable. We avoid losing income by "preventing" the incurrence of loses. By "cutting," we will not simply reduce business expenses; we will constantly create more effective ways to utilize capital. We will remain steadfast in these efforts. In FYE 2021, we will again strive to meet everyone's ­expectations and realize consolidated net profit of ¥400.0 billion and the announced dividend of ¥88. (→FYE 2021 Management Plan)

Looking Beyond the Current Difficulties
Amid this extremely uncertain business environment, we will assess new investments more carefully than before, quickly exit from existing investments if necessary, and thoroughly manage risks, such as by refraining from investments without any strategic value. At the same time, we will steadily execute growth strategies that look beyond the COVID-19 crisis. In particular, we intend to carefully select and implement prime investment projects, especially in the consumer sector where ITOCHU has strengths.
Launched in July 2019, The 8th Company has partnered with FamilyMart, whose nationwide network of stores gets approximately 15 million customers per day, in an effort to roll out financial services, marketing, and advertisements that utilize purchasing data and customer engagement. We are also working to upgrade the data utilization system with FamilyMart and NIPPON ACCESS, INC. to optimize the value chain, including ordering, inventory and distribution, and to construct a system that can test new initiatives in actual FamilyMart stores. In addition, we are building a data management platform (DMP) to manage and utilize customer data across the entire ITOCHU Group with the aim of creating new businesses, including a digital ad business, data management business, data analysis business, and financial services business.
(→The 8th Company)

Regarding the upgrade of business models through venture investments or by using new technologies, we have completed the development of forward-looking foundations and the identification of key fields. From FYE 2021, we will enter a phase where we strive to expand business under the initiative of our Division Companies centering on mobility, power, and retail businesses. In particular, the power field combined the downstream fields of nextgeneration power and storage batteries and established the new Power & Environmental Solution Division. Our brand of storage batteries equipped with AI functions has sold a cumulative total of roughly 30,000 units across Japan as of March 31, 2020, giving it the No. 1 share in Japan on a capacity basis. Our strengths in this area include our sales network and a business foundation that has evolved over more than a decade. We are steadily expanding our business by taking full advantage of our investees handling a variety of next-generation businesses, such as Sunnova Energy International Inc., 24M Technologies, Inc., and Shenzhen Pandpower Co., Ltd. (→Realizing Our "Sampo-yoshi" Philosophy through the Largest Multifaceted Development in Japan)
Amid the current crisis, which has been called the greatest since World War II, let us recall the words of President John F. Kennedy during the Cuban Missile Crisis: "In the Chinese language, the word 'crisis' is composed of two characters, one representing danger and the other, opportunity." For example, COVID-19 is obviously spurring retailers to more quickly move online and fostering greater online engagement with customers of services. During this time, the ITOCHU Group has also launched new initiatives, such as HOKEN NO MADOGUCHI (an insurance agency with walk-in stores) starting online consultations. Even during the COVID-19 crisis, we will continue to precisely sense changes in customers and industry structure, attune our senses to the seeds of change, and seize good opportunities.
We are also monitoring the effect of COVID-19 overseas. By thoroughly managing risks and polishing our existing businesses, our "earn, cut, prevent" principles will serve as a base. Through the "earn" principle, we strive to expand our business through collaboration with powerful partners. For example, the Energy-from-Waste (EfW) project in Serbia started construction in FYE 2020, and it is a collaborative initiative with SUEZ S.A., a major French company for water and environmental utilities. Annually 340,000 tons of waste, equivalent to 66% of the waste emitted by the city of Belgrade, is incinerated to produce electricity and supply heat. This is Serbia's first large-scale Public Private Partnership (PPP) using project finance. The project is of paramount importance to the Serbian government, which aims to meet the European Union (EU)'s waste disposal standards and join the EU. ITOCHU also operates similar EfW facilities in the United Kingdom. Leveraging the business development and operational know-how we have cultivated to date, we will collaborate with strong partners in each region and business field to enhance the quality of our projects, thereby making steady progress. (→Viewing Environmental Issues as Business Opportunities)
Aiming to Sustainably Enhance Corporate Value
To achieve major accomplishments with very few employees relative to other general trading companies on a nonconsolidated basis, ITOCHU has rolled out its distinctive advanced measures to enhance every employee's productivity. Specifically, we have made operations more efficient by going paperless for meetings and applications and by utilizing IT including robotic process automation (RPA). We also promoted workstyle reforms through the "MorningFocused Working System" and "Dress-down Days," as well as health management through such measures as "Support Measures for Balancing Cancer Care and Work."
Going forward, by providing opportunities for advancement as a "strict but rewarding company," ITOCHU will continue to ensure its employees can truly experience growth and feel the appeal of creation, through cultivating new customers and developing business models on their own.
In April 2020, to achieve further growth as we adapt to the rapid changes in the business environment in the industries that we are facing and to establish values that resonate with the strengths that set ITOCHU apart, we amended our corporate mission to be "Sampo-yoshi," our management philosophy that has been in place since our founding, which also aligns with the principles behind the SDGs. We will continue to increase the unified strength of the entire Group as we aim to enhance our corporate value.
Going forward, we will work reliably to support the diligent efforts of our subsidiaries, affiliates, and customers even amid the COVID-19 crisis. We will work to maintain supply chains in each field by steadily carrying out operations and contribute to the stability of society as a whole.
We will work to maintain supply chains in each field by steadily carrying out operations and contribute to the stability of society as a whole.