ITOCHU's Clean-tech Business
We engage in environmental clean-tech businesses that are projected have sustainable growth from a business perspective and are projected to contribute to society's shift toward decarbonization and circular economy. In doing so we employ a mid-to-long-term perspective in our business outlook and aim to leverage the latest technology available.
1. Renewable Energy
ITOCHU is involved in various aspects of power generation projects, aiming to optimize and maximize power generation efficiency. These include construction and refurbishment projects for all types of power plants worldwide, Independent Power Producer (IPP) businesses, as well as the operation and maintenance of power plants.
Within the business activities introduced above, we are proactively promoting power generation methods that leverage renewable energy sources such as geothermal, wind, solar, and biomass. We are aiming for a renewable energy ratio of over 20% (equity interest basis) by FYE2031 from 14.5% in FYE2021 within our overall power generation business.
ITOCHU will continue to proactively promote power generation businesses that utilizes renewable energy in and outside of Japan. This will allow us to contribute to global sustainability agreements that aim to create a decarbonized economy to mitigate climate-related impacts.
Renewable Energy Generation (Equity Interest Basis)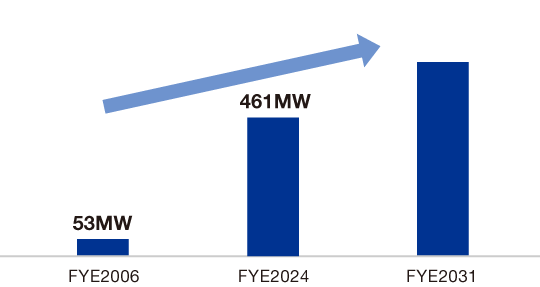 Target for Renewable Ratio of Total Generation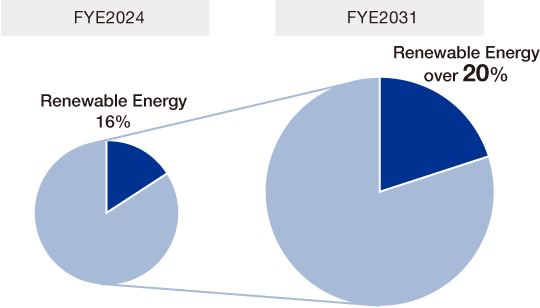 Breakdown of ITOCHU's Total Generation in FYE2020 and Breakdown Target for FYE2031
FYE2020
FYE2021
FYE2021
FYE2031 (Target)
Generation Capacity on Equity Interest Basis (MW)
Generation Capacity on Equity Interest Basis (MW)
Ratio (%)
Ratio (%)
Wind

185

179

14.5%

20%<

Solar/PV Power

83

80

Geothermal

83

83

Biomass

20

33

Renewable Energy (total)

369

375

Natural gas

1,621

1,258

85.5%

80%>

Coal-fired power

315

315

Oil-fired power

640

640

Thermal Power (total)

2,576

2,213

Grand total

2,945

2,588

100%

100%
For a list of our renewable energy-related businesses please visit here.
We have announced a policy to not engage in new coal-fired power plant developments or the acquisition of interests in coal-fired power plants*.
Renewable Energy Highlights
Wind Power
ITOCHU has continued involvement in wind power (offshore and onshore) from the late 1990s. Currently, ITOCHU has interests in six power plants in Japan, the United States, and Germany, some of which are currently under development.
Butendiek Offshore Wind Farm in the North Sea of Germany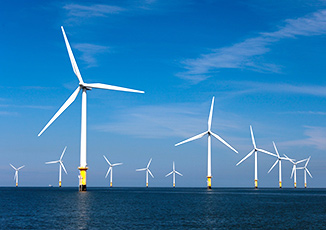 The demand for renewable energy is increasing. Against this backdrop, we have signed a strategic business and capital alliance with the CITIC Group to cooperate in a top-scale offshore wind farm (288MW) operating in the North Sea of Germany. The wind farm supplies power to approximately 370,000 standard German households, contributing to the transition to a low-carbon society.
Aomori Mutsu Ogawara Onshore Wind Farm
ITOCHU is planning to build an onshore wind farm (57 MW) in a suitable site with favorable wind conditions in Rokkasho, Kamikita in Aomori Prefecture as a joint project with Hitachi Zosen Corporation and ENEOS Corporation. We are aiming to start operating it during FYE 2025. We expect this wind farm to generate approximately 138 million kWh of power a year. That is equivalent to the annual power consumption of approximately 24,000 ordinary households.
Solar Power/PV Power
ITOCHU is involved in six large-scale solar power plants in Japan, the United States, and in Spain.
Utility Scale Solar Projects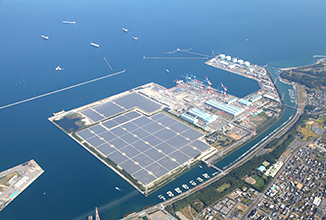 Following on from the start of the commercial operation of a mega-solar power plant in Ehime in 2015, ITOCHU started operating mega-solar power plants in Oita in 2016, Okayama in 2017 and Saga in 2018. This means we now operate four mega-solar power plants in Japan (total power generation output: approximately 130,000 kW). The knowledge and experience we have gained through operating these power plants is contributing to the expansion of our renewable energy business. We will continue to aim to stably operate these power plants.
Distributed Solar Power Supply Business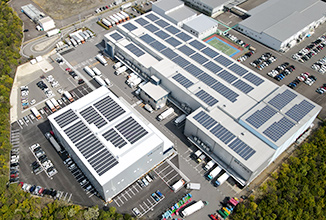 ITOCHU operates one of the largest distributed power plants in Japan focusing on the roofs of supermarkets and logistics facilities through the operating company VPP Japan, Inc. VPP Japan, Inc. deploys the Off-grid Power Supply Service (third-party ownership model for solar power). It installs self-consumption solar power generation systems with zero initial investment by customers and then supplies power at low cost over a long period of time directly to facilities.
Furthermore, it is aiming to develop to regional virtual power plants (VPP) focused on customer facilities by integrating and controlling distributed power supplies (e.g., storage batteries and electric vehicles).
Geothermal Power
ITOCHU has interests in an IPP project for Indonesia's Sarulla Geothermal Power Plant, one of the largest of its kind in the world. The financial closure of the $1.17 billion project was announced in May 2014, being co-financed by the Japan Bank for International Cooperation (JBIC), the Asian Development Bank (ADB), and other commercial banks. This the first of its kind aimed at the IPP of a geothermal power plant.
Biomass Power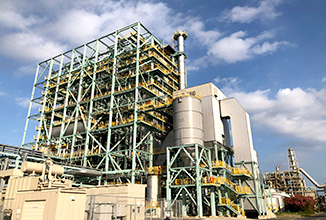 The Ichihara Biomass Power Plant (power generation output: 49,000 kW) in which ITOCHU is participating started commercial operation in December 2020. We expect this power plant to generate approximately 350 million kWh of power a year. That is equivalent to the annual power consumption of approximately 120,000 ordinary households. In addition, we established Hyuga Biomass Power Co., Ltd. through joint investment in April 2021. We have decided to build a biomass power plant (power generation output: 50,000 kW) in Hyuga in Miyazaki Prefecture.
Biomass Fuel Related Business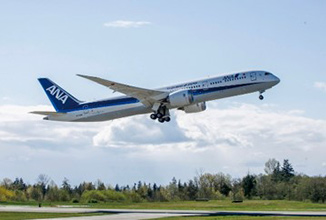 ITOCHU is supplying biomass fuel to power generation operators in Japan in addition to our own company by leveraging our biomass fuel suppliers portfolio. We are working to improve the ratio of renewable energy in power generation projects in Japan through the supply of biomass fuel.
Operation and Maintenance for Renewable Power
ITOCHU offers operation, maintenance as well as asset management services for solar power plants in US principally through our subsidiary Bay4 Energy Services, LLC. It serves approximately as many as 1,400 sites (as of Dec 2020) throughout US by utilizing its remote monitoring system.
2. Ammonia Fuel
With international momentum towards the transition to a decarbonized society since the Paris Agreement came into effect in 2016, the International Maritime Organization (IMO) adopted a strategy for the reduction of greenhouse gas (GHG) emissions within the shipping industry in 2018. This strategy sets targets to reduce CO2 emissions per transport work - as an average across international shipping – by at least 40% by 2030 (compared to 2008 levels), by 50% by 2050, and to phase them out entirely (zero-emissions) during this century. In order to achieve these goals, the early adoption of ammonia as a suitable zero emission, alternative fuel for marine fuel in ships is one of the key elements. Also, in order to achieve the development of ships that use ammonia as their main fuel, the stable supply of marine ammonia fuel and the development of supply sites are essential elements.
Developing Ships Equipped with a Main Engine Using Ammonia as Its Main Fuel
ITOCHU Corporation has agreed with Nihon Shipyard Co., Ltd. , MAN Energy Solutions, Mitsui E&S Machinery Co., Ltd., ClassNK, ITOCHU ENEX Co. Ltd. on jointly developing ships equipped with a main engine using ammonia as its main fuel (hereinafter "Ammonia-fueled Engine").
Developing an Infrastructure to Support the Use of Ammonia as an Alternative Marine Fuel for Ships
ITOCHU Corporation, ITOCHU ENEX Co. Ltd. and VOPAK Terminals Singapore Pte Ltd. signed a non-binding memorandum of understanding to jointly study the feasibility of developing an infrastructure on 8 June 2020, to support the use of ammonia as an alternative marine fuel for ships in Singapore.
In addition, ITOCHU Corporation and ITOCHU ENEX Co., Ltd. announced in March 2021 that they have reached an agreement with Ube Industries, Ltd. and Uyeno Transtech Ltd. to supply marine ammonia fuel and jointly develop supply sites in Japan.
These latest joint development efforts are not only focused on the development of ships equipped with an Ammonia-fueled Engine and developing supply sites for marine ammonia fuel at Singapore and Japan, but also positioned as part of an integrated project that includes the ownership and operation of these ships, the introduction of marine ammonia fuel and the establishment of worldwide supply chain of that fuel, which ITOCHU and ITOCHU ENEX has been pursuing in parallel. Working in cooperation with companies in Japan and overseas as well as related government agencies, the companies will pursue initiatives aimed at reducing greenhouse gases.
Joint Feasibility Study of an Ammonia Value Chain Between Eastern Siberia and Japan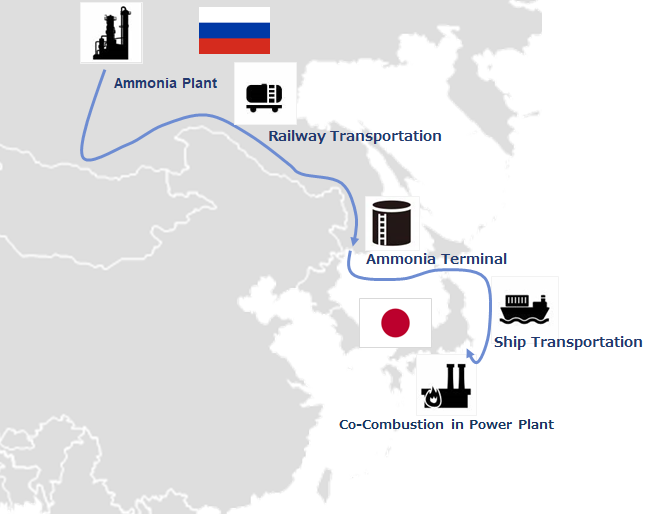 ITOCHU and TOYO Engineering Corporation have received a commission from Japan Oil, Gas and Metals National Corporation (JOGMEC) to conduct a joint feasibility study of a value chain to produce blue ammonia in Eastern Siberia in Russia and to then transport it to Japan.
ITOCHU will provide our knowledge on logistics optimization cultivated through our rich track record of business in the energy field. We will realize the production and efficient transportation of ammonia, expected to be a new market as a low carbon fuel in the future, to achieve the stable supply of blue ammonia to the Japanese market.
3. Hydrogen Related Business
In December 2020, Japan announced the "Green Growth Strategy Towards 2050 Carbon Neutrality," and as part of that strategy, hydrogen is expected to contribute to the decarbonization of various fields as a key technology for carbon neutrality with promising applications across a wide range of fields, such as power generation, industrial usage, transportation, etc.
In light of this major trend, ITOCHU's wide-ranging networks focused on consumer-related sectors will be used to demonstrate the comprehensive capabilities of the ITOCHU Group and promote the development of the hydrogen market.
Strategic Collaboration to Build a Hydrogen Value Chain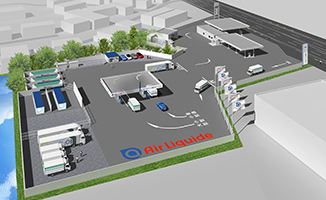 ITOCHU, Air Liquide Japan G.K. and ITOCHU ENEX Co., Ltd. will jointly examine hydrogen production/supply and hydrogen station business focused on major metropolitan areas in Japan. The aim of this is to cultivate the hydrogen market for mobility and industry.
We will demonstrate our comprehensive strengths as a group by making full use of our extensive network focused on the consumer goods industry field to contribute to the growth of the hydrogen market.
Business Model Development of a Local Hydrogen Production for Local Consumption
ITOCHU Corporation has been progressing the joint operationalization research on a hydrogen business based on "the local production for local consumption model" in northern Kyushu with our important customers of Nippon Coke & Engineering Company, Limited (hereinafter "Nippon Coke") and Compagnie Maritime Belge B.V. (hereinafter, "CMB"). ITOCHU has been supplying raw materials to Nippon Coke, and also has a lot of newly built ship business with CMB which is the largest maritime group in Belgium, both for many years.
Featuring both the hydrogen byproduct of Nippon Coke and the hydrogen engine of CMB, this project aims to create and expand both supply of and demand for hydrogen, with the goal of swiftly realizing actually operating hydrogen supply chains based on "the local production for local consumption model".
Furthermore, by actively deploying this business model in other regions as well, ITOCHU will realize the social implementation of hydrogen on a global scale at the possible earliest time, for enhancing our contribution to and engagement with the SDGs.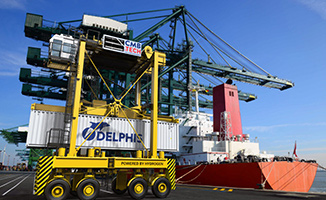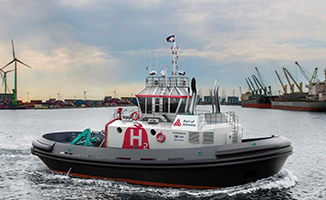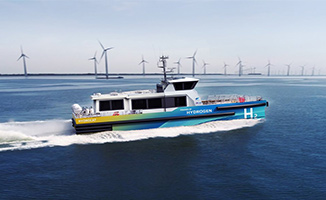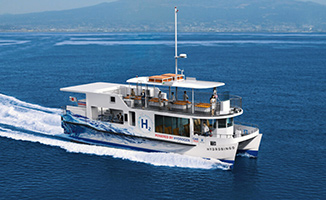 4. Energy Storage Systems (ESS)
ITOCHU aims to promote de-carbonization and reduce environmental footprint by selling energy storage systems (ESS) that enhance and optimize the sustainable supply of renewable energy. As a demonstration of our commitment, we have set a clear sales target for ESS of 50 billion JPY and a cumulative energy storage exceeding 5GWh by FYE 2031.
Moving forward, ITOCHU will strengthen our global battery procurement and dealer network to further deploy household storage batteries. At the same time, we will look to develop AI-equipped energy storage systems and to then launch them onto the market (especially, we assume, the U.S. and Australian markets which are expected to grow in the future) with capital and business alliance partners overseas. We will then aim for the development and social implementation of large energy storage systems that use reused batteries for commercial and industrial applications. Moreover, we will accelerate efforts to recycle waste batteries generated by electric vehicles (EVs) or energy storage systems and efforts relating to the traceability of those. This will allow us to develop our recycling-orientated business and to contribute to a further improvement in corporate value.
Sales and Cumulative Energy Capacity of our ESS products
Cumulative Capacity of ESS Units Sold (kWh)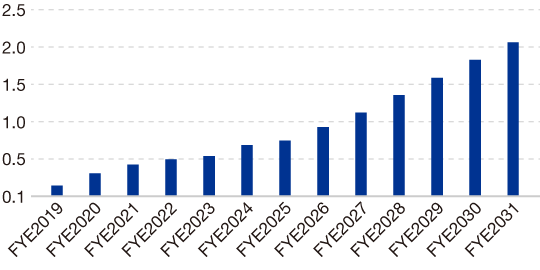 In cooperation with NF Blossom Technologies, Inc.*, ITOCHU developed Smart Star, a unique ESS approximately 42,000 units as of March 2021. With Smart Star being one of our main product lines, we have shown a steady increase in sales and cumulative energy capacity of the ESS products we have sold.
* NF Blossom Technologies, Inc. is a joint venture by NF Corporation and ITOCHU launched in February 2020.
Other Initiatives
The Launch of Next-generation ESS Products Using AI Technology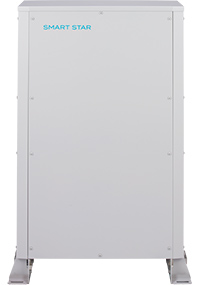 Smart Star L
ITOCHU signed a capital partnership with UK company Moixa Energy Holdings Ltd., NF Corporation and TRENDE Inc. to create a next-generation ESS that utilizes AI technology. This project has allowed for us to build upon the high performance of our Smart Star L during power-outages, and further enhance it by employing an AI system that analyzes weather forecasts, fluctuations in power consumption rates, and fluctuations in solar power generation to optimize its control mechanisms and maximize efficiency.
For more details

(Japanese only).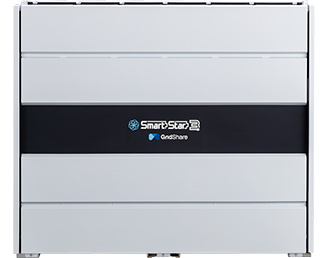 Smart Star 3 (Released in May 2021)
ITOCHU started selling a new product called Smart Star 3 in May 2021. This product is the first in the world to convert environmental value into a point system through a household energy storage system and it also has an electric vehicle charging function.
Equity Participation in TRENDE Inc. and Future Collaboration
TRENDE Inc. provides an energy retail service with a concept of being easy to understand and economical (Ashita Denki) and an energy retail service to realize solar power generation and reasonable electricity rates with zero initial investment (Hot Denki). It does this under its mission to realize a society which actively utilizes renewable energy. The company is also conducting a demonstration experiment toward the realization of P2P energy trading to contribute to the efficient use and popularization of renewable energy.
ITOCHU and TRENDE Inc. deepened our relationship through the joint development of a power plan only for energy storage systems in 2018. We released Marumaru Denki power plan in April, 2021 as a collaborative model. This is a solar power generation TPO*1 model with no initial cost, energy storage system and flat-rate electricity bill plan. In the future, we will aim to increase environmental value trading utilizing the non-fossil value*2 possessed by renewable energies and to realize P2P energy trading*3 between the customers to whom we provide our services.
TPO is the abbreviation for third party ownership.
Non-fossil value is the environmental value given to power sources which do not use fossil fuels when generating power. A trading market was established in May 2018 to promote the introduction of renewable energies in Japan.
P2P is the abbreviation for peer to peer. P2P power trading refers to direct trading between energy consumers and power generation facility owners.
Capital and Business Alliance in the Automotive Battery Reuse and Recycling Business with PAND in China
ITOCHU undertook a capital increase through a third-party allotment from Shenzhen Pandpower Co., Ltd. – a company engaged in the automotive battery reuse and recycling business in China. We are now involved in the reuse business to convert automotive batteries to stationary storage batteries as part of our lithium-ion rechargeable battery business efforts.
There is a major trend for the electrification of automobiles worldwide. Against this background, it is expected that batteries equipped to the electric vehicles sold will appear on the market in large quantities in the future. Accordingly, the effective utilization of used batteries has become a major issue.
We will utilize the knowledge in the stationary storage battery business we have accumulated thus far to provide competitive energy services to new market areas. These areas will include ancillary services that used to be difficult to install into storage batteries due to cost issues and microgrids for power in underpopulated areas. The core of this will be stationary storage batteries utilizing reused batteries.
Capital and Business Alliance with Sunnova Energy Corporation to Promote the Service and Capabilities of Energy Storage Systems in the United States
ITOCHU has made an equity investment in Sunnova Energy Corporation, the leading privately-held residential solar power and storage services provider in the United States. ITOCHU's investment in Sunnova, and the two company's proposed strategic partnership, furthers both company's support of solar plus storage services and products that can be deployed at scale.
As more utilities seek to decrease net metering credits offered to customers in the United States, ITOCHU believes that ESS demand will increase for households that need to store solar-powered energy generated and for households that require energy savings in the event of a short or long-term grid outage. Against this backdrop, Sunnova and ITOCHU intend to collaborate on the development of ESS solutions suitable for the U.S. market. Together, we intend to leverage "GridShare Client," the AI software of Moixa Energy Holdings Ltd. (U.K.) in which ITOCHU owns an equity stake, for Sunnova's solar systems.
5. Water Infrastructure
ITOCHU identifies water-related businesses as a strategic priority. This is due to our understanding that such demands will increase given global climate change trends projecting drastic changes in rainfall as well as changes in demography especially in emerging economies. We globally engage in water-related businesses such as seawater desalination and water utility, aiming to contribute solutions to the increasing water problems around the world.
Water Utility in Europe
In 2012, ITOCHU acquired an equity position in the Bristol Water Group (U.K.), making us the first Japanese company to participate in water service businesses in the U.K. The Bristol Water Group provides comprehensive water services from water source management to clean water treatment, water supply and distribution, billing and collection, and customer services to approximately 1.2 million people.
Seawater Desalination
We have invested and are participating in a seawater desalination project in Victoria, Australia. This facility is capable of satisfying the water demands of approximately 30% of the population of Melbourne, Victoria, supporting the stable supply of water in the area since 2012.
We have invested and are participating as the largest shareholder in a seawater desalination project with the Oman Power and Water Procurement Company (OPWP), which is under the umbrella of the Oman government. The project, situated in Barka, a northern region of the country, is the largest seawater desalinization project in the country, subject to a daily volume of 281,000 m3. The facilities involved use reverse osmosis membrane (RO membrane) to desalinate the water and are projected to operate for 20 years. The plant has started commercial operation in June 2018.
Other initiatives
The Development and Sales of Seawater Desalinization Plants and Reverse Osmosis Membranes
Stable Supply of Life-sustaining Water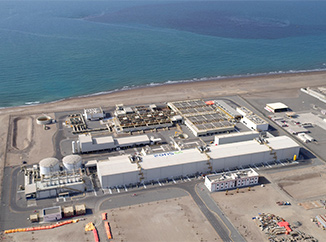 – Seawater Desalinization Business Largest in Oman –
We have invested and are participating as the largest shareholder in a seawater desalination project with the Oman Power and Water Procurement Company (OPWP), which is under the umbrella of the Oman government. The project, situated in Barka, a northern region of the country, is the largest seawater desalinization project in the country, subject to a daily volume of 281,000 m3. The facilities involved use reverse osmosis membrane (RO membrane) to desalinate the water and are projected to operate for 20 years. The plant has started commercial operation in June 2018.
6. Green Buildings
ITOCHU's construction and real estate group and its subsidiaries are committed to providing real estate and distribution services, especially in housing and commercial facilities as well as distribution facilities and housing complexes, that are sustainable and relevant to everyday life. We aim to do so by being involved throughout the value chain, from the development to the operation and management of real estate products to streamline and optimize the solutions where we can, utilizing smart city concepts and emerging technologies such as IoT (Internet of Things).
Real Estate Business in Japan
ITOCHU engages in real estate primarily through its subsidiaries. Advance Residence Investment Corporation, a listed residential real estate investment trust (REIT) that is a subsidiary to ITOCHU, identifies sustainability as a top priority and is well regarded for its performance. For example, it participates in GRESB, a sustainability rating framework for real estate investors, and has 23 real estate assets with DBJ Green Building certifications, which accounts to 30.1% in surface area, and 8.5% in number of units among its entire portfolio. At ITOCHU Advance Logistics Investment Corporation, a listed REIT focused on logistics assets, we own 6 assets with DBJ Green Building certifications, which accounts to 78.2% in surface area, and 60.0% in number of units among its entire portfolio.
Overseas Housing Complex Business
ITOCHU is involved in housing complexes throughout Asia, from the development, management, and operation of assets. In Indonesia, we are involved in the Karawang International Industrial City (KIIC) project, which covers a surface area of 1,400ha with residents from more than 150 companies. The KIIC is equipped with infrastructures to ensure its stability, such as an industrial water plant, effluents water plant, and an emergency backup water reserve. Furthermore, we have taken measures to ensure the safety and security of the residents by implementing 24-hour security, maintaining a cooperate and communicative relationship with the local police authorities, securing emergency lines to request fire and medical related assistance. We have also considered an environmental sustainability perspective in the design of the KIIC by implementing smart street lights*, the first of its kind in Indonesia's housing complexes.
Smart street lights: An IoT solution that maximizes the efficiency and efficacy of LED its brightness adjustments. To date approximately 1,200 have been installed in KIIC.
7. Clean-tech Businesses (links)
List of Renewable Energy Related Efforts (Power Generation Capacity Basis)
Details of Effort
Name of Business Operator / Investment Project
Country
Generating Capacity / Size
Greenhouse Gas Reduction Figures
Wind Power Generation Business

Aspenall Wind Power Generation Project

USA

43MW

Approx. 120,000 tons / year

Cotton Plains
Wind and Solar Power Generation Business

USA

217MW

Approx. 560,000 tons / year

Mutsu Ogawara
Wind Power Generation Project (Under Development)

Japan

57MW

Estimated 72,000 tons / year

Offshore Wind Power Generation Business

Butendiek Offshore Wind Power Generation Project

Germany

288MW

Approx. 750,000 tons / year

Waste Management Projects

ST&W Waste Management Project / South Tyne & Wear Energy Recovery Holdings Limited

England

Incineration treatment of 260,000 tons / year of general waste Scale of power generation: Equivalent power consumption of 31,000 homes

Estimated 62,000 tons / year

Cornwall Waste Management Project / Cornwall Energy Recovery Holdings Limited

England

Incineration treatment of 240,000 tons / year of general waste Scale of power generation: Equivalent power consumption of 21,000 homes

Estimated 60,000 tons / year

Merseyside Waste Management Project / Merseyside Energy Recovery Holdings Limited

England

Incineration treatment of 460,000 tons / year of general waste Scale of power generation: Equivalent power consumption of 63,000 homes

Estimated 130,000 tons / year

West London Waste Management Project / West London Energy Recovery Holdings Limited

England

Incineration treatment of 350,000 tons / year of general waste Scale of power generation: Equivalent power consumption of 50,000 homes

Estimated 83,000 tons / year

Serbia Waste Management Project / Beo Cista Energija (Under Construction)

Serbia

Incineration treatment of 340,000 tons / year of general waste Scale of power generation: Equivalent power consumption of 30,000 homes (planned)

Estimated 120,000 tons / year

Dubai Waste Management Project / Dubai Waste Management Company P.S.C. (Under Construction)

UAE

Incineration treatment of 1,900,000 tons / year
Generating Capacity: 200MW (planned)

Estimated 2,170,000 tons / year

Geothermal Power Generation

Sarulla Operations Ltd

Indonesia

330MW

About 1,350,000 tons/year

Photovoltaic Power Generation

Oita Hiyoshibaru photovoltaic power plant
large-scale solar power plant

Japan

44.8MW

Estimated 32,000 tons/year

Shin-Okayama photovoltaic power plant
large-scale solar power plant

Japan

37MW

Estimated 26,000 tons/year

Saijo Komatsu photovoltaic power plant
large-scale solar power plant

Japan

26.2MW

Estimated 17,000 tons/year

Saga-Ouchi photovoltaic power plant
large-scale solar power plant

Japan

21MW

Estimated 11,000 tons/year

Biomass Power Generation

Ichihara Biomass Power Plant

Japan

49.9MW

N/A*

Hyuga Biomass Power Plant (Under Development)

Japan

50.0MW

N/A*
The lifecycle GHG calculation methodology has not been established