ITOCHU's Clean-tech Business
Basic Policy and Strategy
ITOCHU has established enhancing contribution and engagement with the SDGs including climate change as one of our basic policies in our Brand-new Deal 2023 medium-term management plan. We will aim for offset zero that also takes into account the amount of greenhouse gas emissions we contribute to reducing through clean-tech business by 2040. This target is 10 years ahead of the Japanese government's target. We will achieve this by being the first in the industry to realize a decarbonized society.
Climate change and other environmental risks are also clean-tech business opportunities at the same time. We will adopt cutting-edge technologies from a medium- to long-term perspective. We will also take the lead in promoting concrete measures which are expected to lead to sustainable growth in the future and which will contribute to a transformation in social structure toward a decarbonized and recycling-oriented society.
Targets
Aim for offset zero* of our greenhouse gas emissions by 2040. Achieve this by proactively promoting business that contributes to a reduction in the amount of greenhouse gas emissions (such as clean-tech business).
Offset zero: When the amount of greenhouse gas emissions we contribute to reducing exceeds our greenhouse gas emissions
Individual Targets for Each Business Segment
Business Segment
Individual Targets
Renewable Energy

Increase the ratio of renewable energy capacity within our power generation portfolio to over 20% by FYE2031.

Invested in renewable energy generation of approximately 1,600 MW such as in Cotton Plains, Prairie Switch, Texas in the U.S. (wind and solar power) and in Sarulla in Indonesia (geothermal power).
We are currently newly developing renewable energy business of approximately 2,000 MW to achieve a renewable energy ratio of over 20%.

Fuel Ammonia

Establish a value chain of fuel ammonia through integrated development including development, ownership and operation of ammonia-fueled ships, development of fuel supply bases, and procurement of fuel ammonia.
After 2026, contribute to the decarbonization of international shipping by promoting the spread of ammonia-fueled ships and their social implementation.

Energy Storage Systems (ESS)

Aim for a cumulative energy storage of over 5 GWh by FYE2031.

Water Infrastructure

Expand our achievements in Europe and Australia to other regions. Continue to build up excellent assets.

Waste Management Project

Expand our achievements in Europe to the Middle East and other regions in Asia. Continue to build up excellent assets.
Initiatives
Top Management Involvement: Decarbonization and Carbon Neutral Task Force
We have stated a strong commitment to being the first in the industry to realize a decarbonized society by enhancing contribution and engagement with the SDGs in our Brand-new Deal 2023 medium-term management plan. Based on this commitment, we began the full-scale operation of a decarbonization and carbon neutral task force across companies under the control of President & Chief Operating Officer in April 2021. This task force reports on the details of progress made on initiatives in each company every other week. Its field is not limited to hydrogen and ammonia projects; it also discusses other decarbonization projects (such as emissions trading and Carbon dioxide Capture, Utilization and Storage (CCUS)) which will contribute to a reduction in greenhouse gas emissions and whose market is expected to grow.
1. Renewable Energy
ITOCHU globally enhances carbon neutral related businesses such as renewable power, hydrogen and ammonia. We aim to make profit growth not only by focusing on investments, but also by providing multi-angled functions such as engineering, operation and maintenance, etc.
Renewable Energy Generation (Equity Interest Basis)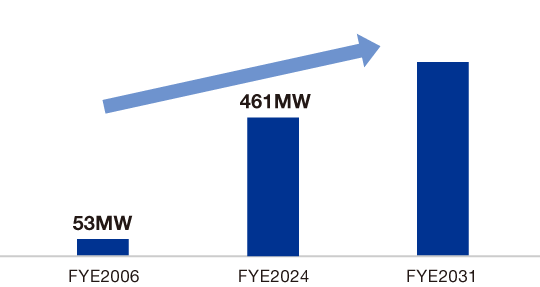 Target for Renewable Energy Ratio of Total Generation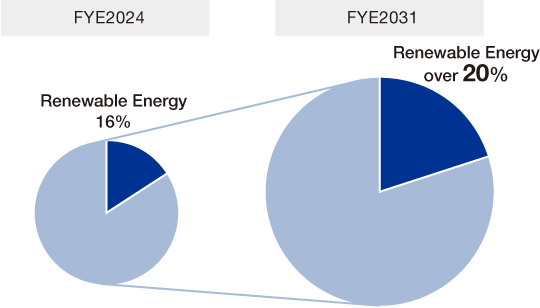 Breakdown of ITOCHU's Total Generation and Breakdown Target for FYE2031
FYE2020
FYE2021
FYE2022
FYE2023
FYE2023
FYE2031 (Target)
Generation Capacity on Equity Interest Basis (MW)
Generation Capacity on Equity Interest Basis (MW)
Generation Capacity on Equity Interest Basis (MW)
Generation Capacity on Equity Interest Basis (MW)
Ratio (%)
Ratio (%)
Wind

185

179

122

164

16.4%

20%<

Solar/PV Power

83

80

112

132

Geothermal

83

83

83

83

Biomass

20

33

57

57

Renewable Energy (Total)

369

375

373

436

Natural Gas

1,621

1,258

1,258

1,258

83.6%

80%>

Oil-fired Power

315

315

315

315

Coal-fired Power

640

640

640

640

Thermal Power (Total)

2,576

2,213

2,213

2,213

Grand Total

2,945

2,588

2,586

2,648

100%

100%
For a list of our renewable energy-related businesses please visit here.
We have announced a policy not to develop any new coal-fired power generation business*.
Renewable Energy Highlights
Wind Power
ITOCHU has continued invested in wind power generation (onshore and offshore) from the late 1990s. Currently, ITOCHU has interests in five power plants in Japan the United States, and Germany.
Butendiek Offshore Wind Farm in the North Sea of Germany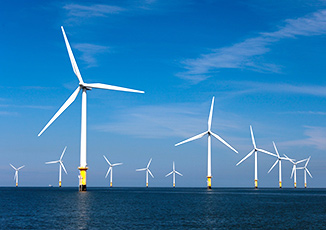 In response to the renewable market growth in Europe, we jointly own an offshore wind generation project (288MW) located on the German North Sea coast with the CITIC Group with whom we establish a strategic alliance. The wind farm supplies power to approximately 370,000 standard German households, contributing to the transition to a decarbonized society.
Aomori Mutsu Ogawara Onshore Wind Farm
ITOCHU is planning to build an onshore wind farm (maximum output capacity: 64.5 MW) in a suitable site with favorable wind conditions in Rokkasho-mura, Kamikita-gun in Aomori Prefecture as a joint project with Hitachi Zosen Corporation. We are aiming to start operating it during FYE 2026. We expect this wind farm to generate approximately 166 million kWh of power a year. That is equivalent to the annual power consumption of approximately 46,000 ordinary Japan households.
Utility Scale Solar Projects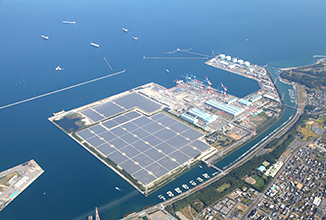 Following on the start of the commercial operation of a mega-solar power plant in Ehime in 2015, ITOCHU started operating mega-solar power plants in Oita in 2016, Okayama in 2017 and Saga in 2018. This means we now operate four mega-solar power plants in Japan (total power generation output: approximately 130 MW). The knowledge and experience we have gained through operating these power plants is contributing to the expansion of our renewable energy business. We will continue to operate these power plants stably.
Distributed Solar Power Supply Business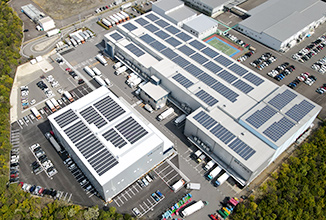 We operate one of the largest on-site distributed power plants in Japan mainly involving the roofs of supermarkets and logistics facilities through our capital and business alliance partner of i GRID SOLUTIONS, Inc. (i GRID). i GRID is involved in the on-site solar power generation business. The company installs self-consumption solar power generation systems at zero initial investment by customers. It then directly supplies power at low cost to facilities over a long period of time. Furthermore, in addition to solar power generation, it integrates and controls distributed power supplies such as storage batteries and electric vehicles with a supply and demand adjustment platform using AI. This allows it to offer solutions for the realization of green transformation in regions centered on customer facilities.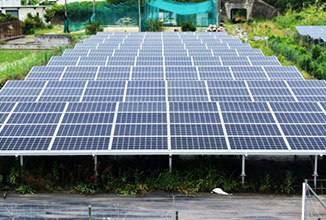 Furthermore, we have entered into a capital and business alliance with Clean Energy Connect Co., Ltd. (CEC) for initiatives to contribute to clean energy by effectively utilizing land in Japan. We have been jointly promoting this business since 2021. CEC is involved in the off-site solar power business. The company develops and owns multiple small and medium-sized solar power plants by utilizing idle land in Japan. It then bundles together green power to supply electricity and environmental value over the long-term to customers such as office buildings in the center of cities. Through CEC, ITOCHU will introduce photovoltaic power plants with additional approx. 5,000 locations in Japan with a cumulative total output of 500 MW by FYE2026, aiming to be one of the largest corporate PPA operators in Japan.
Solar Panel Recycling Business
ITOCHU undertook a capital increase through a third-party allotment from ROSI SAS. – a company engaged in the reuse and develops and owns advanced solar panel recycling technologies, and ITOCHU has entered into these alliances with the aim of promoting and expanding the solar panel recycling business.
In recent years, there is widespread global concern that mass disposal of solar panels that have reached the end of the product lives will occur in the near future. Establishing an appropriate recycling chain for these waste solar panels represents a major challenge for the future, in order to introduce sustainable renewable energy solutions for creating a decarbonized society.
We will contribute to the establishment of a recycling chain for solar panels by combining photovoltaic power generation-related business know-how and networks developed by us so far with ROSI's advanced and highly economical recycling technologies.
Geothermal Power
ITOCHU participates in Sarulla Geothermal Power Project in Indonesia, which is one of the largest size in geothermal sector. The project entered into construction phase after signing a 30-year power purchase agreement with Indonesia's state-owned electricity company in 2013. The first and second units were completed and commenced commercial operation in 2017, followed by the third unit in 2018. Indonesia is actively promoting renewable energy, and geothermal is positioned as an important part of it. Among renewable energy, geothermal energy is able to provide stable power supply to the electricity grid through a whole day, not dependent on the natural conditions such as wind or sunlight. ITOCHU is proceeding with decarbonization through stable power supply in line with energy mixes and policies of each countries or areas.
Biomass Power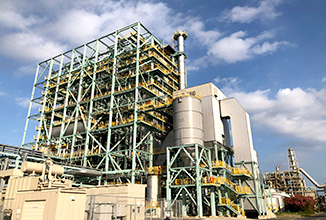 The Ichihara Biomass Power Plant (power generation output: 49.9 MW) in which ITOCHU is participating started commercial operation in December 2020. We expect this power plant to generate approximately 350 million kWh of power a year. That is equivalent to the annual power consumption of approximately 120,000 ordinary Japan households. In addition, we decided to build biomass power plants (power generation output of each: 50 MW) in Hyuga in Miyazaki Prefecture in April 2021 and in Tahara in Aichi Prefecture in November 2021.
Biomass Fuel Related Business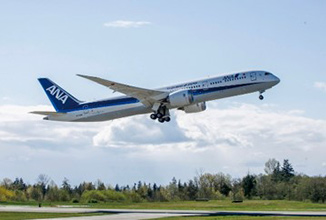 ITOCHU is supplying biomass fuel to power generation operators in Japan in addition to our own company by leveraging our biomass fuel suppliers portfolio. We are working to improve the ratio of renewable energy in power generation projects in Japan through the supply of biomass fuel.
Operation and Maintenance for Renewable Power in North America
ITOCHU provides operation and maintenance service as well as asset management for solar and wind generation in the US principally through our subsidiary NAES Corporation. It serves approximately as many as 1,500 sites throughout the US utilizing its remote monitoring system.
Renewable Power Developments in North America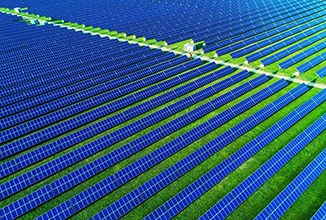 Tyr Energy Development Renewables, LLC, dedicated in greenfield renewable energy development in the United States, was established in 2022 and is currently developing renewable energy projects of approximately 2,000 MW. TED has full suite function of greenfield development including land acquisition, permitting, interconnection process, PPA origination, engineering and finance. The U.S. renewable energy market is expected to grow significantly over the next 20 years. To capture the growth, we continue to enhance the development activities.
2. Fuel Ammonia
With international momentum towards the transition to a decarbonized society, the International Maritime Organization (IMO) has set a greenhouse gas (GHG) emissions reduction strategy of 40% efficiency improvement from 2008 levels by 2030, 50% total volume reduction from 2008 levels by 2050, and to phase-out of GHG emissions (zero emissions) as early as possible during this century (currently under revision as of April 2023). In order to achieve these goals, early development and social implementation of zero-emission ships are expected, and ammonia is attracting attention in various fields as a candidate alternative fuel. In addition, a stable supply of ammonia fuel for marine use and the development of supply bases are indispensable elements for the concrete development of ships that use ammonia as their main fuel.
Development of Ammonia Fuel Ship
ITOCHU Corporation has agreed with Nihon Shipyard Co., Ltd. , MAN Energy Solutions, Mitsui E&S Machinery Co., Ltd. (Currently, Mitsui E&S Co., Ltd.), ClassNK, ITOCHU ENEX Co. Ltd. on jointly developing oceangoing commercial ships equipped with a main engine using ammonia as its main fuel.
In October 2021, we applied for "the Green Innovation Fund Project / Development Project for Next-Generation Ships / Development of an Ammonia Fueled Ship Project" publicly offered by the New Energy and Industrial Technology Development Organization (NEDO), together with four other companies, including Kawasaki Kisen Kaisha, Ltd., NS United Kaiun Kaisha, Ltd., Nihon Shipyard Co., Ltd. and Mitsui E&S Machinery Co., Ltd. (Currently, Mitsui E&S Co., Ltd.), and successfully selected. In November 2022, We and the said four companies obtained Approval in Principle for the basic design of an ammonia-fueled ship (200,000 deadweight ton type bulk carrier). This project aims to take the lead in the development of propulsion systems and hulls, as well as the ownership and operation of ammonia-fueled ships, as early as possible before 2028.
Development of Supply Chain of Ammonia Bunkering
ITOCHU Corporation and ITOCHU Enex have agreed the joint development of an ammonia fuel supply (bunkering) base in Singapore, the world's largest supplier of marine fuel, among six companies including TotalEnergies Marine Fuels Pte. Ltd, Pavilion Energy Singapore Pte. Ltd, Vopak Terminals Singapore Pte. Ltd. and Mitsui O.S.K. Lines Ltd. In April 2022, ITOCHU together with the companies signed a memorandum of understanding with the Maritime and Port Authority of Singapore to promote the development of an ammonia fuel supply (bunkering) base in Singapore, and has been accelerating the development of a safe fuel supply system and the development of ammonia bunkering vessels.
Since June 2021, ITOCHU has continued to examine and verify common issues related to the use of ammonia as marine fuel through the "Joint Study" a framework established with 34 companies and organizations to promote the use of ammonia as marine fuel. In April 2022, we launched the "Joint Study Framework for Ammonia Bunkering Safety" with 16 companies and organizations as a framework to share issues and knowledge on safety and guidelines for ammonia bunkering among related parties, and are expanding the activities.
Each of the above joint developments and frameworks is positioned as part of an "Integrated Project" of ITOCHU and partner companies that includes not only the development of ammonia fuel ships and the establishment of an ammonia fuel supply base in Singapore, but also the ownership and operation of these ships, the procurement of ammonia fuel for marine use, and the establishment of a global supply chain. We will work with domestic and overseas companies and relevant ministries and agencies to contribute to the reduction of GHG emissions from international shipping.
Project to Manufacture and Sell Clean Ammonia in Canada, Aiming to Realize a Decarbonized Society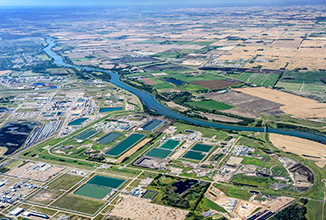 ITOCHU Corporation, Petroliam Nasional Berhad group, a Malaysian national oil company, and Inter Pipeline Ltd., a major infrastructure regional enterprise, have been conducting detailed studies of a project to manufacture and sell clean ammonia in Alberta, Canada.
ITOCHU Corporation will pursue the creation of a decarbonized society by establishing manufacturing sites and a supply chain for clean ammonia, which is expected to reduce greenhouse gas emissions from conventional fossil fuel derived ammonia.
3. Hydrogen Related Business
In December 2020, Japan announced the "Green Growth Strategy Towards 2050 Carbon Neutrality," and as part of that strategy, hydrogen is expected to contribute to the decarbonization of various fields as a key technology for carbon neutrality with promising applications across a wide range of fields, such as power generation, industrial usage, transportation, etc.
In light of this major trend, ITOCHU's wide-ranging networks focused on consumer-related sectors will be used to demonstrate the comprehensive capabilities of the ITOCHU Group and promote the development of the hydrogen market.
Strategic Collaboration to Build a Hydrogen Value Chain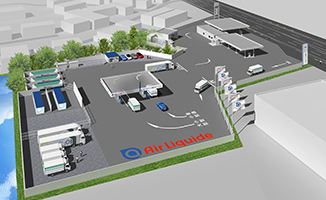 ITOCHU, Air Liquide Japan G.K. and ITOCHU ENEX Co., Ltd. will jointly examine hydrogen production/supply and hydrogen station business focused on major metropolitan areas in Japan. The aim of this is to cultivate the hydrogen market for mobility and industry.
Starting with the Hydrogen Refueling Station (hereinafter "HRS") in Motomiya-city, Fukushima Prefecture, which is scheduled to start operation in the first half of 2024 as Japan's first HRS, we will continue to find out more HRS opportunities with similar concept that are expected to be rolled out along with highway and to attract usage of larger scale fuel cell commercial vehicles.
We will demonstrate our comprehensive strengths as a group by making full use of our extensive network focused on the consumer goods industry field to contribute to the growth of the hydrogen market.
Business Model Development of a Local Hydrogen Production for Local Consumption
ITOCHU Corporation has been progressing the joint operationalization research on a hydrogen business based on "the local production for local consumption model" in northern Kyushu with our important customers of Nippon Coke & Engineering Company, Limited (hereinafter "Nippon Coke") and Compagnie Maritime Belge B.V. (hereinafter, "CMB"). ITOCHU has been supplying raw materials to Nippon Coke, and also has a lot of newly built ship business with CMB which is the largest maritime group in Belgium, both for many years.
Featuring both the hydrogen byproduct of Nippon Coke and the hydrogen engine of CMB, this project aims to create and expand both supply of and demand for hydrogen, with the goal of realizing actually operating hydrogen supply chains based on "the local production for local consumption model".
Furthermore, by actively deploying this business model in other regions as well, ITOCHU will realize the social implementation of hydrogen on a global scale at the possible earliest time, for enhancing our contribution to and engagement with the SDGs.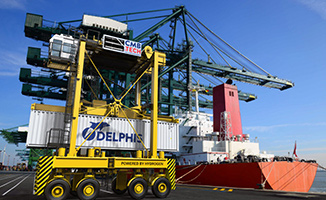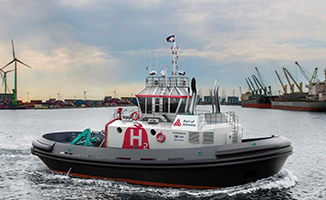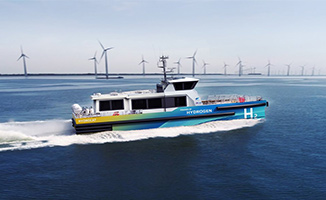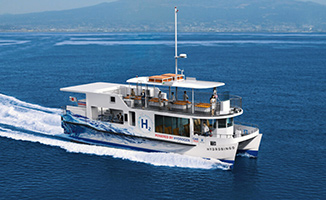 Hydrogen Business Partnership with Nel
ITOCHU Corporation has concluded a Memorandum of Understanding with Nel ASA (headquartered in Oslo, Norway), to create a strategic partnership in the hydrogen industry and the both companies are jointly developing hydrogen business. Nel is the world's largest manufacturer of electrolysers, which are essential for green hydrogen production, in terms of production capacity, size of systems, number of systems delivered and revenues.
Under the MOU, Nel and ITOCHU will jointly explore hydrogen business opportunities, develop tangible projects and, as a future goal, aim to expand the hydrogen business worldwide by establishing a production, transportation and distribution hydrogen value chain together with potential partners in each area of the value chain. Nel and ITOCHU will promote this initiative for the commercial success utilizing Nel's nearly 100 years of experience in the hydrogen industry and ITOCHU's international network, based on their shared belief that hydrogen is crucial for decarbonizing industry. In addition, the parties agreed to evaluate and explore each project and business opportunity together with Osaka Gas Co., Ltd., a leading Japanese utility with experience in gas handling and hydrogen technology.
ITOCHU contributes to a decarbonized society through this collaboration creating synergies with ITOCHU's existing decarbonization business, such as hydrogen and ammonia.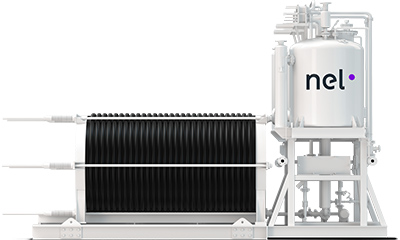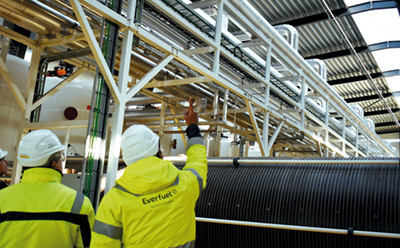 4. Energy Storage Systems (ESS)
ITOCHU aims to promote decarbonization and reduce environmental footprint by selling energy storage systems (ESS) that enhance and optimize the sustainable supply of renewable energy. As a demonstration of our commitment, we have set a clear sales target for ESS of 50 billion JPY and a cumulative energy storage exceeding 5GWh by FYE 2031.
Moving forward, ITOCHU will strengthen our global battery procurement and dealer network to further deploy household storage batteries. At the same time, we will look to develop AI-equipped energy storage systems and to then launch them onto the market (especially, we assume, the U.S. and Australian markets which are expected to grow in the future) with capital and business alliance partners overseas. We will then aim for the development and social implementation of large energy storage systems that use reused batteries for commercial and industrial and grid related applications. Moreover, we will accelerate efforts to recycle waste batteries generated by electric vehicles (EVs) or energy storage systems and efforts relating to the traceability of those. This will allow us to develop our recycling-orientated business and to contribute to a further improvement in corporate value.
Sales and Cumulative Energy Capacity of Our ESS products
Cumulative Capacity of ESS Units Sold (kWh)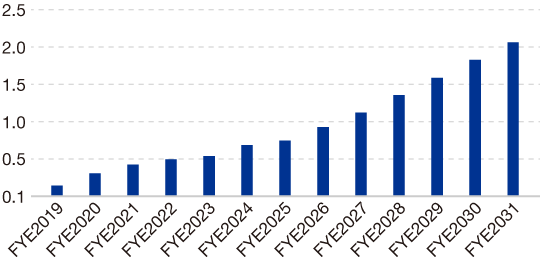 In cooperation with NF Blossom Technologies, Inc.*, ITOCHU developed Smart Star ESS series, which have been sold for approximately 54,000 units as of March 2023. Additionally, we have started the installation of ESS system "Bluestorage" for C&I and grid related applications in various sites.
* NF Blossom Technologies, Inc. is a joint venture by NF Holdings Corporation and ITOCHU launched in February 2020.
Other Initiatives
The Sale of Next-generation Residential ESS Products Using AI Technology
ITOCHU Corporation has entered into a capital and business alliance with Moixa Energy Holdings Ltd. in the United Kingdom, which develops "GridShare," software for optimal charge/discharge control of power storage systems.
By incorporating GridShare into the Smart Star series, in addition to the original features that demonstrate its strengths during power outages, AI analyzes and learns weather forecasts, user power demand and power generation forecasts, etc., and performs optimal charge and discharge control of the storage system. This enables efficient operation of solar power generation and power storage systems.
In addition, "Smart Star 3", which went on sale in May 2021, is equipped with the world's first environmental value point conversion and EV charging function through a home power storage system.
Official website of Smart Star Series: Click here (Japanese only)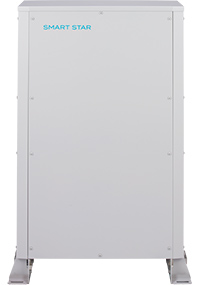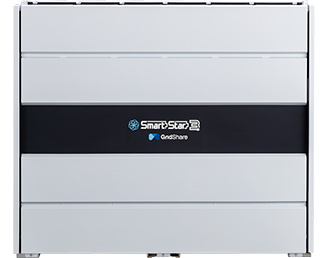 Equity Participation in TRENDE Inc. and Future Collaboration
With the mission of "lighting up the future," TRENDE Co., Ltd. develops residential solar power retail services (Hotto Denki, Hidamari Denki, Jibun Denryoku) with zero initial cost, and promotes the efficiency of renewable energy. We are working on technological development and social implementation of P2P power trading*1 that contributes to its practical use and spread.
ITOCHU Corporation and TRENDE aim to expand environmental value transactions utilizing the non-fossil value*2 of renewable energy and realize P2P electricity transactions between customers.
P2P power trading: Abbreviation for Peer to Peer. Refers to direct transactions of electricity between electricity consumers and power generation facility owners.
Non-fossil value: Environmental value given to power sources that do not use fossil fuels for power generation. A trading market was established in May 2018 to promote the introduction of renewable energy.
Capital and Business Tie-up with Shenzhen Pandpower in China for Automotive Battery Reuse and Recycling Business
ITOCHU undertook a capital increase through a third-party allotment from Shenzhen Pandpower Co., Ltd. – a company engaged in the automotive battery reuse and recycling business in China. We have started the reuse business to convert automotive batteries to stationary storage battery systems as part of our lithium-ion rechargeable battery business efforts.
There is a major trend for the electrification of automobiles worldwide. Against this background, it is expected that batteries equipped to the electric vehicles sold will appear on the market in large quantities in the future. Accordingly, the effective utilization of used batteries has become a major issue.
Utilizing the knowledge of the stationary energy storage system business that we have cultivated so far, we have developed a stationary energy storage system "Bluestorage" for business, industry, and grid use that utilizes reused batteries. We will provide competitive energy services to new market areas, such as adjustment valves for power fluctuations and micro-grids in areas with depopulated power.
Establishment of IBeeT Corporation – a Joint Venture to Offer a Subscription Service for Distributed Power Sources
We have established a joint venture called IBeeT Co., Ltd. together with Tokyo Century Corporation to provide distributed power sources and related equipment subscription services that contribute to the realization of a decarbonized society.
IBeeT offers the Smart Star series in a subscription format to meet the increasing demand for home energy storage systems and promote market introduction.
The company also considering providing subscription services such as commercial and industrial power storage systems, solar panels, EV bodies and related equipment, etc. in the future. IBeeT will aim to build an efficient distributed power source platform at an early stage. For example, it will mutually accommodate surplus power produced from the distributed power sources it owns through this service by using "GridShare".
5. Water Infrastructure
ITOCHU identifies water-related businesses as a strategic priority. This is due to our understanding that such demands will increase given global climate change trends projecting drastic changes in rainfall as well as changes in demography especially in emerging economies. We globally engage in water-related businesses such as seawater desalination and water utility, aiming to contribute solutions to the increasing water problems around the world.
Seawater Desalination
We have invested in a seawater desalination project in Victoria, Australia. This is the project that has been providing the reliable water supply for Melbourne since 2012, and this plant is capable to meet approximately 30% of the water need of Melbourne, Victoria. We have invested as the largest shareholder in a seawater desalination project with the Oman Power and Water Procurement Company (OPWP), a government entity of the Sultanate of Oman. OPWP is promoting this project at Barka, in the northern area of the country.
Other Initiatives
The Development and Sales of Seawater Desalinization Plants and Reverse Osmosis Membranes
Stable Supply of Life-sustaining Water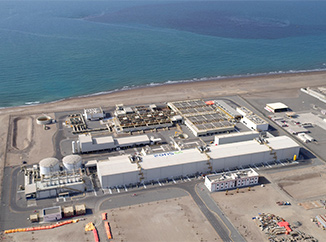 – Largest Seawater Desalination Project in Oman –
In March 2016, Barka Desalination Company, which we have invested aforesaid, agreed a contract to build and operate a new seawater desalination plant with a capacity of 281,000 m3 per day at Barka, located in the northern area of the Sultanate of Oman, with the aim of ensuring a stable supply of water in the country.
This project is a public-private partnership project with the Oman government to provide water for everyday life to the Barka region that suffers from severe water stress. The facilities involved use reverse osmosis membrane (RO membrane) to desalinate the water and are projected to operate for 20 years. It is the largest seawater desalination project in Oman with a total project cost of approximately 300 million US dollars. The plant has started commercial operation in June 2018. Besides, we realized listing on the Muscat Stock Exchange in February 2022.
6. Waste Management Project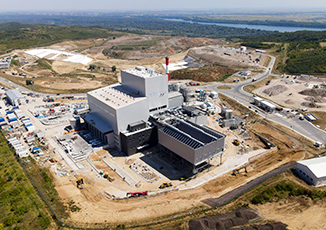 All over the world, 2.0 billion tons of municipal solid waste (equivalent to 5,400 times of Tokyo Dome) are discharged annualy. At least one-third of this waste is not treated with a proper way. As a result, decomposing gases emitted from waste cause fires, and the toxic substances that flow from waste mix with lakes, rivers, and groundwater, having a negative impact on the health of people and ecosystems in the surrounding areas. Due to rapid urbanization and population growth, especially in emerging countries, the world's waste volume is expected to reach 3.4 billion tons per year over the next 30 years.
ITOCHU is involved as a developer, investor, and operator in 4 energy-from-waste projects for municipal governments in the United Kingdom, which treat 1.3 million tons of waste annually, accounting for 15% of the UK's waste incineration market, and generate enough electricity to power 160,000 British households. In the Republic of Serbia, we are working with the government of Serbia and City of Belgrade to develop an energy-from-waste project. The project will address one of the biggest environmental and social problems in Serbia - closing and remediating the existing landfill at the Vinca dumpsite, and treat municipal solid waste in City of Belgrade, and generate electricity. Financed by International Finance Corporation (IFC), the European Bank for Reconstruction and Development (EBRD) and Oesterreichische Entwicklungsbank (Austria's Development Bank "OeEB"), the construction of an energy-from-waste facility is under construction. This project will treat 340,000 tons of waste annually and generate enough electricity to power 30,000 households. In addition to these projects, ITOCHU have started an energy-from-waste project in the Emirate of Dubai, the United Arab Emirates in 2020. This project will be one of the largest energy-from-waste projects in the world, which will treat 1.9 million tons of waste annually, accounting for about 45% of the municipal solid waste in UAE, and generate electricity. This project will contribute to reaching the goals set by Dubai Municipality in minimizing the volume of municipal waste in landfills and developing alternative energy sources as well as contribute to sustainable and ecologically friendly waste management.
7. CCUS・Carbon Fixation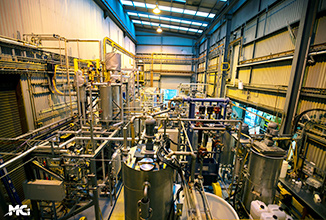 ITOCHU invested in the Australia-based company, Mineral Carbonation International (MCi), and has been collaborating with MCi in promoting its technology which produces calcium carbonate by combining by-products of the steelmaking process(slag), coal ash and/or waste concrete with CO2, to permanently lock away CO2 in a solid form and utilize as building materials. MCi was, in June 2021, awarded 14.6 million Australian dollars grants from the Australian government's Carbon Capture Use and Storage (CCUS) Fund, and then in November 2021 MCi won the first prize in the COP26 Clean Energy Start-up Pitch Battle in Glasgow, among 2,700 competing companies around the world. MCi is a company that aims to remove a billion tons of CO2 annually in the future, as its company mission. In July 2022, ITOCHU, TAISEI CORPORATION, and MCi concluded a memorandum of understanding and have started to verify the use of this calcium carbonate as raw materials for concrete.
Furthermore, ITOCHU acts as a member of a consortium which was awarded a project, worth total 16 billion yen, launched by New Energy and Industrial Technology Development Organization (NEDO), for the research and development, demonstration and surveys to establish the mass transportation technology for liquefied CO2, by connecting emission sources to utilization/storage points. In addition, ITOCHU has been engaged with the research and demonstration for the mass cultivation of the euglena microalgae, making use of CO2 from neighboring coal-fired power plant, which again is a project run by NEDO, with a partner, euglena Co., Ltd.
8. Green Buildings
ITOCHU's construction and real estate group are committed to providing real estate and distribution services, especially in housing and commercial facilities as well as distribution facilities and housing complexes, which are sustainable and relevant to everyday life. We aim to do so by being involved throughout the value chain, from the development to the operation and management of real estate products, to streamline and optimize the solutions where we can, utilizing smart city concepts and emerging technologies such as IoT.
ITOCHU engages in real estate primarily through its subsidiaries. Advance Residence Investment Corporation, a listed residential real estate investment trust (REIT) that is a subsidiary to ITOCHU, identifies sustainability as a top priority and is well regarded for its performance. For example, it participates in GRESB, a sustainability rating framework for real estate investors, and has 10 real estate assets with DBJ Green Building certifications and 13 real estate assets with CASBEE real estate valuation certifications which accounts to 28.6% in surface area, and 8.3% in number of units among its entire portfolio. At Advance Logistics Investment Corporation, a listed REIT focused on logistics assets, we own 9 assets with DBJ Green Building certifications, which accounts to 84.9% in surface area, and 69.2% in number of units among its entire portfolio. At Advance Private Investment Corporation, an unlisted open-ended REIT, we own 1 real estate asset with CASBEE real estate valuation certification, which accounts to 33.5% in surface area, and 25% in number of units among its entire portfolio.
9. Collaboration with Outside Initiatives
We are promoting and expanding initiatives for clean-tech business by participating in initiatives. We decide to participate in each initiative upon confirming it conforms to our basic policy and initiatives for the clean-tech business.
Carbon Recycling Fund Institute
The Carbon Recycling Fund Institute was established in August 2019. The fund believes it is necessary to make further initiatives to achieve the target of carbon neutrality by 2050 by using CO2 as a carbon source. It is a general incorporated association aiming to solve the problem of global warming and to improve energy access around the world at the same time. It will do this by supporting the creation of carbon recycling innovation through research assistance and publicity activities relating to carbon recycling. ITOCHU is also participating as a member.
Tokyo Zero-emission Innovation Bay
Tokyo Zero-emission Innovation Bay was established in June 2020 as a council by research laboratories, factories, business offices, research institutes, and universities located around the Tokyo Bay area, based on the concept proposed by the Japanese Government to develop the Tokyo Bay Area into the world's first Zero Emission Version of Silicon Valley where members can best collaborate, plan and carry out research & development/demonstrations/businesses, and disseminate information around the world. ITOCHU Corporation is listed as its member.
Japan CCS Co., Ltd.
In response to the national policy to develop and promote CCS technology, Japan CCS Co., Ltd. (hereinafter JCCS) was established in May 2008 by a group of major companies with expertise in CCS-related fields, including electric power, petroleum, oil development, and plant engineering. JCCS is a company founded and dedicated explicitly for developing the integrated CCS technology, and conducting feasibility studies and demonstration projects in Tomakomai area, Hokkaido, pertaining to carbon dioxide capture, utilization, transportation and storage technologies. As one of the shareholders, ITOCHU Corporation has been supporting this project. Also, separate from this project in Hokkaido, ITOCHU is jointly conducting research and demonstration project of NEDO to establish liquefied CO2 ship transportation technology with JCCS as the consortium partners.
The Association for Reciprocal Revitalizations of Renewable Energy and Region (FOURE)
The Association for Reciprocal Revitalizations of Renewable Energy and Region (FOURE) was established in June 2021. It is an organization aiming to expand the introduction of renewable energy that benefits regions and to realize a decarbonized society. The organization is achieving this aim by spreading the introduction of renewable energy as the main power source in regions in Japan and by regions and renewable energy coexisting and mutually developing. ITOCHU has been participating as a member since March 2022.
Japan Sustainable Fashion Alliance
The Japan Sustainable Fashion Alliance was established in August 2021 with ITOCHU serving as a representative alongside GOLDWIN INC. and JEPLAN, INC. The purpose of this alliance is to promote a transition to a sustainable fashion industry with targets of zero fashion loss through appropriate production, appropriate purchasing and recycling, and carbon neutrality in 2050. The alliance will realize its purpose by understanding the impact the fashion industry has on the natural environment and society to come up with solutions jointly for shared issues in the fashion and textile industries. From fiscal year 2022, the co-representative has been changed to ITOCHU, JEPLAN, INC. and ADASTRIA Co., Ltd.(The term of representative is until the end of July 2023)
List of Renewable Energy Related Efforts (Power Generation Capacity Basis)
Details of Effort
Name of Business Operator / Investment Project
Country
Generating Capacity / Size
Greenhouse Gas Reduction Figures
Wind Power Generation Business

Aspenall Wind Power Generation Project

USA

43MW

Approx. 120,000 tons / year

Cotton Plains
Wind and Solar Power Generation Business

USA

217MW

Approx. 570,000 tons / year

Prairie Switch Wind Power Generation Project

USA

160MW

Approx. 370,000 tons / year

Mutsu Ogawara
Wind Power Generation Project (Under Development)

Japan

64.5MW

Estimated 80,000 tons / year

Offshore Wind Power Generation Business

Butendiek Offshore Wind Power Generation Project

Germany

288MW

Approx. 750,000 tons / year

Waste Management Projects

ST&W Waste Management Project / South Tyne & Wear Energy Recovery Holdings Limited

England

Incineration treatment of 260,000 tons / year of general waste
Scale of power generation: Equivalent power consumption of 31,000 homes

Estimated 62,000 tons / year

Cornwall Waste Management Project / Cornwall Energy Recovery Holdings Limited

England

Incineration treatment of 240,000 tons / year of general waste
Scale of power generation: Equivalent power consumption of 21,000 homes

Estimated 60,000 tons / year

Merseyside Waste Management Project / Merseyside Energy Recovery Holdings Limited

England

Incineration treatment of 460,000 tons / year of general waste
Scale of power generation: Equivalent power consumption of 63,000 homes

Estimated 130,000 tons / year

West London Waste Management Project / West London Energy Recovery Holdings Limited

England

Incineration treatment of 350,000 tons / year of general waste
Scale of power generation: Equivalent power consumption of 50,000 homes

Estimated 83,000 tons / year

Serbia Waste Management Project / Beo Cista Energija (Under Operation & Construction)

Serbia

Incineration treatment of 340,000 tons / year of general waste and utilization of landfill gas
Scale of power and heat generation: Equivalent power consumption of 30,000 homes and heat consumption 60,000 homes in the winter (planned)

Estimated 210,000 tons / year

Dubai Waste Management Project / Dubai Waste Management Company P.S.C. (Under Construction)

UAE

Incineration treatment of 1,900,000 tons / year
Generating Capacity: 200MW (planned)

Estimated 2,170,000 tons / year

Geothermal Power Generation

Sarulla Operations Ltd

Indonesia

330MW

About 1,350,000 tons/year

Photovoltaic Power Generation

Oita Hiyoshibaru photovoltaic power plant
large-scale solar power plant

Japan

45MW

Estimated 32,000 tons/year

Shin-Okayama photovoltaic power plant
large-scale solar power plant

Japan

37MW

Estimated 26,000 tons/year

Saijo Komatsu photovoltaic power plant
large-scale solar power plant

Japan

26MW

Estimated 17,000 tons/year

Saga-Ouchi photovoltaic power plant
large-scale solar power plant

Japan

21MW

Estimated 11,000 tons/year

VPPJapan

Japan

119MW

Estimated 52,000 tons/year

Clean Energy Connect

Japan

44MW

Estimated 19,000 tons/year

Biomass Power Generation

Ichihara Biomass Power Plant

Japan

49.9MW

N/A*

Hyuga Biomass Power Plant (Under Development)

Japan

50MW

N/A*

Tahara Biomass Power Plant (Under Development)

Japan

50MW

N/A*
The lifecycle GHG calculation methodology has not been established