General Products & Realty Company

The General Products & Realty Company consists of two divisions: the Forest Products & General Merchandise Division and the Realty & Logistics Division. The Forest Products & General Merchandise Division deals with pulp, natural rubber, tires, timber, housing materials and other products associated with daily life, while the Realty & Logistics Division is involved with the development of properties such as housing and distribution facilities and the distribution business including third-party logistics (3PL) and international transportation. Each division utilizes its collective strength and global network to provide society with new value and contribute to the realization of fulfilling housing experiences.
Business Fields
Forest Products & General Merchandise
Logs, Lumber, Wood fiberboard, Building materials, Wood chips, Wood pulp, Recycled paper, Cotton linter, Paper, Paperboard, Paper products, Natural rubber, Tires, Glass, Cement, Slag, Landscape materials, Refractory materials and products, Natural gypsum, Biomass fuels (chips, pellets) etc.
Construction, Realty & Logistics
Real Estate Development, Solutions Business, Private Finance Initiative (PFI) projects, Construction equipment and materials trading [Subsidiaries: Condominium development, Real estate management, Housing and renovation, etc.], Logistics Solutions (3PL, Logistics Center Management Operation, International Intermodal Logistics and Automobile Logistics), Maritime Shipping Services
Business Portfolio,Strategy
Business Portfolio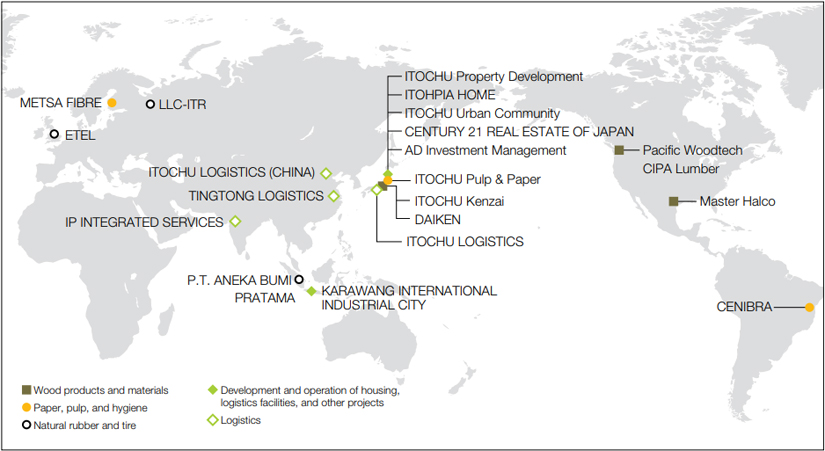 Medium to Long-Term Growth Strategies(Conceptual Diagram)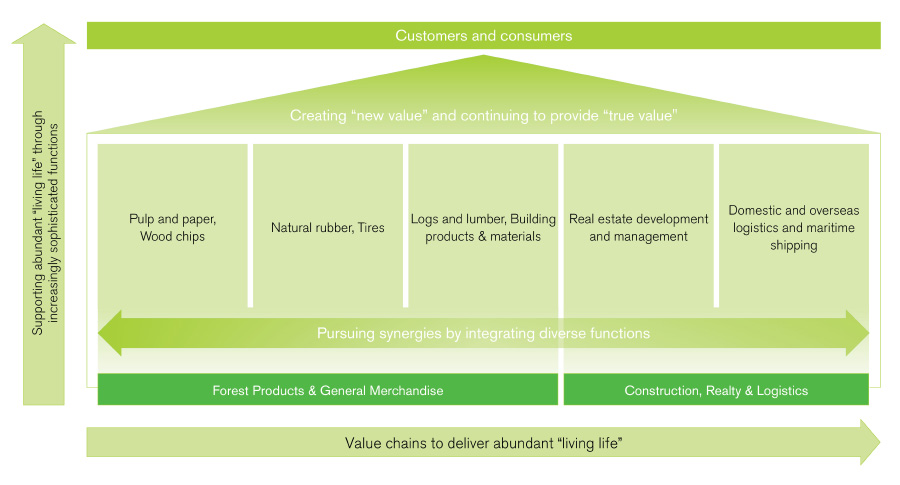 This company, which is active in the consumer-related sectors of ITOCHU's operations, comprises the Forest Products & General Merchandise Division, which handles products closely linked to people's lives—paper and pulp, natural rubber and tires, wood resources and housing materials, etc.—and the Construction, Realty & Logistics Division, which is involved in housing, logistics facilities, and other development projects, as well as the logistics business, including 3PL and international transport. We work to provide new value to society through the comprehensive strengths and global networks these divisions possess, thereby contributing to more bountiful lifestyles. We will expand our portfolio through aggressive asset replacement, proactively develop our business to meet expected rises in consumption in China and other Asian markets, and promote collaboration with the CITIC and CP Group.
Meanwhile, we view societal and environmental issues as business opportunities. For instance, we consider ensuring stable forestry resources in the paper and pulp field and building businesses that achieve harmony with local communities to be priority issues. Accordingly, we strive toward sustainable forest management. In the condominium business, we take a customer/consumer viewpoint in providing environmentally conscious housing (energy-saving technologies, design, equipment, etc.) and offering universal design that suits housing for use by multiple generations. In addition to the quality control of products, we cultivate an energy-saving awareness among condominium inhabitants and take a proactive stance toward developing communities that foster connections between communities and residents.
Main Project
Pulp Business
Invested in Finland's METSA FIBRE, one of the world's largest softwood pulp producers
Pacific Woodtech Corporation
A major US laminated veneer lumber manufacturing and sales company in the West Coast
EUROPEAN TYRE ENTERPRISE LIMITED
A tire wholesale and retail business providing the highest level of services in the United Kingdom


Third Party Logistics in Pharmaceuticals
The 3PL business offers bundled services from procurement to delivery of pharmaceuticals.
Logistics in China
Our logistics services utilize a distribution network that covers the whole of China.
Logistics in India
Provision of just-in-time services via the nationwide delivery network throughout India


Real Estate Securitization
Provide transactions employing securitization as a means.
Real Estate Solutions Business
Provide solutions for various real estate-related issues.
Real Estate Development Initiatives
Develop housing (condominiums and leased), logistics facilities, and offi ce buildings