Food Company

The Food Company consists of three divisions: the Provisions Division, the Fresh Food Division, and the Food Products Marketing & Distribution Division.
The goal of this division company is to become the leading company in the global food industry.
Accordingly, the Food Company is developing a high value-added value chain that organically links customer-driven food resources development, food resources supply, product processing, midstream distribution, and retail on a global scale with a focus on Japan, China and Asia. Further, throughout that system we are upgrading controls for food safety even further to ensure trust and reliability.
Business Portfolio,Strategy
Business Portfolio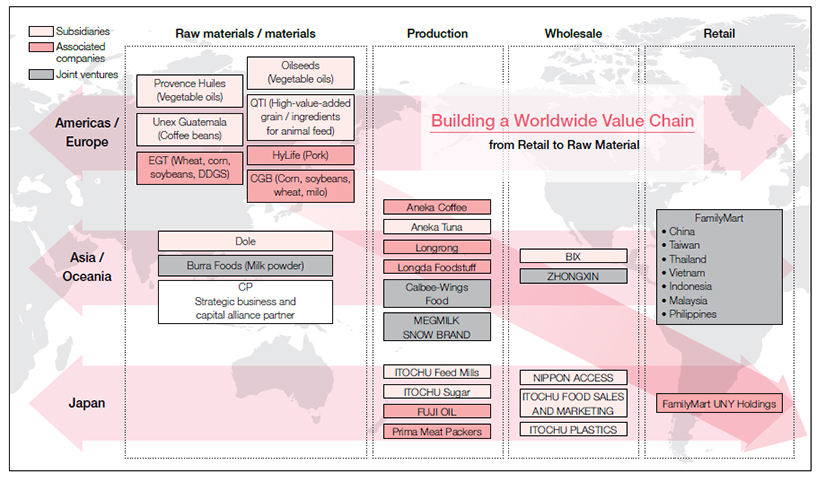 Medium to Long-Term Growth Strategies(Conceptual Diagram)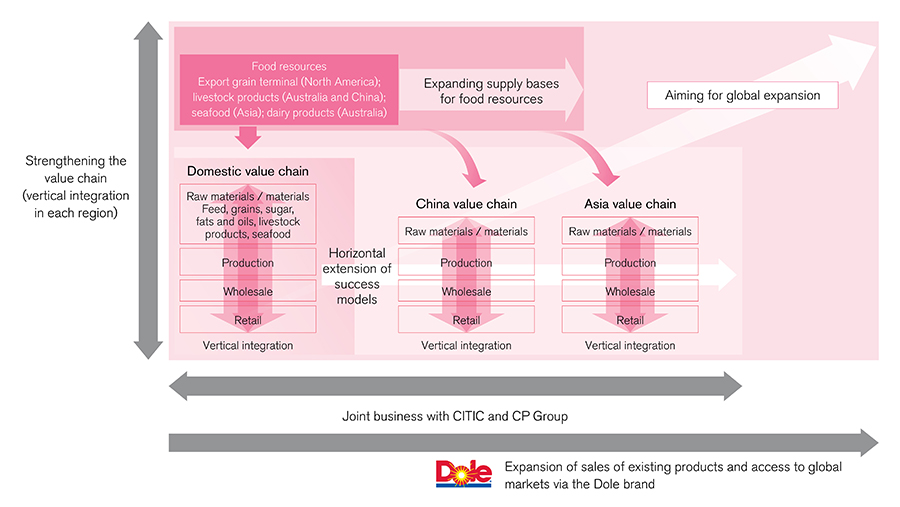 In Japan, the environment in which the Food Company operates is characterized by lackluster personal consumption stemming from such factors as sluggish growth in household income. Furthermore, since the start of 2016, yen appreciation and a decrease in stock prices have been sapping consumer sentiment, rendering the environment to become even more difficult. On the other hand, business opportunities are increasing overseas, as growing populations and rising levels of income in Asian and other emerging countries drive demand higher. Against this backdrop, and in line with the Companywide policy of "strengthening our financial position," the Food Company will work to further improve the quality and efficiency of its assets through asset replacement. We will also continue building a high-value-added value chain in Japan, China, and other parts of Asia, as well as throughout the world, concentrating specifically on the Dole business and joint business development with CITIC and CP Group.
Simultaneously, we will endeavor to ensure a stable supply of food resources, thereby addressing food issues that affect all of humankind. Also recognizing that ensuring food safety and security is our topmost objective, the Food Company will undertake a wide range of measures to ensure safety in the foodstuffs business. For example, we will identify overseas suppliers for on-site inspections and determine inspection frequency according to their control systems, product characteristics, sanitation risks during processing, and other individual circumstances. Going forward, the Food Company will continue working with investees and partners to further enhance its management system.