Machinery Company

The Machinery Company consists of two divisions: the Plant Project, Marine & Aerospace Division, the Automobile, Construction Machinery & Industrial Machinery Division.

We develop businesses in a wide range of fields: water and environment related businesses, renewable energy, electric power generation, bridges, railways, petrochemicals and other infrastructure-related projects, ships, aircraft, automobiles, construction machinery, industrial machinery and other businesses related to machinery, and healthcare businesses.
In addition, we are proactively seeking new opportunities such as water and environment business, renewable energy business, for the creation and reinforcement of new revenue bases.
Business Fields
Plant Project, Marine & Aerospace
Water and environment related businesses, Electric power generation, Transportation infrastructure, Oil, gas and petrochemical plants, New ships, Second-hand ships, Ship finance, Ship owning, Chartered ships, Defense equipment, Aircraft, Aircraft lease
Automobile
Sales and business development of passenger cars, commercial vehivles and manufacturing parts in domestic and international markets
Construction Machinery, Industrial Machinery & Healthcare
Sales and business development of construction machinery, electronic system, industrial machinery and medical devices in domestic and international markets
Business Portfolio,Strategy
Business Portfolio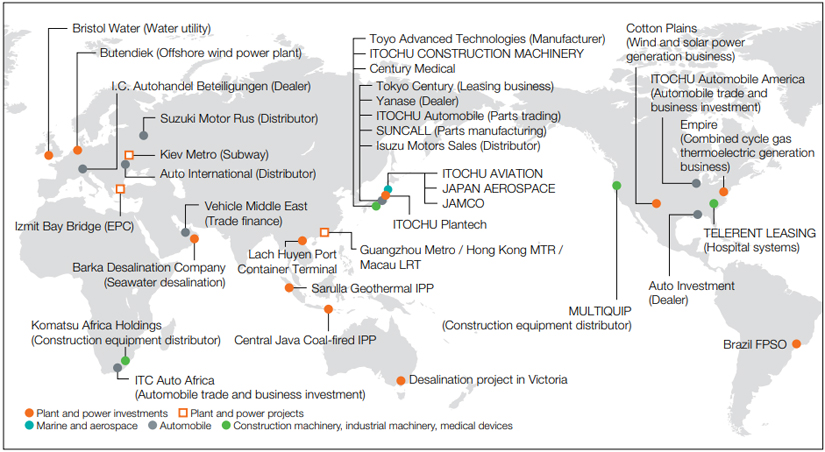 Medium to Long-Term Growth Strategies(Conceptual Diagram)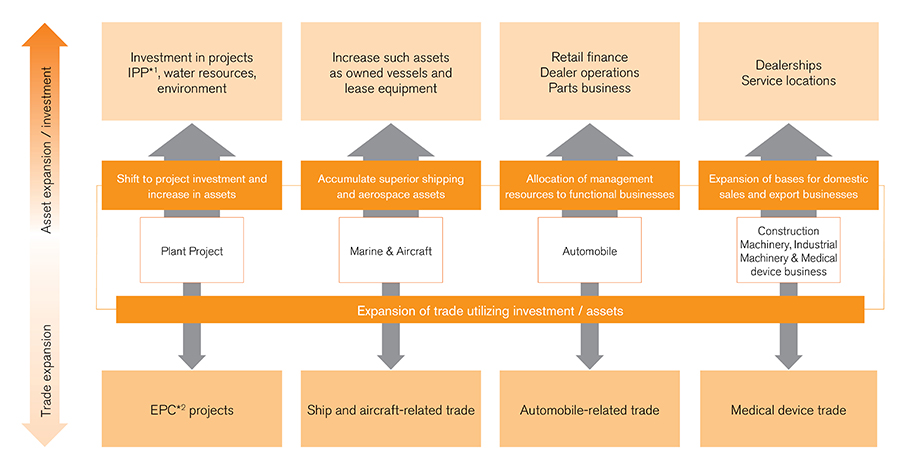 IPP: Independent power producer
EPC: Engineering, Procurement, and Construction
In IPP, water supply, environmental, energy, transport, and other infrastructure businesses, we will strive to promote a balance between the accumulation of superior assets in industrialized countries and highly profitable development projects in developing countries. We will endeavor to expand trade in fields of conventional strength, including marine, aerospace, automobile, construction machinery, and industrial machinery, and reconfigure and reinforce the value chain business. We will also strive to generate stable earnings through stringently selected investments in peripheral sectors. Furthermore, we will promote the construction of a medical device value chain to meet anticipated future growth in medical device businesses, aiming to further enhance business investment and trade in Japan and other parts of Asia.
We will maximize earnings from existing investments, promoting the accumulation of superior assets and asset replacement, and conduct trade in related and ancillary fields.
In promoting infrastructure projects in emerging countries, we will give due consideration to environmental protection and local communities to ensure projects proceed smoothly. The world faces such issues as climate change, waste management, and water resource securement; the Machinery Company views these as promising medium- to long-term business opportunities. As such, we are taking part in renewable energy-related businesses involving wind and geothermal power, as well as waste management projects. We are also involved actively in seawater desalination and other water-related projects.
Furthermore, based on our strategic business and capital alliance agreement with CITIC and CP Group, we are considering joint investment and trade expansion that will leverage that group's characteristics, particularly in China and the ASEAN region.